Shepard Fairey : Sending a Message Through Poster Power
It is hard to believe that 2014 saw Obey's 25th anniversary (which you can read about in this article) sometimes it feels like Shepard Fairey's art has been bombarding us forever. As a young man growing up in Charleston, South Carolina, I doubt Frank Shepard Fairey, even in his wildest dreams, could imagine what an impact his art works would have on the street scene when he started to put his drawings on t-shirts and skateboards in 1984. From humble beginnings with his Andre the Giant has a Posse sticker campaign in 1989 that morphed into the legendary Obey Giant (more about which can be viewed in this video – Obey the Giant) to the iconic Obama Poster produced in 2008 and updated by Fairey in 2011 with a Guy Fawkes mask added in support of the Occupy Movement, Shepard Fairey has continued to evolve as an artist while staying true to his political roots, as can be seen by his recent Not One More Deportation print.
 From Humble Beginnings to Worldwide Fame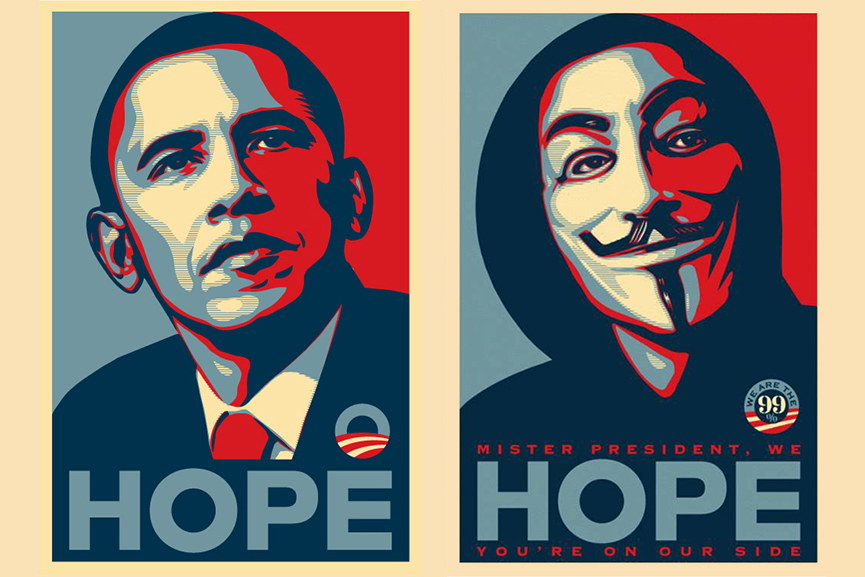 25th Anniversary of the OBEY Brand
As Shepard Fairey openly admits, he never thought when designing the Obey Giant sticker back in 1989 that  it would inspire his art career for the next 25 years and turn it into a global brand, often mimicked, and seen him expand into clothing (check out the Obey Clothing article to see images of the 25th anniversary clothing range) through to his own Obey record label that features Shepard Fairey's art on the covers. Highlights, such as the Obama poster have garnered him extra publicity though not without negative effects such as lawsuits for his appropriation of certain images (more of which you can see being discussed in this Shepard Fairey Talks Street Art Profits video) while writer, activist and musician Erick Lyle accused Fairey of turning street art into a cynical self-promoting campaign.
 The Road to Success is Not Easy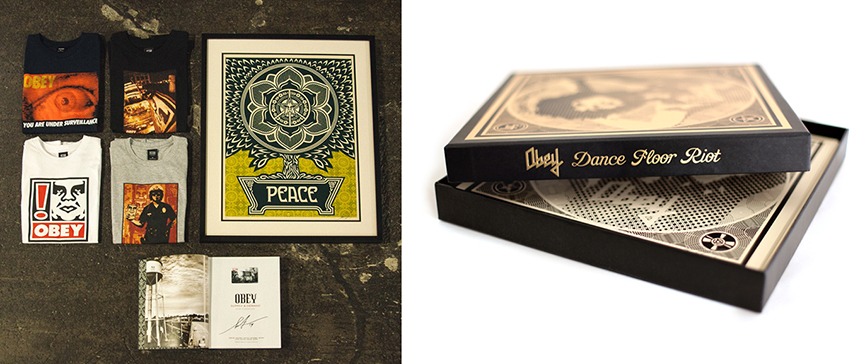 Early Career
Away from the classic early Obey Giant stickers and posters, Shepard Fairey was already exploring other means of spreading his work from the small printing business, Alternate Graphics, which allowed him to pursue his own work and probably gave Fairey an insight into how graphics on t-shirts can become so iconic, one only has to think of people like the Ramones and Sid Vicious (whom you can read about being brought back to life by Shepard Fairey and Dennis Morris) to see the lasting effect. With his wife, Amanda, he was able to demonstrate his love of punk rock album covers and rock album covers by starting the Number One design agency in 2003 that saw them producing record cover artworks for the likes of Smashing Pumpkins (check out the artwork for Zeitgeist) Anthrax ,and Flogging Molly amongst others.
 Love of Music Mixed with Visual Art

Revolutions
Like many street artists, Shepard Fairey has close ties with the music business and like so many of us of a certain age, a fondness for proper vinyl records from our youth and the punk rock album covers along with rock album covers that helped shape our early artistic experiences (read about artist Stefan Marx at Ruttkowski;68 who had such inspiration) it is no wonder that Shepard Fairey's art eventually found its way onto record covers via his own OBEY record label. His distinctive and striking graphics hint at his love of punk rock, he wrote text for The Bollocks book about the Sex Pistols by Dennis Morris, and were immortalized in the 2011 documentary Revolutions that explores over 80 pieces of punk, rock, jazz, hip-hop and new wave record covers based on the much loved twelve inch record cover format and were also shown as an exhibition at the end of 2011. From sticker campaigns as an unknown street artist, to having one of the most recognisable brand logos in OBEY, via Obama posters to lawsuits and arrests, it has certainly been a roller coaster of a ride for Shepard Fairey and OBEY over the last 25 years and one can only look on in anticipation as to what he will produce in the next 25 years.
For all the latest news on OBEY and Shepard Fairey sign up for free to My Widewalls today.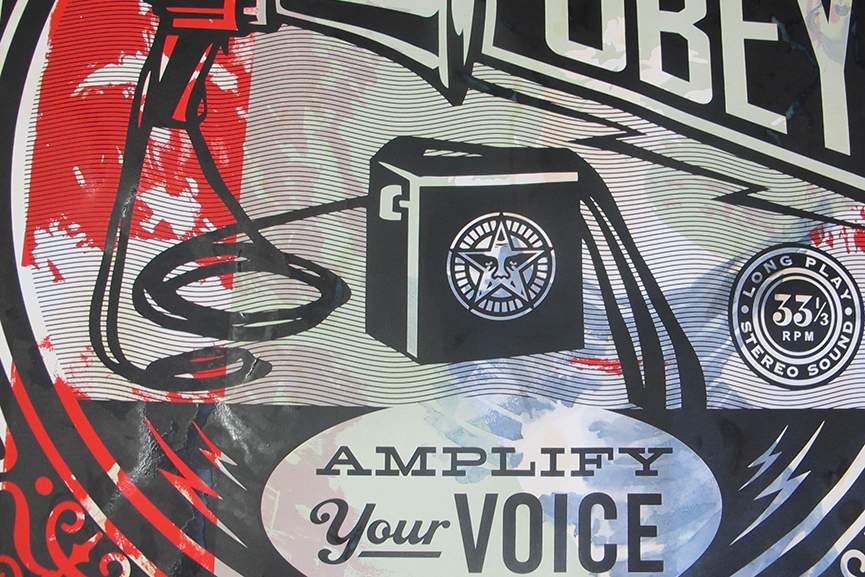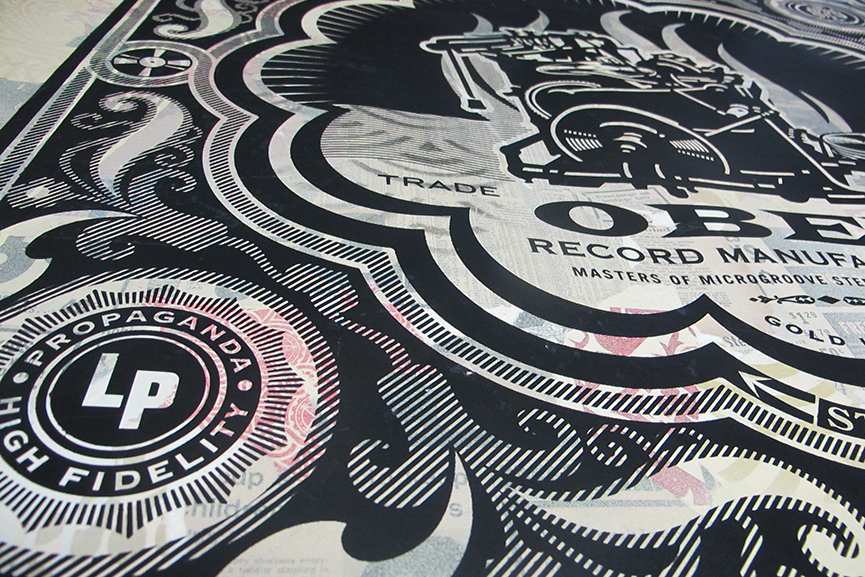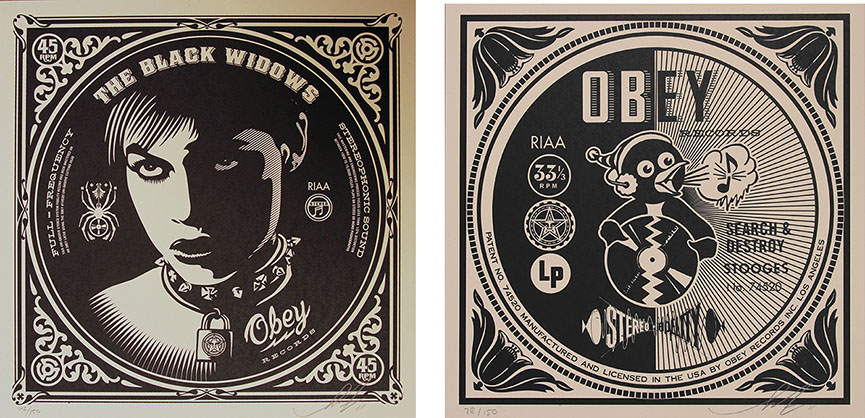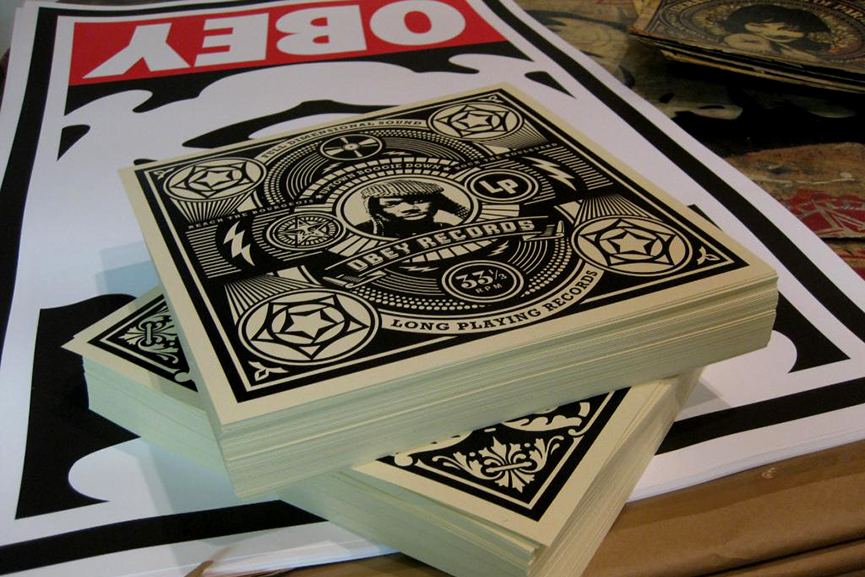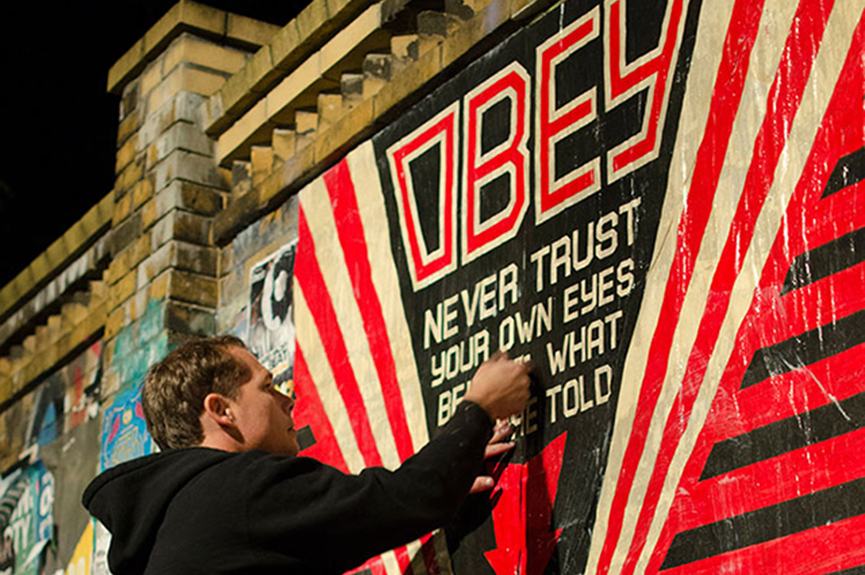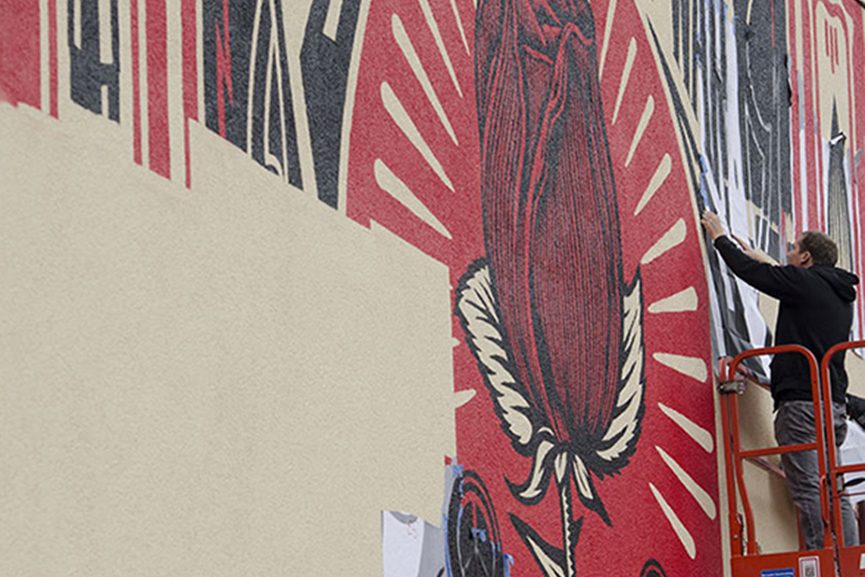 All images courtesy of Shepard Fairey/OBEY/OBEY Clothing.