Shirazeh Houshiary: Smell of First Snow at Lisson Gallery
In an abstract spectrum of evanescent elements lies the hidden metaphysical reality of Shirazeh Houshiary. Through the work of sculpture, drawing and a series of paintings, the Iranian artist gives a new dimension to our and her own imagination, exploring the depths of an individual world set way beyond the surface of her works. Continuing her practice of creating an alternative perception of life, Shirazeh Houshiary has pieces of her culture entwined with notions of poetry and science.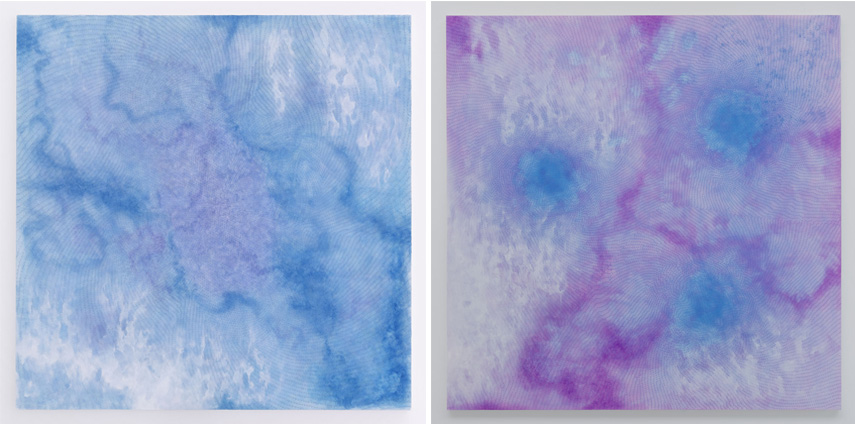 Smell of First Snow
The intriguing signature in the work of Shirazeh Houshiary is the thick web of penciled words inwrought in her canvases. Although written with precision, they become illegible as they immerse in the sea of color, forming a fingerprint-like shapes that float on the surface. Depicting both personal intake and the processes of the entire universe, the artist tries to find the essence of her own existence and put it on view. The exhibition's central piece, A Deluge diptych, is composed of a seemingly infinite amount of words written in Arabic and a vast space filled with abstract splashes of color floating over each other. In works like Zero and Seed, the linguistic incisions emerge from the surface more freely, giving the paintings the ever-present meaning, both defined and open for interpretation.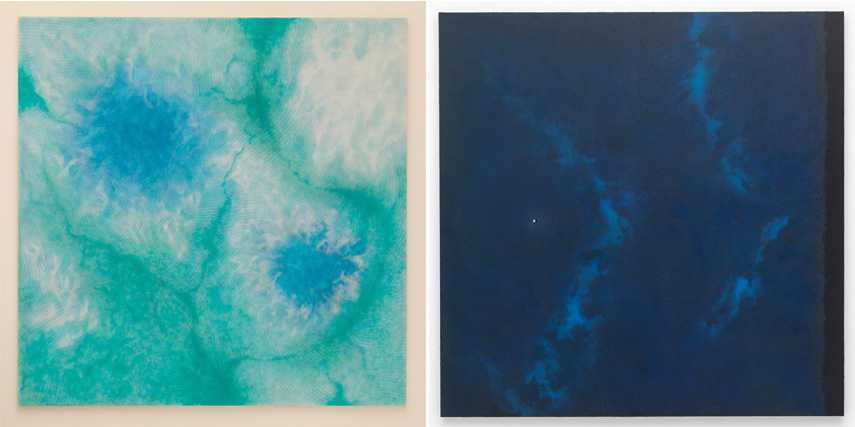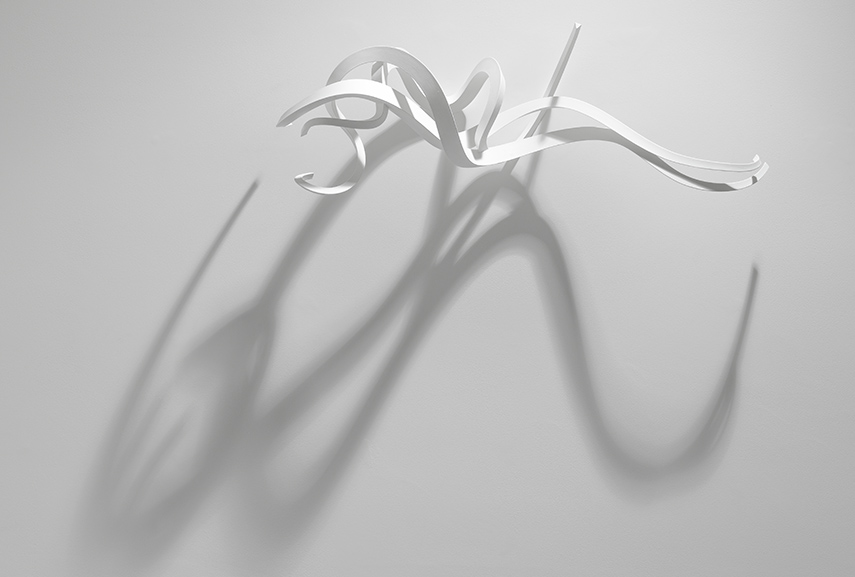 The Allegories of Sight and Sound
Aside from paintings, on view there will also be two wall-based sculptures by Shirazeh Houshiary, both made this year. Entitled Allegory of Sight and Allegory of Sound, these cast stainless steel pieces translate the experiences of the two senses into waving lines, forming a single construction. Lit from above to create both two-dimensional and three-dimensional aspects of the piece, but also reality, the sculptures are soaked in black and white respectively, attributing yet another antithesis to the already complex concepts. This work follows Shirazeh Houshiary's fascination with suspended tension between the powers that build everything around us, seeking an eternal balance.
Shirazeh Houshiary's installation Breath at the 2013 Venice Biennale
Shirazeh Houshiary at Lisson Gallery
Shirazeh Houshiary was born in Iran in 1955 and has been based in the UK since 1974. She earned her BA from Chelsea School of Art in 1979. She has had a number of solo exhibitions worldwide, including at Camden Arts Centre (1993) and Musee Rath in Geneva (1988). Shirazeh Houshiary was nominated for the Turner Prize in 1994 and had a collateral exhibition at the 2013 Venice Biennale. Her group shows include the Venice Biennale in 1982, the Kiev Biennale in 2012 and the Biennale of Sydney in 2010. Her work is included in numerous public and private collections including the Museum of Modern Art in New York City.
Shirazeh Houshiary's eight exhibition entitled Smell of First Snow, will be on view at Lisson Gallery on 52-54 Bell Street, from May 22nd until July 4th 2015.
Stay up to date! Sign up for My Widewalls!
Featured image: Shirazeh Houshiary – A Deluge, 2015. Featured video: Breath installation by Shirazeh Houshiary at the Venice Biennale, 2013. All images copyright of Shirazeh Houshiary, courtesy of Lisson Gallery.