The Consumer
Following the trends of the Pejac's  Heavy Sea and the Hua Tunan's Crouching Tiger, cool prints just keep on coming and flooding the market. The latest one that arrived at Widewalls is the fine art print made by British aerosol X-ray artist SHOK-1 entitled The Consumer. The author recently got involved in the major urban art exhibition entitled Rule of Three at Colab Gallery, but that didn't stop him from creating yet another piece worth of our attention. His new artwork represents a bold and witty metaphor that criticizes today's modern society and its consumerism that's devouring the very foundation of that society. For the illustration of such metaphor the artist used silhouette of the famous classic video game character, the Pacman. After altering it to fit his needs and the narrative he wanted to portray, The Consumer depicts famished and transparent skull prepared to ravage.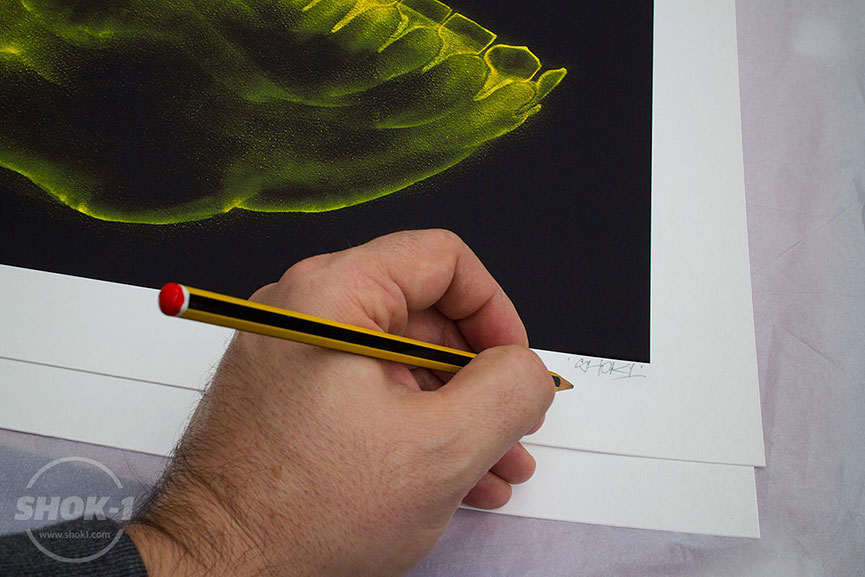 About SHOK-1
SHOK – 1 has been around for quite a while. Initially, he was a graffiti painter, a veteran in the street art movement and hardcore video gamer since the early 80's. In order to develop and enhance his creative palette, he continuously reinvented his work thus taking numerous risks throughout a career currently spanning 30 years. He established himself as an important figure in the urban culture when his rainbow X-ray series gained millions of views during the first year of the project. This edition was so successful, all of the prints were sold out instantly. The artist resides in East London and holds a degree in Applied Chemistry.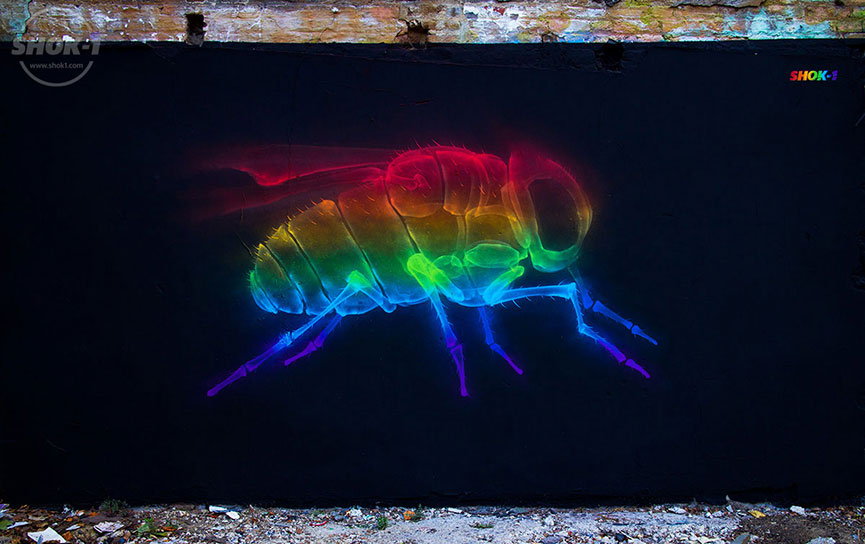 Details of the print
The Consumer is the print of the original artwork which was created earlier this year on a wall in Germany, using spray paint. Artwork serves as a living proof of artist's trademark X-ray style, and his meticulous and steady hand, the combo of skills to admire. The author is especially proud of the fact that he didn't use stencils or tape to achieve the intricate translucent effects. The size of the print is 21′′ x 21′ and it's Archival inks on Hahnemühle PhotoRag 308gsm. The Consumer edition is coming in the volume of 160 copies, all of them signed, numbered, and embossed by SHOK-1. They are available for sale for only £125. If you are interested in this piece of art go to SHOK-1 website and check if there is any copies left, as the print went on sale on December 5th at 10am EST / 3pm GMT.
You want to have your own copy of  the artwork from your favorite? Sign up for My Widewalls today and we'll update you with all the latest prints!