Shoof at Galerie Itinerrance
You know that feeling when you take something particular, something that's been in use for – literally – more than a thousand years, and then you make something different out of it? Well, Tunisian artist Shoof could tell you something about it. Shoof's exhibition called Dripping Point will take place at Galerie Itinerrance in Paris and this will be his first solo exhibition in France. What will it be about? Let's just say that he took Arabic letters, or, precisely, the way they are written in Arabic (Islamic) calligraphy, transformed them and turned into very interesting forms on canvas, that good people of Paris will see at Dripping Point exhibition in the following weeks.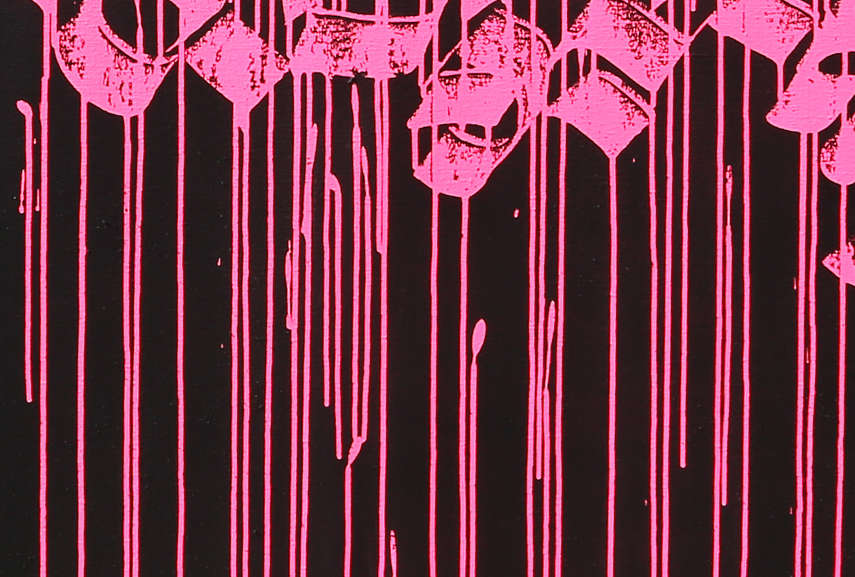 The Art of Shoof
Arabic, or Islamic calligraphy is – as any other calligraphy – an art connected to writing. In one word, calligraphy is giving letters an artistic dimension. But, Arabic calligraphy is much more, as it's development was closely linked with Qur'an. Needless to say, these links gave Arabic calligraphy deep and thorough religious associations. Also, religion forbids Muslim artists to depict humans as this is a form of idolatry – a sin against God, according to Qur'an. So, it can be said that calligraphy for Muslims is much more than an artistic form of written language – it is considered as a link to the sacred, to the spiritual and religious world. And, what did Shoof do? He did something courageous: he desacralized calligraphy letters. Shoof decomposed Arabic letters that lie in the base of calligraphy and used them as a pretext, in order to construct. Using this deconstruction to construct something different (and, also, using spray, marker, brush and stencil), Shoof, in a way, democratized Arabic calligraphy – he removed religious sediments and enabled everyone to enjoy them. And if that's not a bold and gutsy move, than we haven't heard of a bold and gutsy move yet.
| | |
| --- | --- |
| Shoof's atelier is a clear blue sky, and his canvases are buildings' walls. | This photo is just a detail of what visitors will see at Galerie Itinerrance |
Shoof and Galerie Itinerrance
Shoof was being noticed for his work in his native country, Tunisia. During 2013, Galerie Itinerrance organized Tour Paris 13, a beautification of a building in Paris where urban artists created murals, paintings and installations, knowing that building is set to be destroyed and turned into rubble. Shoof was one of the artists participating in Tour Paris 13. Then, last summer, Galerie Itinerrance organized Djerbahood, an open-air museum in Djerba (the largest North African island). Shoof was just one of 150 artists from 30 countries that showed their work and urban interventions – could you say urban intervention when it was made in the village of Erriadh in Djerba? Anyhow, Shoof's intervention and murals had that something that encouraged Galerie Itinerrance to organize Shoof's solo exhibition Dripping Point.
Shoof's Dripping Point will take place at Galerie Itinerrance, at 7 Bis Rue Rene Goscinny, 75013 Paris, from May 5 to May 30. The exhibition will be open from Wednesday to Saturday, in the period from 2 PM to 7 PM.
Also, you might want to see how calligraphy works on nude female bodies. You never know.
No need to search for photos and information – sign up now for My WideWalls newsletter and get all the news of contemporary and street art.
All images courtesy of Galerie Itinerrance.
We would like to hear your response to this story! Contact us and give us information on how you feel about Shoof's work on our social network. Please, join the discussion on our Facebook page.