The Eternal Sickboy
Bristol's graffiti artist Sickboy is having his first London gallery appearance this summer with "Make It Last Forever", a multi-disciplinary exhibition designed specifically for The Outsiders London. The time has come for the comprehensive showcase featuring a unique body of surreal abstract canvases alongside an elaborate installation designed specifically for The Outsiders' basement space. Although the stunts, slogans and constructions have been confined inside gallery walls, the ethos and inquisitive spirit remain true to the original street displays that earned Sickboy his undisputed global recognition.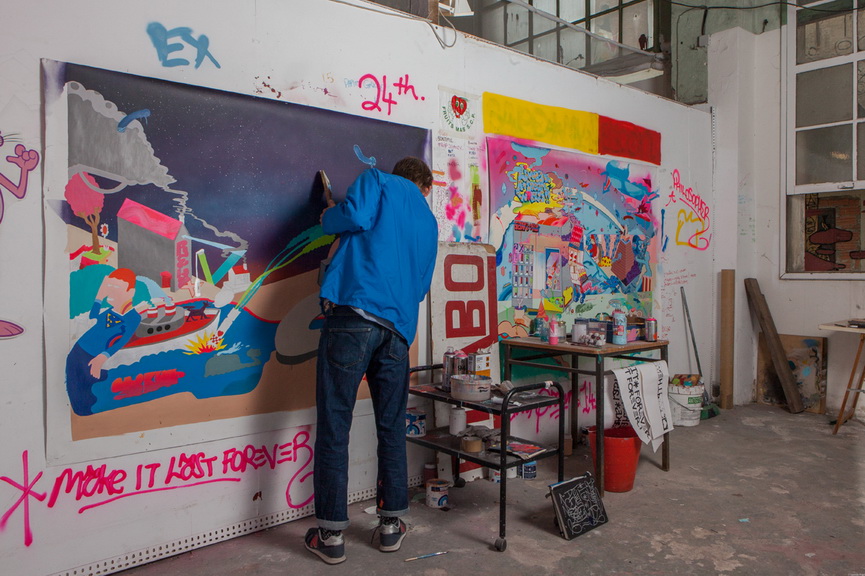 Graffiti and Fine Art
Graffiti influenced his life from an early age and vice versa. Sickboy left a remarkable impact on the scene by inventing an entirely new way of tagging. Instead of lettering he used a pictorial logo, an emblem, for his tag. The logo in question is a red and yellow emblem named "The Temple" and can be glimpsed on walls and wheelie bins worldwide. However, Sickboy has always painted on canvas alongside graffiti. Originally trained in Fine Arts, he's been exploring and pushing his work through a broad spectrum of sources side by side with his street ventures. Sickboy's peculiar paintings, characterized by cartoonish style and vivid colors, are filled with humorous characters and funny situations that spread all over the canvas leading or misleading the viewer's eye from one story to the other. He is a peerless storyteller with playful visual language and one of the artists with whom we are proud to collaborate. The British artist curated the Widewalls Collection at recently ended STROKE Art Fair, which was his first appearance as curator in Germany.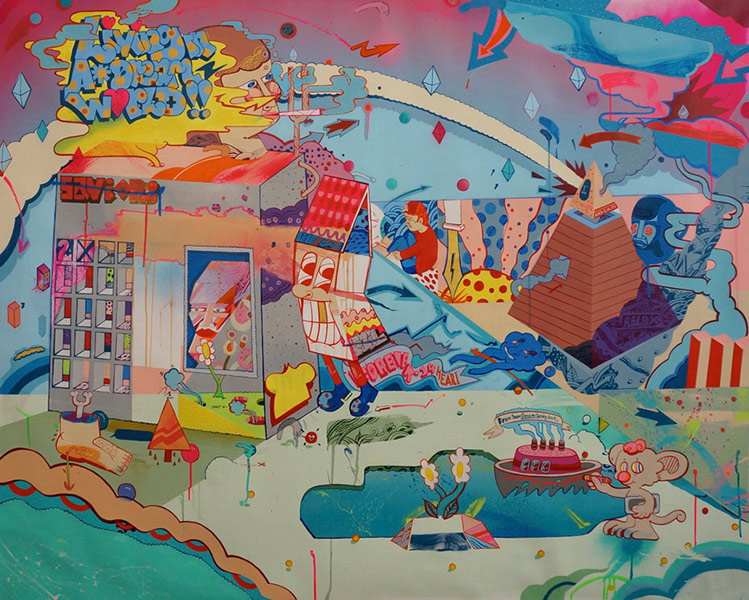 Temple, Superman and Coffin
A full-scale exhibition at The Outsiders celebrates a poignant embodiment of the artist's inspirations to date. Sickboy manages to successfully transpose his humorous and subversive street exploits that made him a star of Bristol's street art scene into the gallery environment. His iconic visual language will be reappearing in several guises throughout the show including his pioneering temple shrines, ever-popular superman sculpture and distinctive Sickboy coffin. Utilizing a variety of mediums Sickboy has been able to curate an array of personal assemblages, between his London and Barcelona studios, into an intimate and thought-provoking new body of work. Inspired by Natural History museum displays, the artist's 'Table of Contents' will take pride of place amidst the interactive installation and will feature the artist's most sacred ephemera, travelling souvenirs, embroidered patches and unobtainable collectables. The upper gallery will play host to an array of cosmic canvases inspired by the culminated memorabilia, depicting abstract narratives, otherworldly characters and hallucinogenic worlds.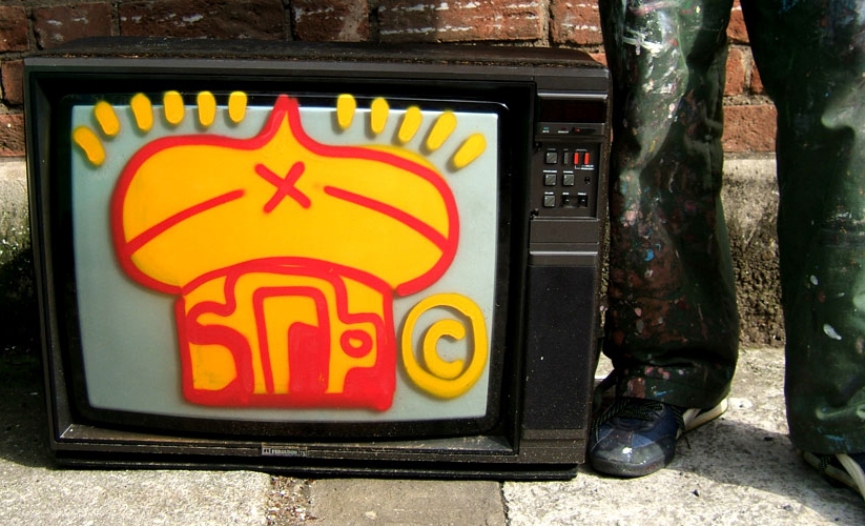 Make It Last Forever
The show presents a unique multimedia visual diary that seeks to outlive its creator.  Seeking to freeze-frame life's ephemeral nature, Sickboy, in fact, highlights the transient and fragile nature of our existence, and questions how we can Make It Last Forever.
About The Outsiders
Re-launching the first ever Lazarides gallery spaces under a new heading in July 2010, The Outsiders sell affordable originals, as well as exclusive print releases and collectibles from the Lazarides stable of artists and beyond. Incorporating the online store www.theoutsiders.net and exhibition spaces on London's Greek Street and Newcastle-Upon-Tyne, The Outsiders welcomes over ten thousand visitors annually. Each of the galleries feature project spaces showcasing works from new and emerging talents, as well as offering established Lazarides artists a space to present experimental shows.