Sickboy – Following Fantastically Bad Smelling Rivers
After Paris comes India. Sickboy went to India! That alone should fix you on the next words you're about to read. Accompanying Sickboy on his path to inspiration and enlightenment was his 35mm Contax. Together Sickboy and Contax visited rooftop pools, underpasses, Muthappa Stores, trash yards and slums. They traveled in the characteristic rickshaws and thus became Indian within seconds after the arrival at the airport. When Sickboy arrived back at his London studio the first thing he did was paint and not let the inspiration for the India trip slip away into Nirvana. Second thing he did was send us pictures from Contax and answer our questions about his doings in the South Asian country. So here you go motherf*****s: Sickboy in India.
Widewalls: Why did you go to India?
Sickboy: To swim with stray dogs in a beautiful dream and lock my eyeballs on shrines temples and earthly delights.
W: Where exactly did you go?
S: Bangalore
W: Did you paint?
S: Yes, I did. Everyday a huge mural and in the evening I always have my scrapbook with me that I draw in 24/7. I also sprayed a little. I found some really good locations. Especially the wall by the side of a main road of this huge grey building with the ventilation system was insane. When I was painting there at night there were hundreds of stray dogs feeding on the rubbish and singing vicious songs to me. Never had that many hyenas around me since quite a while. Round them up for a photo shoot at the end.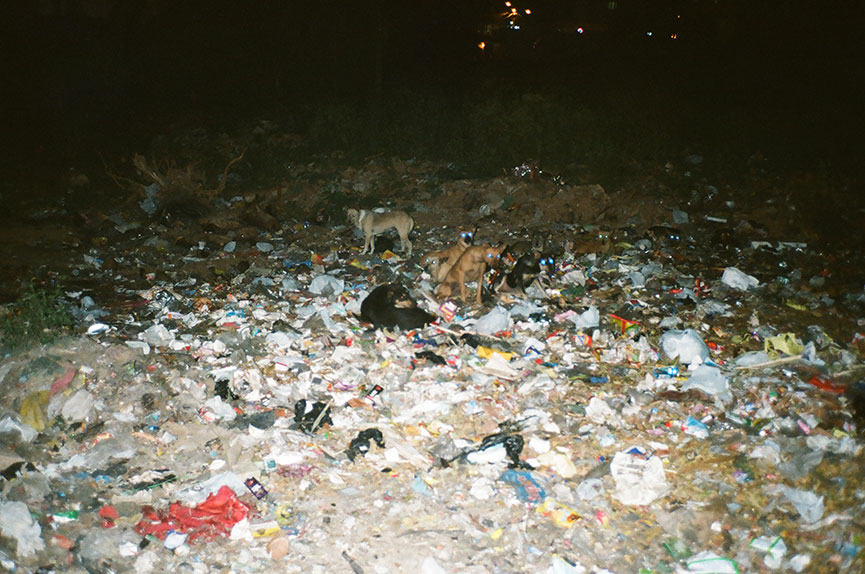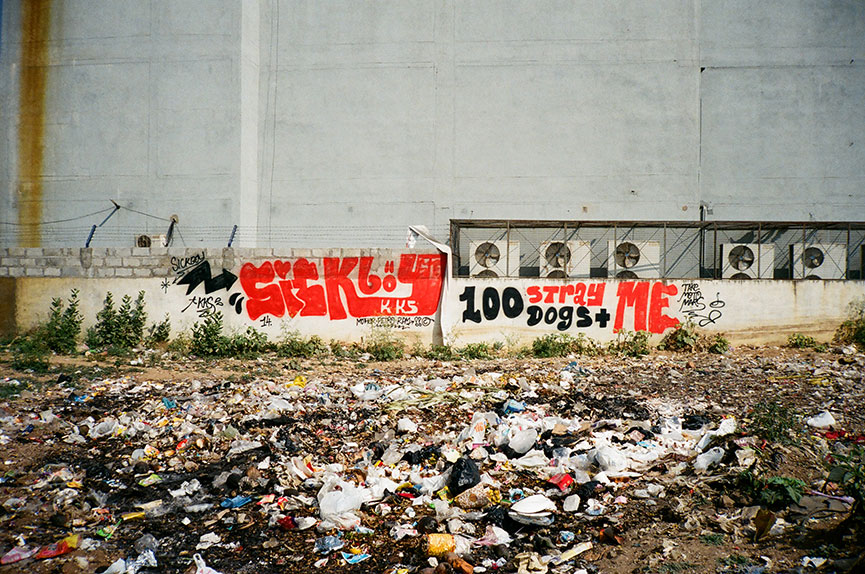 W:  Did the trip to India inspire you to create new work?
S: I was back not even two days and started painting already. My head, filled with all the images from India did everything by itself. I'm preparing for a show in London this year (undisclosed location) and this trip really helped me get into it.
W: What was most interesting?
S: The thing I really loved (actually always love) was going out the next morning, after having spent the night painting walls and take pictures of my work in the light of day. Kind of a nice feeling.
W: What was most fascinating about your journey?
S: The people and the religious iconography, I am deeply in the well of symbolism, and with India I couldn't even see the little beam of light coming down from earth