Simone Geraci Paintings Emerge from Natural Materials
The new Simone Geraci paintings pay special attention to the study of the individual. Attempting to reach deep into the psychological and introspective aspects of his central figures, Geraci explores the human nature, its hidden screams, and hopes. For the occasion of his solo exhibition ROT at the Burning Giraffe Art Gallery in Torino, the artist has created a new body of work. Simone Geraci's new series is a heterogeneous collection of works between etching, oil paintings on canvas and oil on slate paintings.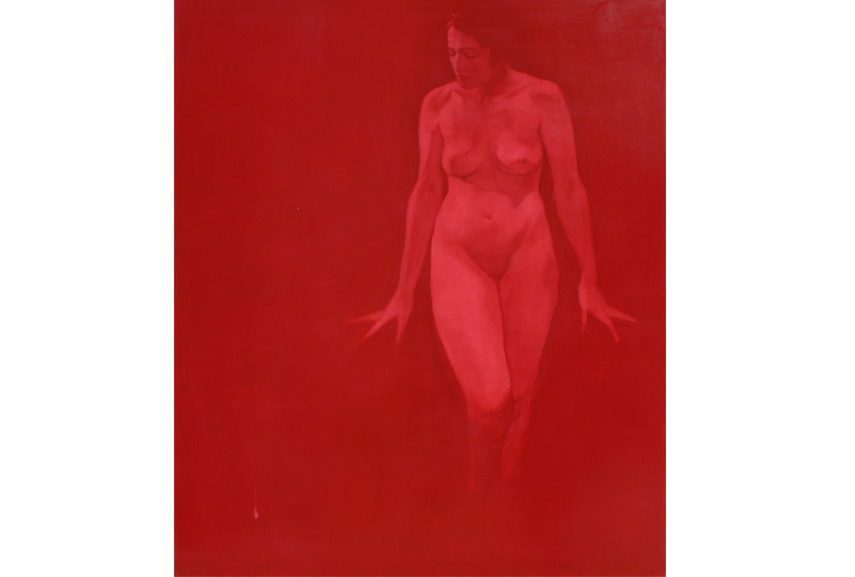 Simone Geraci Paintings
The works for his exhibition ROT showcase the most characteristic quality of Simone Geraci's production. Celebrating both the materials and the color, his paintings display a masterful approach to natural texture and color of the stone. On purposely leaving some parts of the stone untouched by the paintings intervention, the slate is transformed from a simple carrier to an integral part of the artwork. The blocks of strong color, at the same time deep and opaque, add that mysterious quality that suggests a deep psychological reflection of the artist transmitted in his painted figures. His broken down portraits and compositions of nude find a clear reference in the Romantic art of German ascendance and follow its expressionistic developments.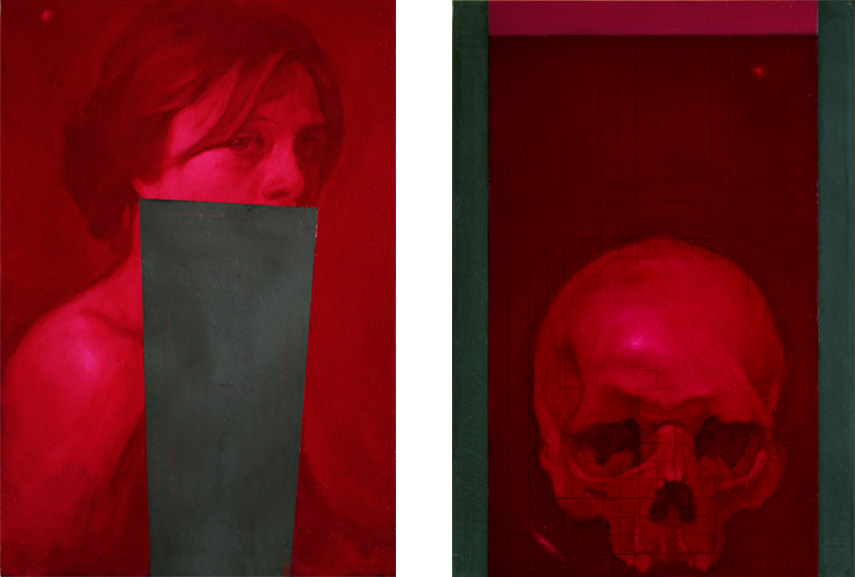 The Painted Figures
The androgenic, terse and dreamy figures of Simone Geraci paintings exasperate the feeling of isolation. As if blocked by the geometric landscapes they inhabit and by the dominant red color, their silent screams are trapped between the layers of paint and the surface. The human figures are immobilized and still. Their closed eyes or direct eye contact with the public reflect a state of the void which surrounds them. The use of red color, explains the title of the exhibition but also accentuates this feeling of isolation. With the use of this color, the paintings vibrate a contemporary feeling. Should they be read as a comment on the state of our world?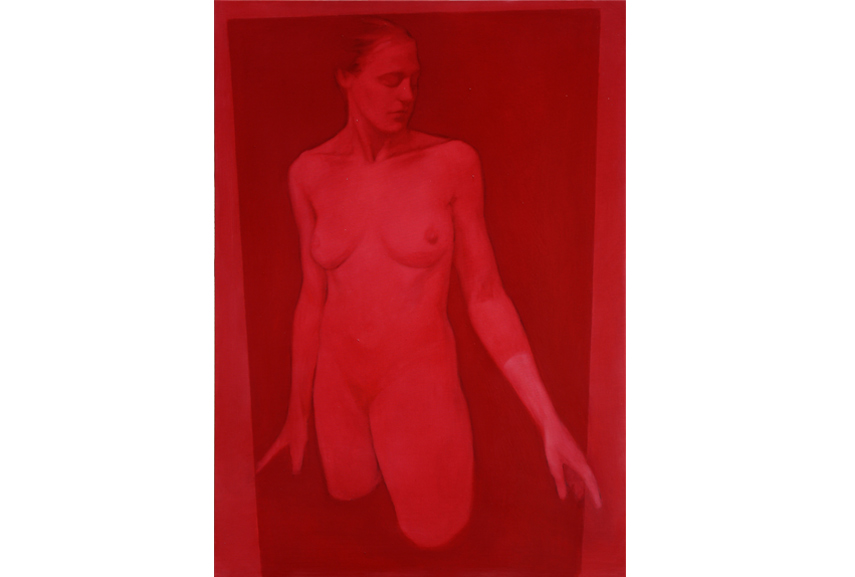 Simone Geraci Paintings at the Burning Giraffe Art Gallery in Torino
Simone Geraci is a painter, engraver, and illustrator. Collaborating with galleries in Italy and abroad he branched his creativity and started collaborating with various publishing houses in Palermo. From 2014, he is the art director of the collective book Il Palindromo.
His solo exhibition ROT at the Burning Giraffe Art Gallery in Torino displays a world of intense female portraits and both elegant and metaphysic compositions of nude. Dipped and surrounded by the glory of the red color, the paintings are Geraci's attempt to display the human condition and its various drifts. Starting on September 29th, 2016 and lasting until the October 22nd, 2016, the Italian public is awarded the production of one of the rising stars of Italian art.
All images courtesy of the Burning Giraffe Art Gallery, Torino. Featured image: Simone Geraci – Die Hand, detail.