Skate's Art Fairs Report - Spring 2015
The new Skate's Art Fairs Report for Spring 2015 has arrived, and it brings us rankings of art fairs held in previous quarter (January 1 – March 31). Also, there are detailed information on 12 most visited art fairs since the beginning of the year, such as the number of visitors, number of galleries that have participated, and year-on-year changes. The authors of Skate's Art Fairs Report also gave forecast of further development of art fairs scene, with the emergence of digital world and its expansion.
The New Trend is Digital
First of all, the Skate's Art Fairs Report says that the current trend is the reduction of galleries that are participating, at least at some fairs. Also, the attendance was stagnant. The main reason for these trends, according to the Skate's Art Fairs Report? The authors claim that the biggest event in these three months did not happen at any of the art fairs: Artsy, the start-up from New York has provided $25 million at the financial market, and its further growth is expected. What is also expected is the reaction of leading art fairs, as digital art fair previews at Artsy are already generating more online traffic than the art fairs themselves. There have been 641,500 visitors at the top 12 art fairs in this period (January – March 2015), which was an increase of 6.8 percent from the last year, and 1,963 galleries – a 7.3 percent increase. This was the first Q1 in 10 years that the number of participating galleries did not registered double-digit growth. It seems that for growing number of galleries make more sense to focus more on digital presentations, instead of buying a place in every art fair.
Top 12 Art Fairs in Skate's Art Fairs Report
Out of those top 12 art fairs, Arco Madrid had most visitors, 100,000 of them, which was +8.7 percent on the last year's attendance. Arco Madrid also had a third-biggest number of galleries, with 222 (+1.37 percent). India Art Fair had 80,000 visitors (+19.4 percent), but just 85 galleries (-6.59 percent). The Armory Show in New York had the same number of visitors as the year before (60,000), but suffered a 9.01 percent decrease in number of galleries (199). TEFAF (The European Fine Art Fair in Maastricht) had the biggest number of galleries (280, a +2.19 percent change), while Art Basel Hong Kong suffered for its decision to move the fair from May to March, as they had 60,000 visitors (-7.69 percent) and 233 galleries (-4.9 percent). The other fairs on this top 12 list are BRAFA Brussels Art Fair, (55,000 visitors), Art Stage Singapore (51,000), Artferia Bologna (52,000), ZONA MACO, Mexico City (41,000), Art Dubai (25,000), VOLTA New York (20,000) and Affordable Art Fair New York (17,500).

The Best Strategic Moves, according to Skate's Art Fairs Report
At number one, the authors of Skate's Art Fairs Report have put TEFAF, with the explanation that the museums actually buy artworks at TEFAF, and that's a good news, for the galleries, as well as for the authors. At number two, the authors picked up Art Basel Hong Kong, for its bold move to change the date of the fair from March to May and to shorten the fair from four to three days – they did lose some attendance, but, they have "detached" themselves from Frieze New York that is in May. At number three, the authors of Skate's Art Fairs Report have chosen The Armory Show, for its decision to put Middle East and Northern African (MENA) art in focus of this year's fair.
Sign up now for My WideWalls and be up-to-date with contemporary and street art.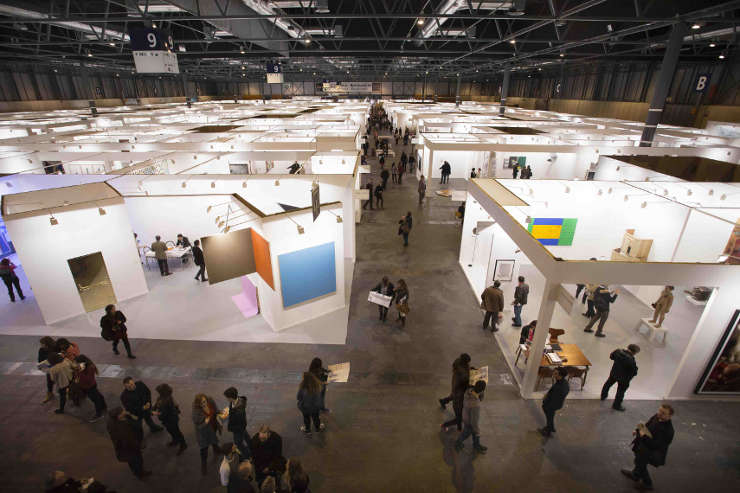 Featured images: – Arco Madrid (Courtesy of IFEMA) – The Armory Show (Courtesy of The Armory Show New York)
All images for illustrative purpose only.