Skulptur Projekte Munster 2017 - Exploring the Scope of Art in Public Space
Taking place every ten years since 1977, the Skulptur Projekte Münster was conceived with an idea of creating public art. Opening in June and lasting for the next 100 days, the long anticipated Skulptur Projekte Münster 2017 will demonstrate that art in the urban realm is capable of activating historical, architectural, social, political and aesthetic contexts. Pointing out the significance of the public space as a heterogeneous sphere that is indispensable for socio-cultural coexistence and cannot be subordinated to economic interests, the exhibition conveys a strong political message per se. Distinguished from other major international exhibition by its slowed-down, 10-year interval, the Skulptur Projekte Münster has grown into a renowned exhibition with broad impact and the unchanging spatial context.
The Skulptur Projekte Münster 2017 will explore the issue of the mechanisms, manifestations and impacts of digitalization and globalization, serving as an imaginary guideline for all curatorial decisions. The three issues of the publication series Out of… that was published in the months leading up to the exhibition served as one of the platforms for these deliberations and was linked with the experience of sculpture and projects in the public space: body, time and place. This year's edition brings together works by 35 internationally acclaimed artists who have created new artistic productions investigating the relationship between art, the public space and the urban environment. The exhibition spans various sites across the city of Münster and the nearby town Marl, and it is accompanied by the Skulptur Projekte's art mediation program.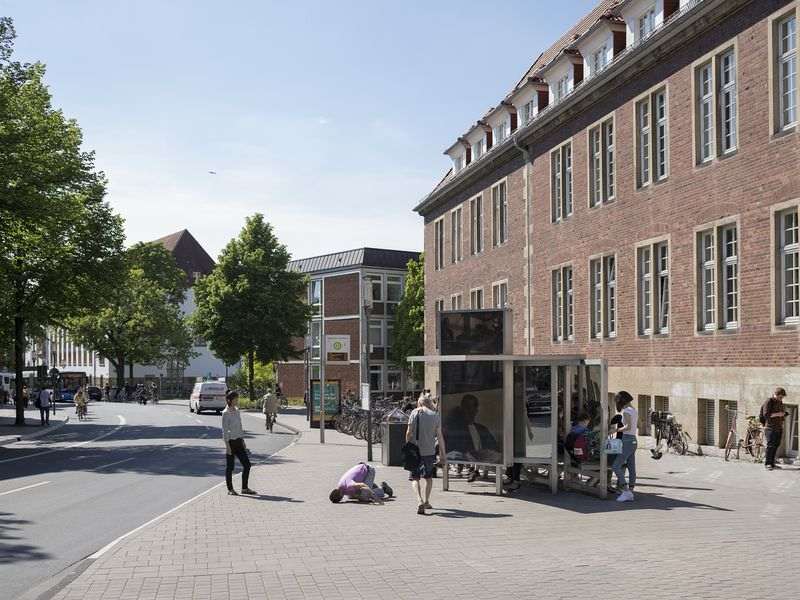 Skulptur Projekte Münster 2017
On one hand informed by the current practice of many artists, on the other arising from cultural-theoretical deliberations, the 2017 edition of Skulptur Projekte is giving more scope to performative practices. Since the body is disappearing in the digital sphere, this makes it something deserving of special attention. Some of the artists engaging in live arts over the course of seventeen weeks are Alexandra Pirici, Xavier le Roy in collaboration with Scarlett Yu, and the Gintersdorfer/Klaßen group.
Another conceptual thread of the exhibition is the relationship between sculpture and time forms. Thus, the exhibition will re-erect or make more accessible some of the sculptures from the previous editions such as Dan Graham's pavilion Oktogon für Münster / Octagon for Münster from 1997, and Rebecca Horn's installation Das gegenläufige Konzert / Concert in Reverse from 1987/1997. Some of the artists addressing the discourse on longevity with current works are Lara Favaretto and Justin Matherly. In cooperation with the Henry Moore Institute from September 13th until September 15th, 2017, the Skulptur Projekte will present a symposium entitled Nothing Permanent, addressing the question as to whether sculptures and monuments lose their validity in the public space, and if so under what conditions.
The site specificity has always played a key role in the Skulptur Projekte, and the curatorial concept has always been diametrically opposed to the interchangeability of works and themes of the kind frequently encountered at international biennials. Besides introducing new works, the exhibition will also look back on a large number of outstanding pieces from previous editions in Münster, adding an important site-specific condition for all involved. Taking a conservative historicistic approach with regard to urban planning and society alike, the exhibition explores not only the urban environment but also the genesis of the exhibition itself.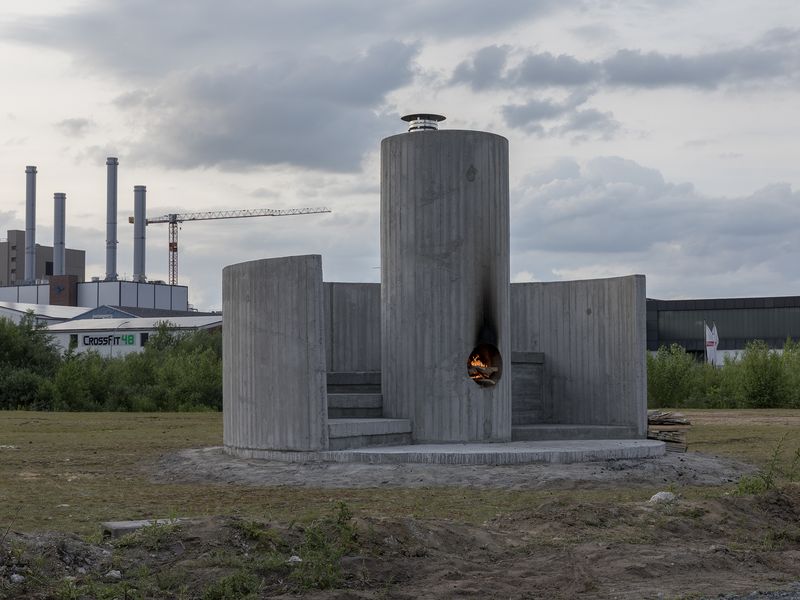 Participating Artists
The fifth edition of the Skulptur Projekte Münster will present 35 new artworks that will give familiar places a new character and open up unexpected perspectives. Participating artists of the 2017 edition are Ei Arakawa, the Japanese performance artist; Aram Bartholl, a Berlin-based conceptual artist; Nairy Baghramian, an Iranian visual artist; Cosima von Bonin, a German contemporary artist whose practice features the use of sculptures, textiles, sound, film and performances; Andreas Bunte, a German artist who creates film installations and experimental films; Gerard Byrne, an Irish visual artist working with photographic, video, and live art; CAMP, an Indian art duo of Shaina Anand and Ashok Sukumaran; Michael Dean, a British artist exploring the relationship between text and physicality; Jeremy Deller, an English conceptual, video and installation artist; Nicole Eisenman, an American artist who is known primarily for her paintings; Ayşe Erkmen, a Turkish artist making architectural interventions; Lara Favaretto, an Italian artist known for site-specific installations; Hreinn Friðfinnsson, one of Iceland's leading conceptual artists; Gintersdorfer / Klassen, a German artist duo consisting of Monika Gintersdorfer and Knut Klassen; Pierre Huyghe, a French artist working in a variety of media; John Knight, an American conceptual artist working in situ; Xavier Le Roy with Scarlet Yu, dancers and choreographers; Justin Matherly, an American sculptor; Sany, a Swedish graphic designer; Christian Odzuck, A German sculptor; Emeka Ogboh, a Nigerian sound and installation artist best known for his soundscapes of life in Lagos; Peles Empire, a German artist group comprised of Barbara Wolff and Katharina Stöver; Alexandra Pirici, a Romanian performance artist; Mika Rottenberg,  a contemporary Argentine video artist; Gregor Schneider, one of German pioneers of the art of constructed spaces; Thomas Schütte, a German sculptor; Nora Schultz, a German installation artist; Michael Smith, an American artist influential in performance art, video art, and installation art; Hito Steyerl, a German filmmaker, visual artist, writer, and innovator of the essay documentary; Koki Tanaka, a Japanese conceptual artist; Oscar Tuazon, an American artist working in sculpture, architecture, and mixed media; Joëlle Tuerlinckx, a Belgian conceptual artist; Wagner / De Búrca, a duo consisting of Barbara Wagner and Benjamin De Búrca; Cerith Wyn Evans, a Welsh conceptual artist, sculptor and film-maker; and Hervé Youmbi, an installation artist from Central African Republic.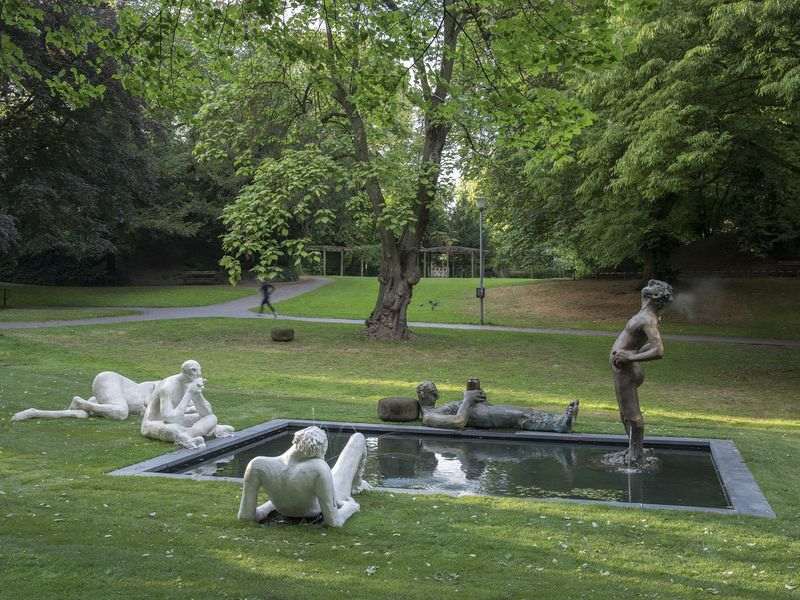 Art Mediation Program
Accompanying the exhibition, Skulptur Projekte 2017 will present its art mediation program that will create communicative situations and trigger processes allowing the perception of changes and a change of perceptions. Addressing the individual artworks in a very targeted manner, the program will foreground the visitors' personal and subjective experience of the works. One of the places that will serve as a mediation venue will be the Trafostation, an old transformer building in the Münster city center. It will be open daily for visitors of all age, allowing them to expand on their own ideas and translate them into artistic praxis.
Additionally, Skulptur Projekte 2017 will organize free public tours for the people of Münster and their guests; a wide range of workshops, offering participants the opportunity to take an in-depth look at one artwork or several in comparison, develop ideas of their own and translate those ideas into artistic praxis; and seminars and discussion forums in cooperation with the Münster Academy of Fine Arts. The project Kur und Kür / Cure and Kur by the poet Monika Rinck will accompany the changes the Skulptur Projekte entail for the city of Münster on the literary level.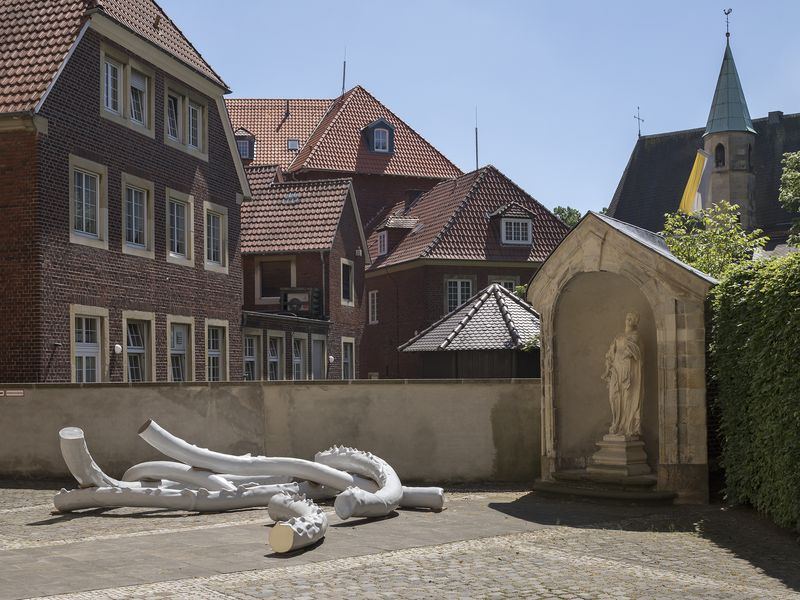 Practical Information
The Skulptur Projekte Münster 2017 will takes place in Münster and Marl between June 10th and October 1st, 2017. It will use a wide radius, since a number of project sites will be located four to five kilometers from the Münster city center, allowing visitors to experience the city outside its touristic picture-book core. The connectives between the Skulptur Projekte and the Glaskasten Marl will include the Sculpture Exchange, the intercity exchange of sculptures between Münster and Marl; artists working in both places and both contexts; a thematic exhibition Models in the Glaskasten Marl; authors in residence program; and the symposium Nothing Permanent: Sculptures and Cities. For more information about the exhibition and accompanying program, visit the official website of Skulptur Projekte Münster.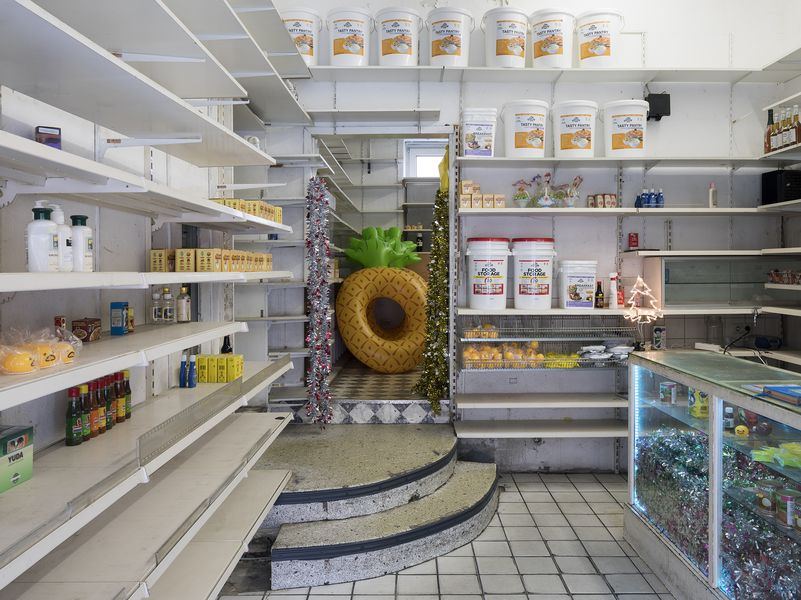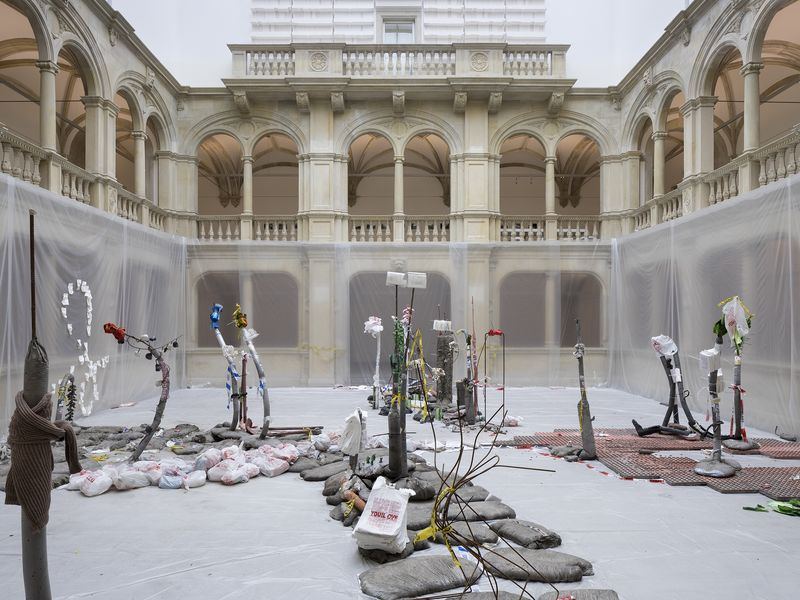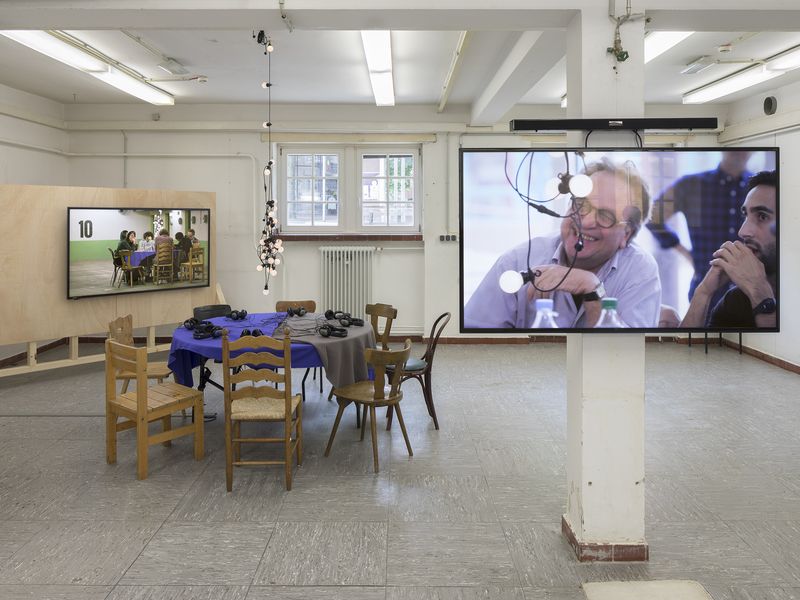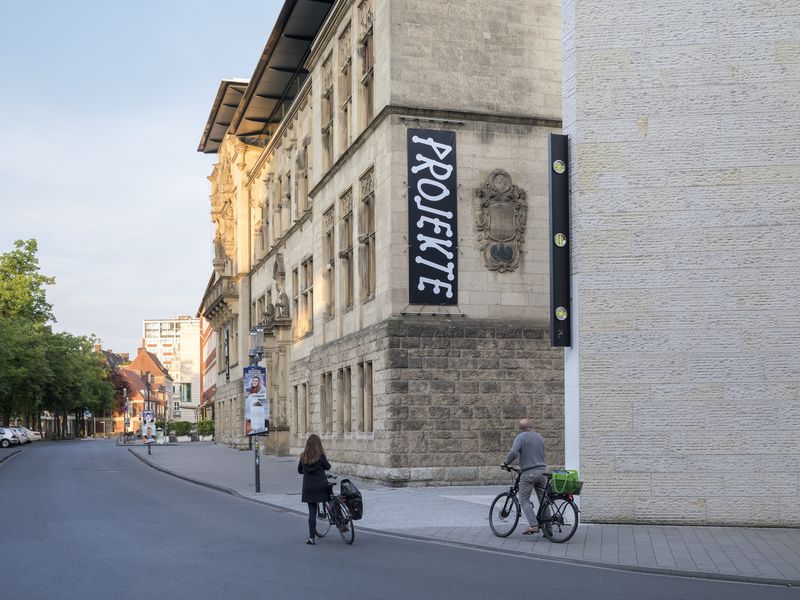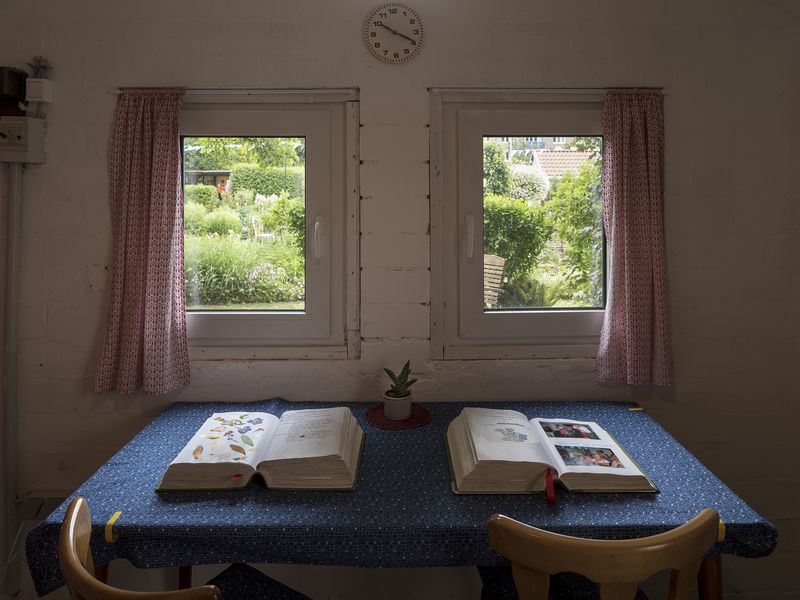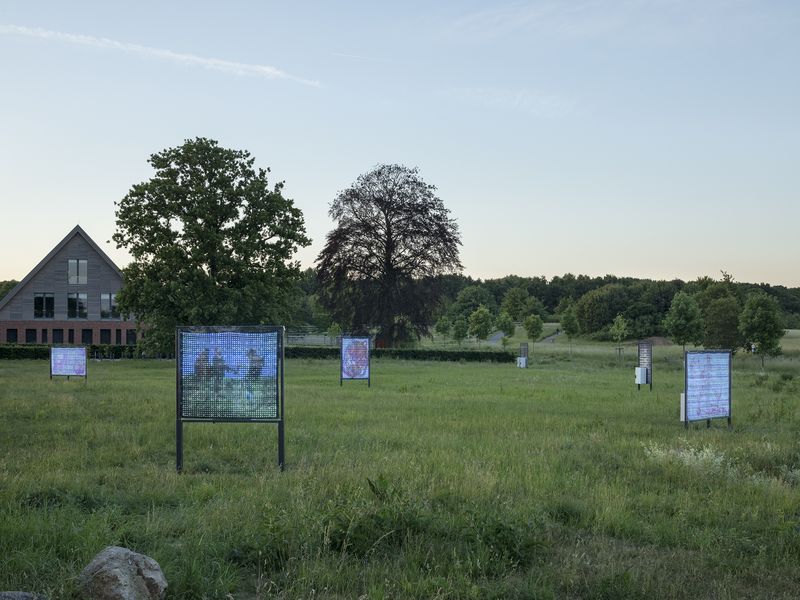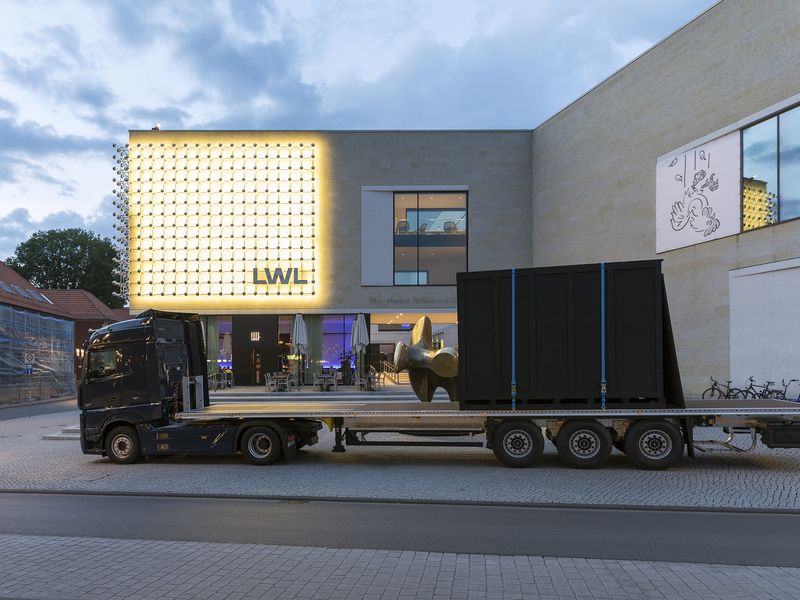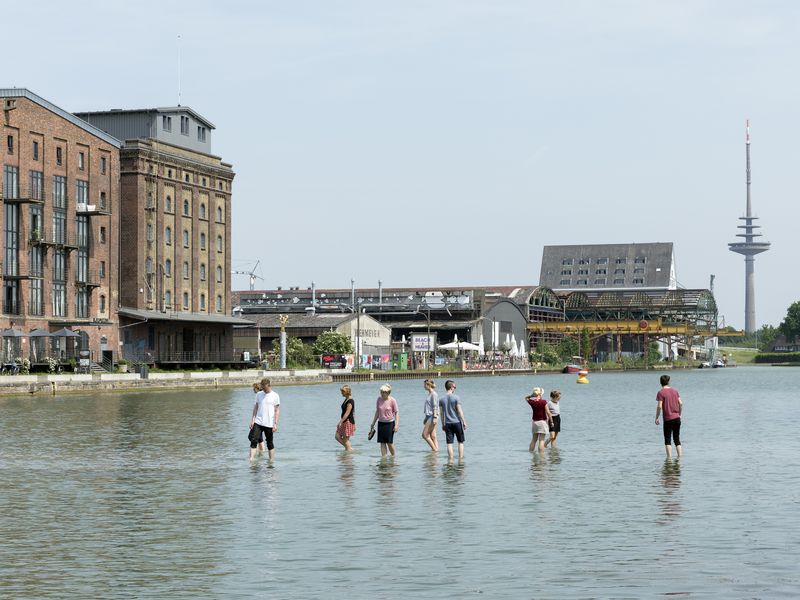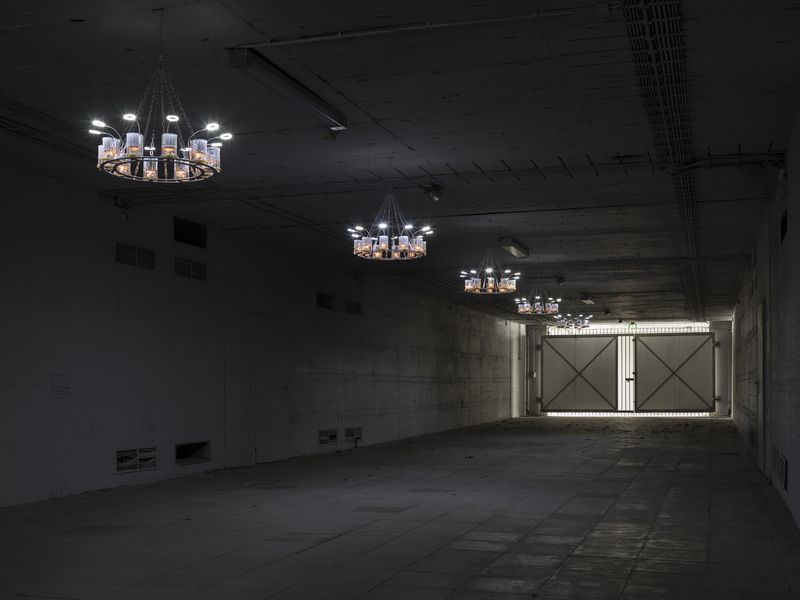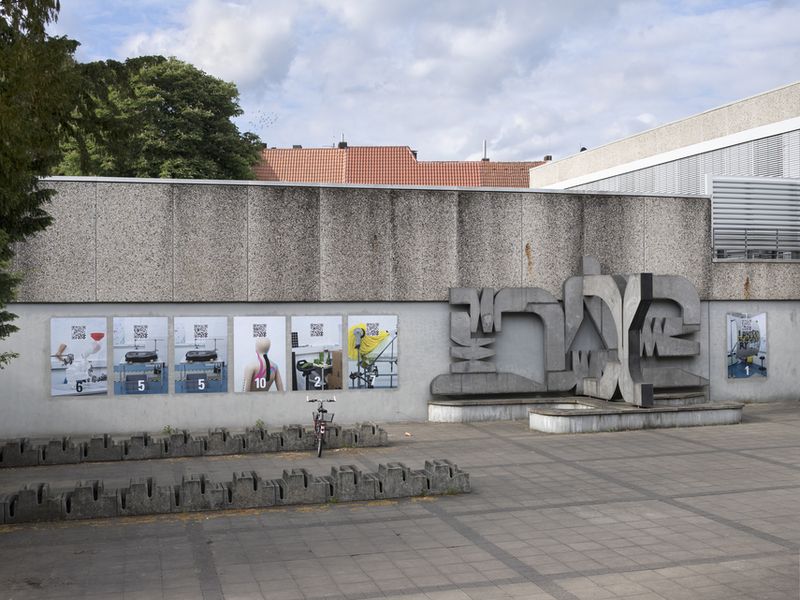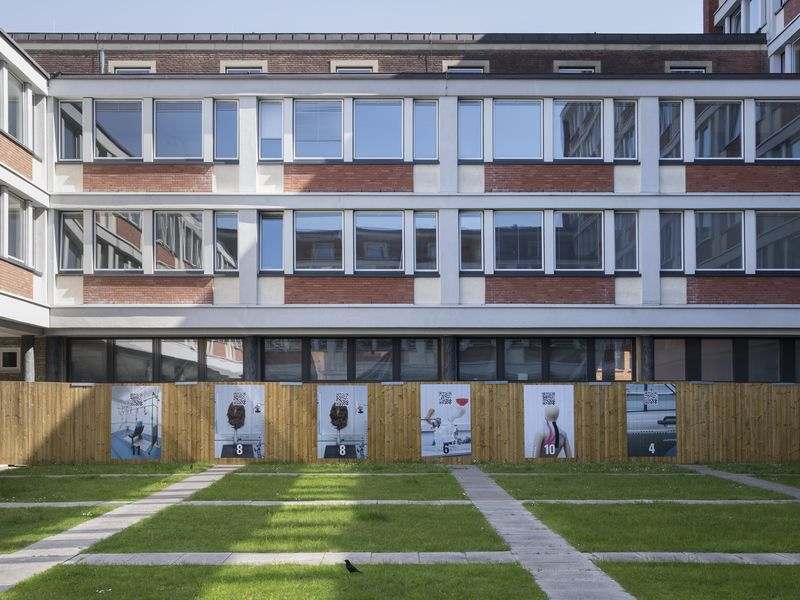 Featured images: Pierre Huyghe, After A Life Ahead, Skulptur Projekte 2017. Ice rink concrete floor; Sand, clay, phreatic water; Bacteria, algae, bee, chimera peacock; Aquarium, black switchable glass, conus textile; Incubator, human cancer cells; Genetic algorithm; Augmented reality; Automated ceiling structure; Rain; Ammoniac; Logic game. Photo by Ola Rindal; Herve Youmbi, Les masques celestes. Photo by Henning Rogge; Ginterdorfer / Klassen. Photo by Knut Klassen; Emeka Ogboh, Passage through Moondog. Photo by Henning Rogge; Alexandra Pirici, Leaking Territories. Photo by Henning Rogge. All images courtesy of Skulptur Projekte Münster.