What is a Slow Art Day?
A global event, Slow Art Day has a simple mission: to help people discover for themselves the joy of looking at and loving art. The whole idea behind is this event is to encourage people to look slowly at a piece of art, as it would lead to many discoveries, unlocking passion and creativity.
Launched in 2008 by Phil Terry, Slow Art Day evolved into an annual global event with now hundreds of museums and galleries around the world participating. Ever since over 1200 individual Slow Art Day events have taken place on all seven continents, hosted in 700 venues such as museums, galleries, artist studios, sculpture parks, public art sites, etc. Thanks to this initiative, one day each year, people all over the world visit local museums and galleries to look at art slowly.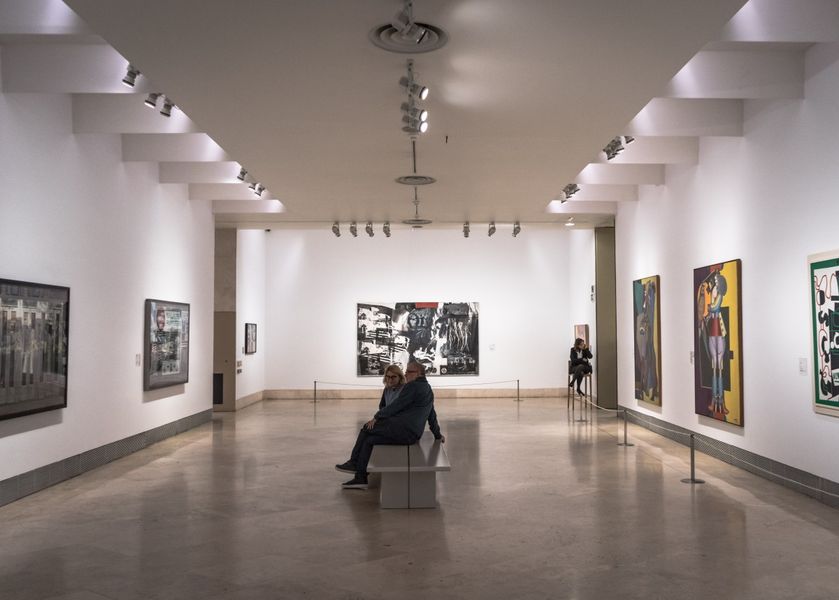 The Concept
According to a recent study, museumgoers spend an average of just 17 seconds looking at an individual painting. However, spending some time alone with an artwork is clearly an important part of understanding what lurks inside it.
This is what Phil Terry realized after spending an hour in front of Hans Hofmann's Fantasia at an exhibition at the Jewish Museum in New York. After this intense encounter, during which his mind made a range of connections, he wanted to share the experience of slowly ingesting artworks with other art-world outsiders. This is how the Slow Art Day came to life.
Hosted in a range of art institutions on a single day a year, Slow Art Day is meant to energize people. A volunteer host at a given venue selects a few works of art, while participants, who sign up for a group online, come to spend around 10 minutes in front of each work. After that, they meet together over lunch to talk about their experience. People responded overwhelmingly positive, describing the experience as "a new and valuable way to see the art."
Any staff member at a museum, gallery or other art venues can volunteer to host the event. While each host is responsible for organizing their individual event, the Slow Art Day team is there to provide the tools and support. The event is free, but each participant pays their own museum admission fees.
Participating Museums
Participating Museums
Aberfeldie, Australia – Incinerator Gallery
Algoma, Canada – Art Gallery of Algoma
Alkiza, Spain – Ur mara museoa
Amsterdam, Netherlands – Beelden Gesproken Galerie
Antwerp, Belgium – 't Grom
Antwerp, Belgium – DIVA
Antwerp, Belgium – FOMU Fotomuseum
Antwerp, Belgium – M HKA
Antwerp, Belgium – Sint-Pauluskerk
Athens, GA – Georgia Museum of Art
Auckland, New Zealand – Railway Street Studios
Auckland, New Zealand – Wallace Arts Centre
Belfast, Northern Ireland – Ulster Museum
Bentonville, AR – Crystal Bridges Museum of American Art
Bentonville, AR – Museum of Native American History
Birmingham, AL – Birmingham Museum of Art
Blackpool, UK – Grundy Art Gallery
Blokhus, Denmark – Center for Papirkunst
Bloomington, IL – Dreams 2 Create Art House
Boston, MA – Institute of Contemporary Art Boston
Brattleboro, VT – Brattleboro Museum & Art Center
Bremen, Germany – Museen Böttcherstraße
Brighton, Australia – Bayside Gallery
Brisbane, Australia – Queensland Art Gallery | Gallery of Modern Art
Brisbane, Australia – QUT Art Museum
Bruges, Belgium – Groeningemuseum
Brugge, Belgium – Sint-Janshospitaal
Brumadinho, Brazil – Instituto Inhotim
Brussels, Belgium – BOZAR
Brussels, Belgium – Musical Instruments Museum
Cambridge, MA – MIT List Visual Arts Center
Canberra, Australia – National Portrait Gallery of Australia
Champlain, NY – Champlain Meeting House
Charleston, SC – Halsey Institute of Contemporary Art
Chicago, IL – Art Institute of Chicago
Cincinnati, OH – Cincinnati Art Museum
Cleveland, OH – Museum of Contemporary Art Cleveland
Cologne, Germany – Die Photographische Sammlung/SK Stiftung Kultur
Columbia, MO – Orr Street Studios
Columbia, SC – Columbia Museum of Art
Coniston, UK – Ruskin Museum
Coquitlam, Canada – Evergreen Cultural Centre
Cradle of Humankind, South Africa – NIROX Sculpture Park
Denver, CO – Denver Art Museum
Des Moines, IA – Des Moines Art Center
Doylestown, PA – Michener Art Museum
Dublin, Ireland – Chester Beatty Library
Dublin, Ireland – National Gallery of Ireland
Dubuque, IA – Dubuque Museum of Art
Edmonton, Canada – Art Gallery of Alberta
Eldridge, IA – Artist's Vault Gallery
Flagstaff, AZ – Museum of Northern Arizona
Fort Pierce, FL – Home of Jeannie Johansen
Gainesville, FL – Harn Museum of Art
Ghent, NY – Art School of Columbia County
Gloucester, MA – Cape Ann Museum
Goldendale, WA – Maryhill Museum of Art
Greensboro, NC – Weatherspoon Art Museum
Greve in Chianti, Italy – La Macina di San Cresci
Hämeenlinna, Finland – GalleriaKONE
Hanceville, AL – The Evelyn Burrow Museum
Hartford, CT – Clare Gallery
Helsinki, Finland – The Finnish Museum of Photography
Hempstead, NY – Hofstra University Museum of Art
Hong Kong, Hong Kong – Asia Society Hong Kong Center
Hong Kong, Hong Kong – The University of Hong Kong Museum & Art Gallery
Honolulu, HI – Hawaii State Art Museum
Houston, TX – The Museum of Fine Arts, Houston
Indianapolis, IN – Jewish Community Center Indianapolis
Kansas City, MO – Kemper Museum of Contemporary Art
Kelowna, Canada – Kelowna Art Gallery
Kiev, Ukraine – The Bohdan and Varvara Khanenko National Museum of Arts
Kilkenny, Ireland – Butler Gallery
Kingston, Canada – Modern Fuel Artist-Run Centre
Knislinge, Sweden – Wånas Konst
Le Grande, OR – Art Center East
London, UK – Tate Modern
London, UK – The Photographers' Gallery
Los Angeles, CA – Autry Museum of the American West
Lviv, Ukraine – HR-Kavjarnia
Magaliesburg, South Africa – MelonRouge Eatery Art Antiques
Manchester, NH – Currier Museum of Art
Marco Island, FL – Marco Island Historical Museum
Melbourne, Australia – Australian Centre for Contemporary Art
Miami Beach, FL – The Wolfsonian FIU
Miami, FL – The Patricia & Phillip Frost Art Museum @ FIU
Mildura, Australia – Mildura Arts Centre
Mineral Point, WI – Wantoot
Minsk, Belarus – The National Art Museum of the Republic of Belarus
Mullumbimby, Australia – Byron School of Art
Munich, Germany – Pinakothek der Moderne
Murwillumbah, Australia – Tweed Regional Gallery & Margaret Olley Art Centre
New Orleans, LA – New Orleans Museum of Art
New York, NY – Center for Italian Modern Art
New York, NY – Museum of Arts and Design
New York, NY – Rubin Museum of Art
Newcastle, Australia – Newcastle Art Gallery
Norfolk, VA – The Hermitage Museum & Gardens
North Adams, MA – Massachusetts Museum of Contemporary Art
Norwalk, CT – Norwalk City Hall WPA Murals
Oakland, CA – Ashara Ekundayo Gallery
Oakland, CA – GearBox Gallery
Oakland, CA – Gray Loft Gallery
Oakland, CA – Mercury 20 Gallery
Oakland, CA – Warehouse 416
Oceanside, CA – Oceanside Museum of Art
Ogdensburg, NY – Frederic Remington Art Museum
Orillia, Canada – Orillia Museum of Art and History
Owen Sound, Canada – Tom Thomson Gallery
Oxford, UK – Ashmolean Museum
Pasadena, CA – Norton Simon Museum
Perth, Australia – Art Gallery of WA
Philadelphia, PA – Philadelphia Museum of Art
Philadelphia, PA – Philadelphia's Magic Gardens
Philadelphia, PA – The Barnes Foundation
Pomona, CA – Latino Art Museum
Pompano Beach, FL – Bailey Contemporary Arts
Rueil-Malmaison, France – Château de Malmaison
Rutland, VT – 77ART
Ruzomberok, Slovakia – Ludovit Fulla Gallery
Saint-Denis, France – Musée d'art et d'histoire Paul Eluard
Saluzzo, Italy – Museo Civico Casa Cavva
San Francisco, CA – ArteMISSF
San Francisco, CA – SFMOMA Artists Gallery
Santa Barbara, CA – Santa Barbara Museum of Art
Santa Cruz, CA – Museo Eduardo Carrillo
Santa Fe, NM – New Mexico Museum of Art
São Paulo, Brazil – Galerie Art Studio Fátima Marinho
Sao Paulo, Brazil – HVF Artes
Sao Paulo, Brazil – Sociedad Des Artes
Saskatoon, Canada – Remai Modern
Seattle, WA – Frye Art Museum
Shanghai, China – AIKE Gallery
Solingen, Germany – Museum of today // Waldmeister
St. Louis, MO – Saint Louis Art Museum
St. Petersburg, FL – The James Museum of Western & Wildlife Art
Stockbridge, MA – Norman Rockwell Museum
Sussex, Canada – AX: Arts and Culture Centre of Sussex
Thessaloniki, Greece – MOMus/Thessaloniki Museum of Photography
Thessaloniki, Greece – Municipal Art Gallery of Thessaloniki
Tišnov, Czech Republic – Galerie Josefa Jambora
Toledo, OH – Toledo Museum of Art
Toronto, Canada – Aga Khan Museum
Toronto, Canada – Art Gallery of Ontario
Toronto, Canada – Art Museum at the University of Toronto
Toronto, Canada – InterAccess
Toronto, Canada – Onsite Gallery, OCAD University
Toronto, Canada – Textile Museum of Canada
Toronto, Canada – The Power Plant Contemporary Art Gallery
Tulsa, OK – Gilcrease Museum
Turku, Finland – B-galleria
Vaasa, Finland – Kuntsi Museum of Modern Art
Vancouver, Canada – AMP Studio
Vancouver, Canada – Truth and Beauty Gallery
Vancouver, Canada – West Vancouver Art Museum
Virginia Beach, VA – Virginia Museum of Contemporary Art
Waikato, New Zealand – Waikato Museum
Washington, D.C. – National Museum of Women in the Arts
Washington, DC – Hirshhorn Museum & Sculpture Garden
Washington, DC – IA&A at Hillyer
Waterloo, Canada – Canadian Clay & Glass Gallery
Waterville, ME – Colby College Museum of Art
Wausaw, WI – Leigh Yawkey Woodson Art Museum
West Bretton, UK – Yorkshire Sculpture Park
Wigan, UK – Wigan STEAM Gallery
Yonkers, NY – Blue Door Art Center
Slow Art Day 2019
The idea of a Slow Art Day has been embraced by both major institutions like SFMOMA and smaller museums like the Birmingham Museum of Art.
The 2019 edition of Slow Art Day will take place on April 6th, 2019 in 166 venues all around the world.
Be sure to take part in this event at your local museum, focusing on slow looking and its transformative power.
Featured image: A visitor in the Louvre Museum. Image via Creative Commons.