Little Big : Small Scale Artwork Extravaganza in Exhibition at Northport Haven Gallery
The most beautiful and captivating narratives can be depicted even on the smallest surfaces. That's why, Haven gallery invited emerging, talented artists to showcase their best small scale artworks at the gallery space. Following Into the Woods, a remarkable exhibition of artworks which depicted deeply personal fairy tales, Haven gallery in Northport will present a collection of small scale artworks, measuring 8×10 inches and smaller. From seductive heroines, to industrial landscapes and animals devouring pizza, Little Big exhibition proves that even the greatest ideas can be portrayed on tiny canvases.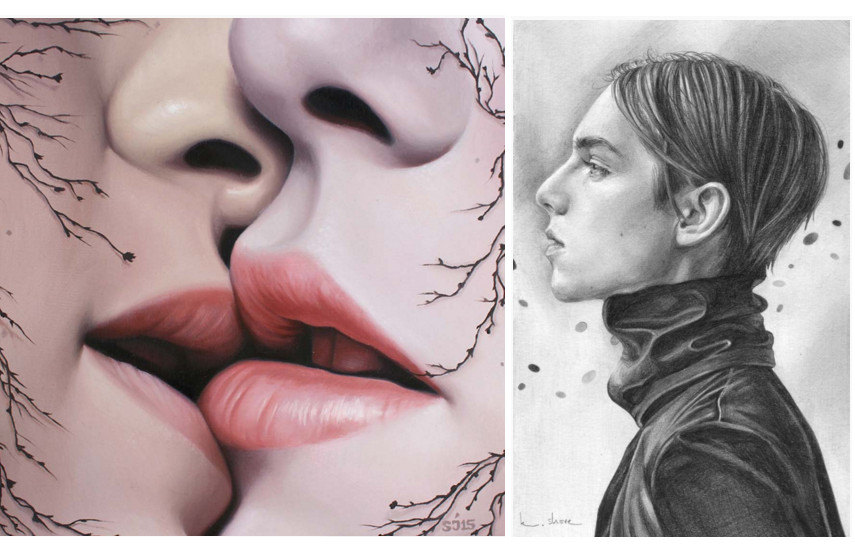 Little Big Portraits and Nature-inspired Imagery
Little Big exhibition will feature a variety of works by both national and international artists. Their works are as varied in themes as they are in styles, but human and animal portraits seem to be the most dominant motifs. New paintings by Sarah Joncas shine with sensuality and charm as the artist portrays inner life of women depicted in cartoon and film-noir atmosphere. Seattle-based mixed-media artist Kindra Nikole draws inspiration from the beauty of nature and the magic of portraiture. In her tiny 8×8 inches artwork, she uses acrylic to embellish the surreal female character surrounded by natural elements.
Foggy Industrial Landscapes by Brian Mashburn
Brian Mashburn skilfully combines his Asian heritage with Western style upbringing. His foggy oil on canvas paintings are inspired both by the heavy mists of Appalachia and the infamous smog of China and Hong Kong. In the upcoming Little Big exhibition, the American artist will display some of his trade mark industrial landscapes inhabited by a variety of meticulously portrayed animals. The juxtaposition between the cold industrial background and nature (and between life and death which they symbolize), equips Brian Mashburn's paintings with an allegoric quality that people around the globe can easily relate to.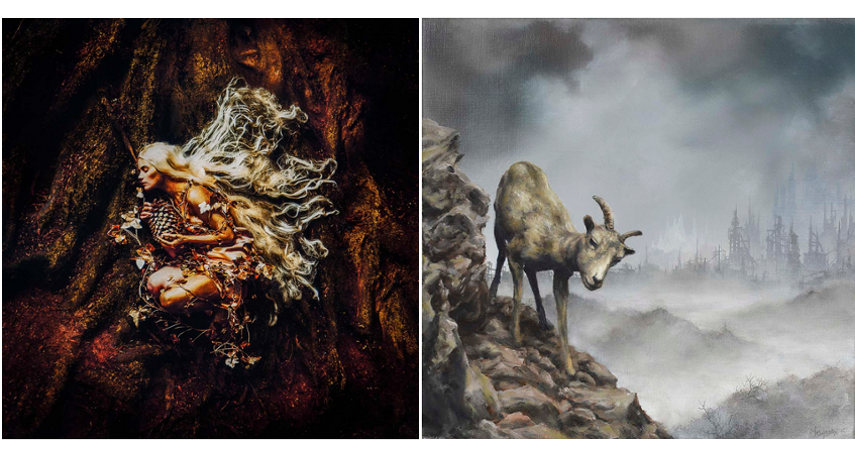 Small Scale Artwork Extravaganza at Haven Gallery
Little Big is a comprehensive group show featuring small scale artworks by almost forty artists. The exhibition will open on Saturday, November 21st with the opening reception scheduled from 6pm till 9pm. Ranging from 150 to 3.500 USD the artworks on display can be original and affordable holiday presents for your friends and family. The visitors of Haven gallery in Northport will have the opportunity to observe and buy some of these small scale artworks till December 23rd, 2015 when the exhibition closes.
Looking for a perfect work of art?

Sign up for My Widewalls

and explore the art world in search for that special piece.
Featured images: Henry Schreiber – Marmot Devouring his Pizza ; Erich Moffitt – Chance ; Leegan – Journey to the West ; Left : Genevive Zacconi – Home / Right : Lea Barozzi – The Harvest Bride ; Michael Ramstead – The Sentinel ; Images courtesy of Haven gallery