Snowden Sculpture Replaced by Hologram
A bust of the NSA whistleblower Edward Snowden was standing in Fort Greene Park in Brooklyn for only a few hours. Soon after a group of mysterious artists erected a sculpture, it was removed by New York City Parks Department, with NYPD. However, only few hours after the city authorities removed the sculpture, a new artistic group stepped in, and recreated the Edward Snowden's bust with hologram. The Illuminator Art Collective was inspired to design a similar image of Snowden and project it behind the column where the bust sat. In form of public intervention, this art collective reacted against the arbitrary decision to remove the sculpture, with an act that is deeply politically inspired.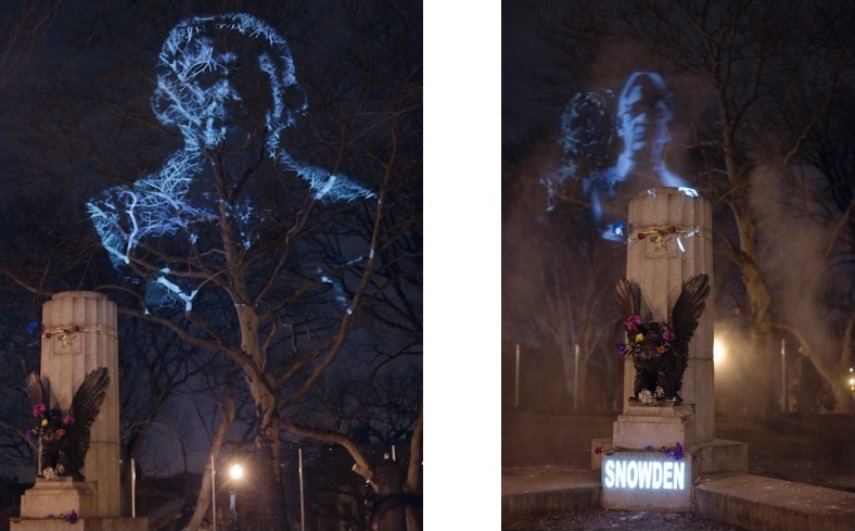 Reacting Against the State's Authority
Edward Snowden became global phenomenon when he publicly exposed the government surveillance program of private correspondences of citizens, and when he revealed classified NSA documents to journalists from a location in Hong Kong. This former employee of the US National Security Agency became a "traitor" and "public enemy". A heated debate followed this controversial action, where many reacted by criticizing the US government for violating human rights regarding privacy. This brave Snowden's act inspired many activists, politicians and ordinary citizens to tackle the issue of massive government's surveillance program, but it inspired artists as well. Banksy's Spy Booth appeared just after news broke about Edward Snowden; Trevor Paglen had an exhibition inspired by NSA actions; an artist Marcus Jansen had an exhibition entitled Whistleblower, inspired by Snowden. The removal of the Snowden's bust from Brooklyn's Fort Greene Park inspired The Illuminator Art Collective to publicly intervene at the same place where the bust was firstly erected, by recreating it with hologram.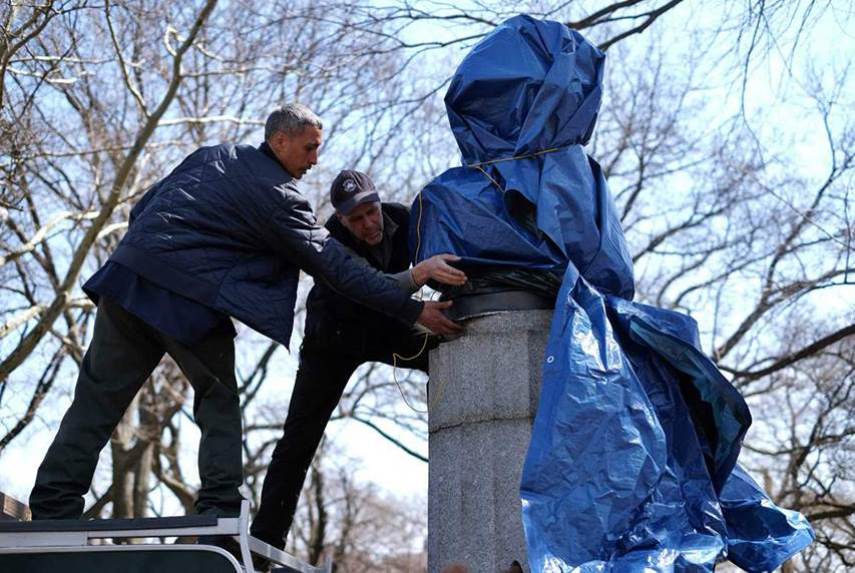 Replacing the Snowden's Sculpture with Hologram
By replacing the Snowden's sculpture with hologram, the Illuminator Art Collective wanted to show that the acts of resistance remain in the public consciousness, and that is stronger than State's power to remove material artifacts. They also wanted to show that hope resides in these acts of defiance. The three original artists promptly issued a statement, saying they were thrilled to see that another group of artists "reinstalled" the bust and nameplate in light. According to their statement, this creative action is an important step in a process of "raising awareness about what it means to be an American, and a hero".
Be sure to check out our 10 Favorite Politically Charged Art Expressions of 2014.
Do you have something to say about Edward Snowden and these public interventions? Comment on our Facebook page! Join the discussion!
For following the latest news, don't forget to sign up for My Widewalls!.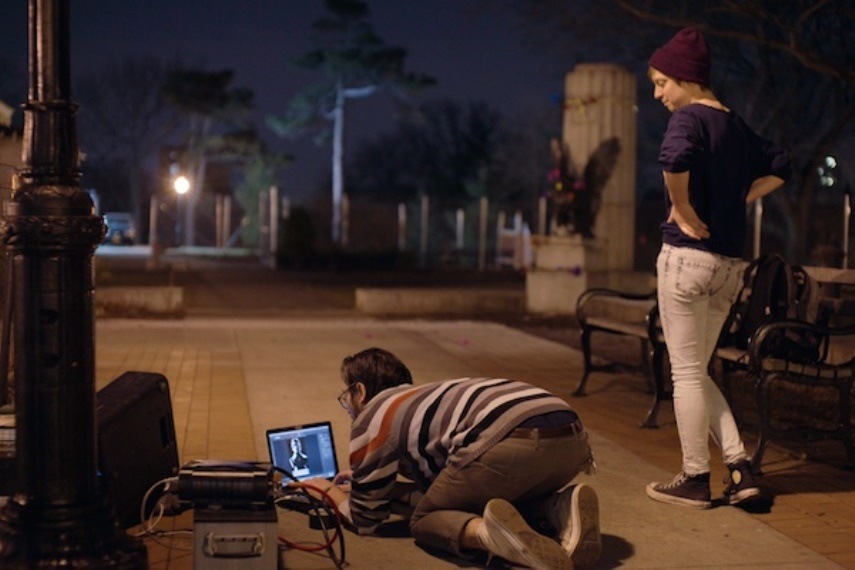 Featured Image: Illuminator Art Collective – Snowden Hologram (courtesy of blogs.artinfo.com)
All images used for illustrative purposes only.
[mc4wp_form]