Artists of the Week - Sobekcis
For the second week in a row, we have an artist duo as our Artists of the Week. After the legendary The London Police, we have Serbian art duo Sobekcis, two amazing young artists who are already legends in their region and becoming increasingly popular in the global urban art community. Twin brothers Ivan and Nikola Gajic started their artistic career on the streets of Belgrade as graffiti writers but soon became interested in a more complex approaches to their artistic practice. In the past, their style has shifted from their graffiti background to fine arts and back, until they finally discovered that these two phenomena could perfectly coexist together. In recent years, they have created a unique visual language that incorporates both, the spontaneity and honesty of graffiti practice and fine art intricacy. Today Sobekcis duo is working in the streets and exhibiting their studio works at the galleries across Europe and as we speak, they are having their first solo show in Germany.
Sobekcis - Masters of Balance
It is an interesting thing to note that twin brother duos tend to be really successful in the world of street and urban art. We can give many famous duos as an example. But being born and raised together doesn't mean that it is easy for these artists to develop a shared signature style that can incorporate all the individual inclinations and preferences. For many years now, the art of Sobekcis revolves around the concept of balance, whether it is the balance between their individual sensibilities or the balance of visual elements in their work. The graphic design studies, which they attended together in Vienna, immensely influenced their style which is a perfect combination of graphic and illustrative elements. Vibrant colors, intricate compositions, and symbolism inspired by the urban environment are constants in the work of Sobekcis, but over the years they have moved their focus from figurative art towards the more abstract imagery. This shift is seen equally in their public and studio works and it opens a completely new and exciting chapter in the artists' oeuvre.
Shape Shift in Germany
As mentioned before the art of Sobekcis fluctuates between street art and graffiti influences and their urge to create more disciplined and complex works. In recent times, they tried to find a perfect combination of the two, and they managed to achieve a balance between these two elements by deconstructing their graffiti aesthetics and incorporating dynamic, abstract shapes into their studio works. Sobekcis duo celebrated their newly found appreciation of their graffiti roots a couple of months ago in their Fundamental exhibition in Copenhagen, and now they are marking their turn towards the abstract shapes in the Shape Shift exhibition, currently on view at Art is Just a Four Letter Word Gallery in Soest, Germany. With every new exhibition, Gajic brothers are pushing the limits of their artistry, constantly moving forward and rethinking the past, to find better and improved approach to artistic practice. Considering their youth and enthusiasm, I think it's safe to say that there are many great achievements ahead and we can expect some magnificent works of art from Sobekcis in the future.
To follow the work of Sobekcis and other remarkable talents sign up for My Widewalls for free!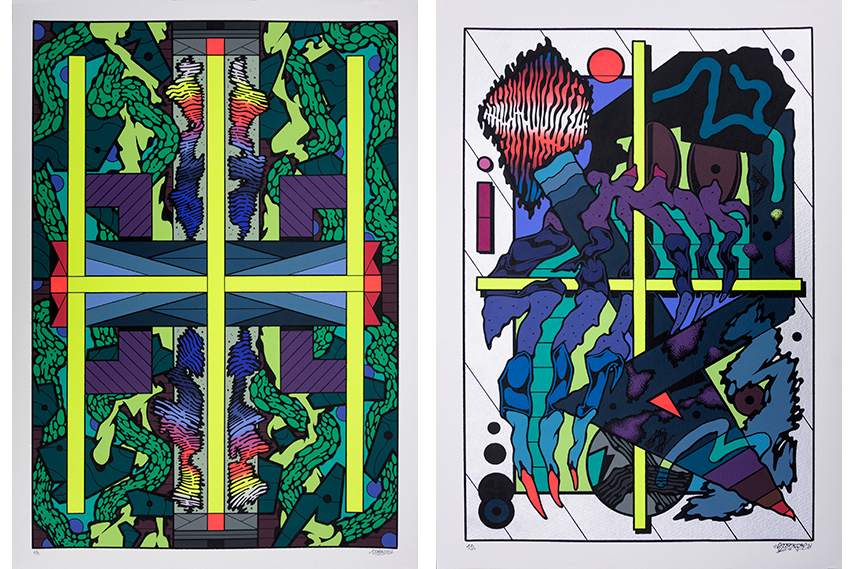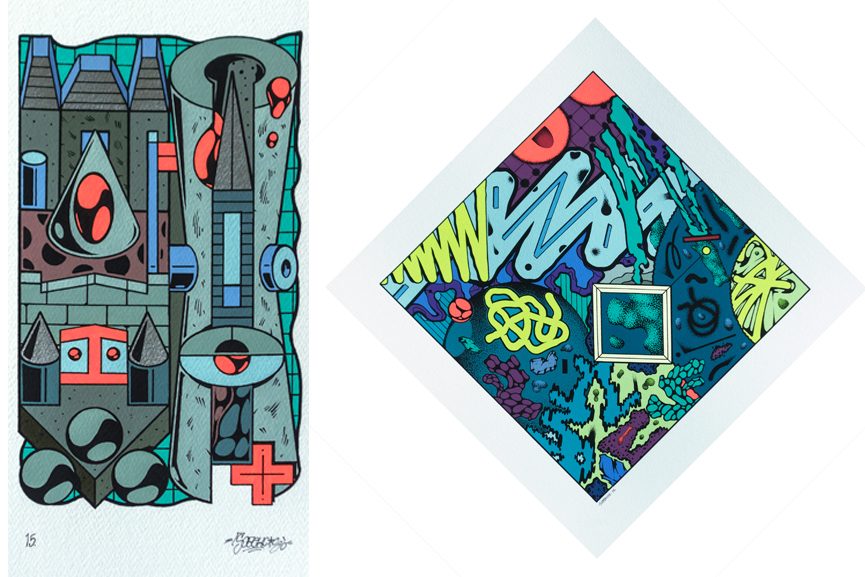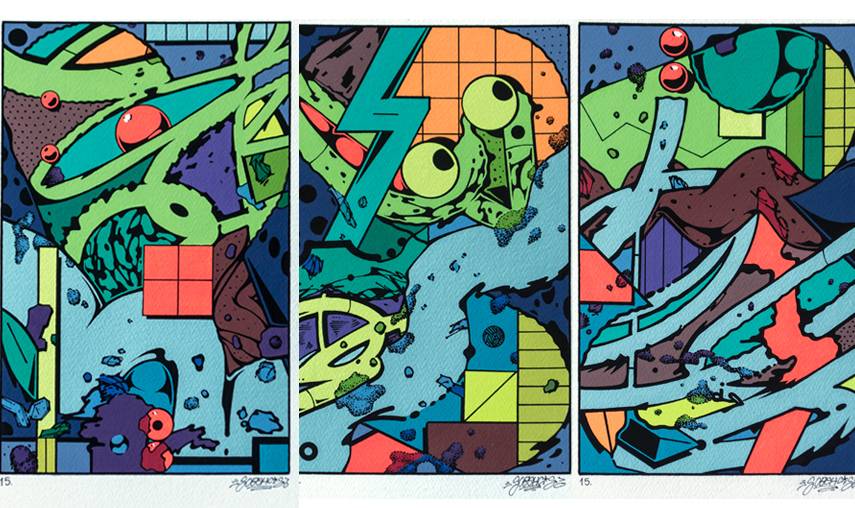 Featured images: Sobekcis in action Sobekcis – Motion. Mannheim, 2015 Sobekcis – Graffiti Sobekcis – Opinion, 2015, detail. Courtesy of Galleri Benoni Sobekcis – 1+++1, 2015, Acrylic and acrylic spraypaint on canvas, 150 x 200 cm, detail. Courtesy of Art is Just a Four Letter Word Gallery
All images courtesy of Sobekcis unless credited otherwise.
Follow These Galleries
Soest, Germany

Hamburg, Germany