Spocking Canadian Money
The death of Leonard Nimoy, famous for his role as Mr. Spock in the Star Trek, saddened people around the globe. Leonard Nimoy wasn't only an actor; he was also artist, photographer, film director and poet. Yet, he will probably remain in our memory as rational and emotionless Mr. Spock, with crazed eyebrows and bowl-cut hair. People from all around the world have been paying tribute to him in different ways – via social media, by watching the Star Trek episodes, in personal conversations. But, Canadians went a step forward. They have been morning Leonard Nimoy's death by transforming 5 dollar notes into portraits of Spock.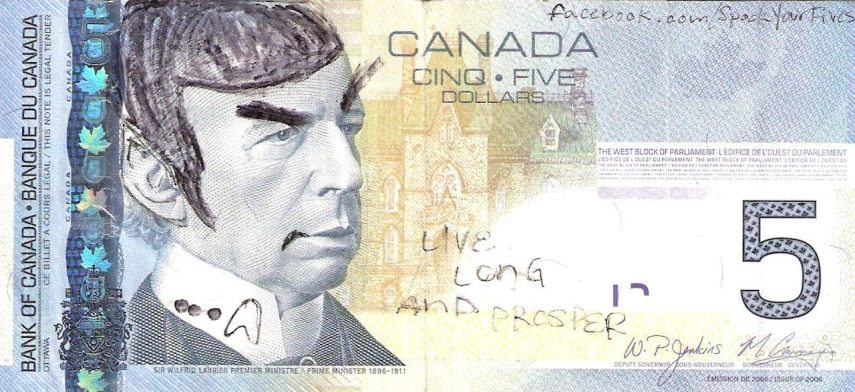 Spocking Canadian Banknotes
The 5 dollar note of Canadian money has a portrait of former Canadian prime minister, Wilfrid Laurier, who served the office from 1896 to 1911. Although Mr. Spock (Leonard Nimoy) and Laurier do not have same facial characteristics, Canadians noticed a slight resemblances between these two men. They started to draw the famous Spock's eyebrows, or more precisely to reshape the eyebrows of Wilfrid Laurier, as well as to change the Laurier's hairstyle in order to present it as Spock's well-known bowl-cut hair. Of course, this nation-wide practice was initiated via social media, where many Twitter users asked their followers to join this practice that is now known as "Spocking".  The "spocking" of 5 dollar bills became viral, since many famous names asked their followers on Twitter to "spock" their 5 dollar bills for Leonard Nimoy (for example, the Canadian Design Resource). This unique act of morning could be considered as an art practice itself, if we follow the well-known conceptual artists' position that everybody should be considered as an artist, if he or she has original idea or concept. And the idea of "spocking" the banknote is indeed original and innovative.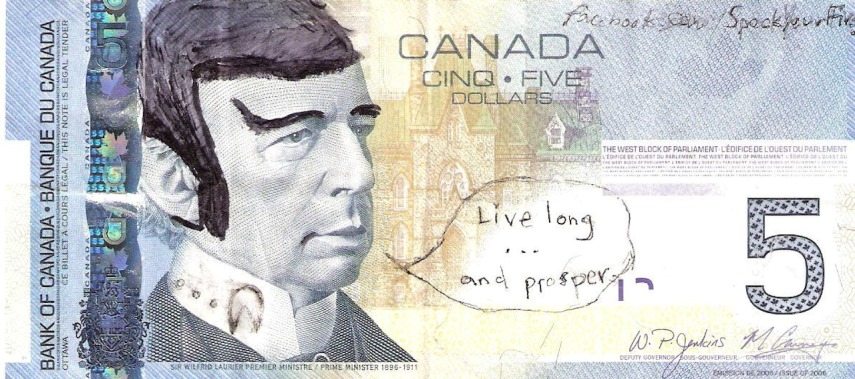 The Reaction of the Bank of Canada
The "spocking" of 5 dollar bills is original, not only because of the transformation of Laurier's face, but also because of the messages of condolences. However,  the Canadian Central Bank asked the citizens to stop with the "spocking" practices, since the writing and markings on bank notes is completely inappropriate, according to the Bank of Canada's spokesperson. The statement further says that the bank notes are symbol of the country and a source of national pride, and because of that, any drawing on bank notes is inappropriate. Luckily, drawing on money is legal in Canada, as well as in the United States, where banknotes have been used for vast number of purposes, including advertising. However, in Australia for example, defacing public money is a crime, while the "perpetrator" could get two-year jail sentence. Since drawing on money is legal in Canada, it's likely that the "spocking" of 5 dollar bills of Canadian money will continue, in honor to Leonard Nimoy, and despite the strong words coming from Bank of Canada.
Sign up for MyWidewalls, and follow daily news from the world of art!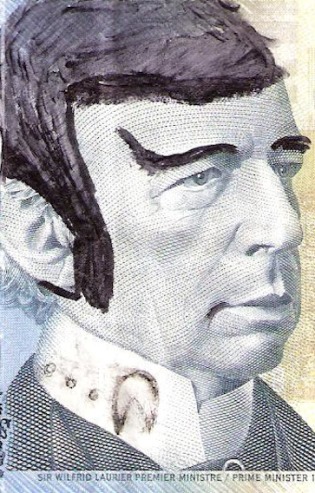 All Images used for Illustrative Purposes.
[mc4wp_form]