Stone Malone and Gallery Present Eyez Of the World Solo Show
Since his early childhood, Stone Malone showed interest in art. Malone has addressed this interest in several ways: today, he is an owner of the Stone Malone Gallery in Los Angeles, he is a musician and an activist, and finally, he is an amazing artist. It is not so common for an artist to run a gallery – of course there are some examples, but this fact only demonstrates both artistic potentials and the motivation of Malone. In the middle of the summer season, Stone Malone Gallery is organizing a solo show of Stone Malone, called Eyez Of the World (we have written about another great exhibition at Stone Malone Gallery, entitled Heroine). Be sure to use the nice summer weather, take a walk down the Melrose Ave. and visit this great exhibition hosted by the Los Angeles-based gallery.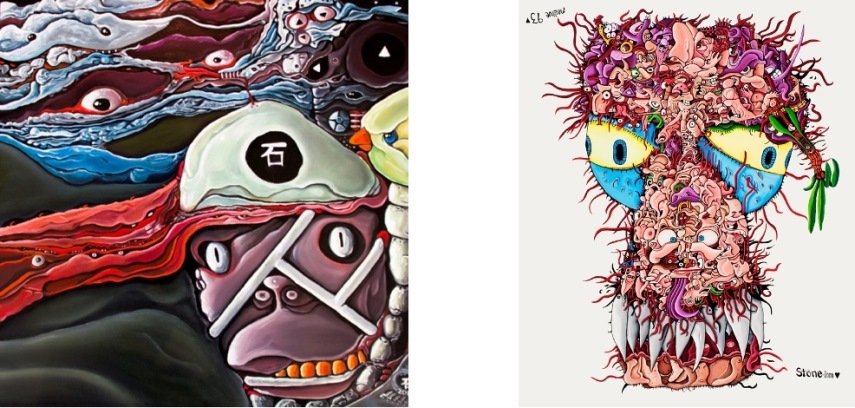 Stone Malone as Gallery Owner
Stone Malone was born and raised in Grand Rapids, Michigan, but currently resides in Los Angeles, California. During his early childhood, Malone could draw coherent pictures before speaking and decorated the walls of his home with black Sharpie drawings. He attended Kendall College of Art and Design in Grand Rapids and Musicians Institute in Los Angeles, California (in case you like urban art, be sure to check out our list of 10 Urban Art Galleries in California). In the early 1990s, he began pursuing a career as musician; however he also continued to draw, creating elaborate pen-and-ink works. In 2013, Malone became a gallerist. The Stone Malone Gallery opened in 2013, in the heart of the world-famous Melrose District in Los Angeles. The gallery launched with the One + 2 exhibit, a series of pieces spanning the artist's mixed-media collection of oil paintings, ink-and-pencil drawings and photographs. Curated by Los Angeles-based artist and designer Jonnie Rojas, the gallery exhibits a wide range of works from new and emerging talents, as well as the established artists from Los Angeles and all over the world. The gallery will welcome visitors in August with a great exhibition of new works by Stone Malone.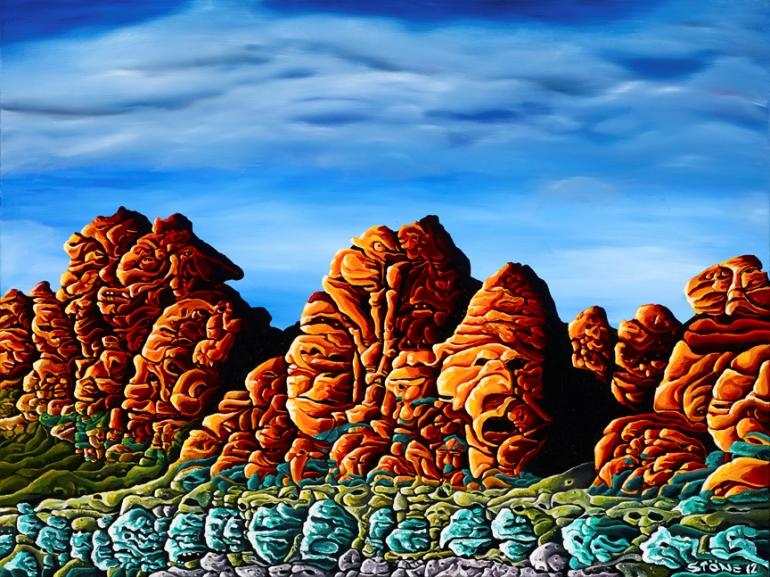 Eyez Of the World
Stone Malone, as an artist, is best described as a surrealist with a comic-book flare (if you like surrealism, take a look at artists from our database, belonging to this movement). He has developed an underground following for incredibly detailed oil paintings that are recreations of his early work in ink-and-color pencil. Malone's art is also known for bold experiments in color and his trademark use of eyes. The artist has created many of the works using a unique 360-technique so that each piece could be rotated multiple times and appreciated from many angles. His artworks are aesthetically powerful, leaving no one indifferent.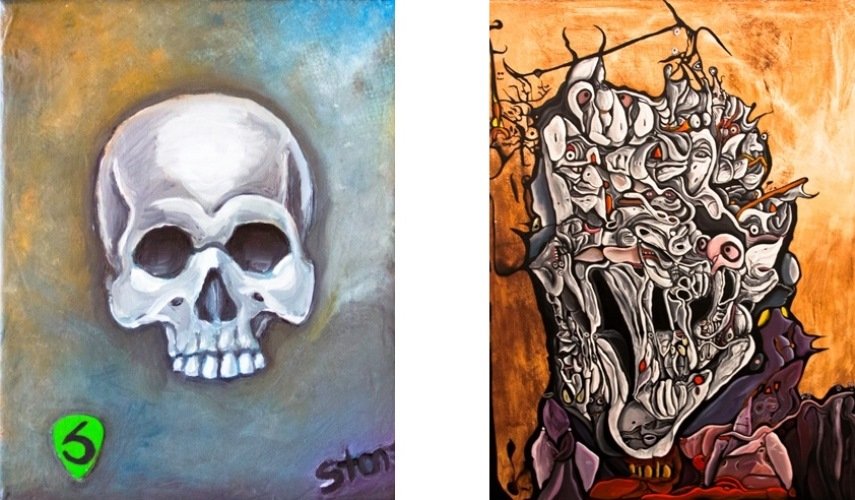 Eyez Of the World at Stone Malone Gallery
The Eyez Of the World exhibition features the amazing works by Stone Malone, and the show is taking place at the gallery the artist owns and runs. Art lovers and collectors, take note – the artworks will be on sale, while artworks produced for this exhibition will range from $200 to $8,000. Stone Malone's solo show will take place at Stone Malone Gallery in Los Angeles, from August 8th through August 15th 2015. The opening reception is scheduled for Saturday, August 8th, at 7pm.
For the latest news in the world of contemporary art, sign up for My Widewalls! It's free of charge!
Featured Image:Stone Malone, detail
All Images courtesy of Stone Malone Gallery.