Stranger Than Fiction
These days seems like everyone wants to be a photographer. Different social platforms only facilitate these needs and, thanks to low prices of digital devices literally anyone can take a good quality photo. This clearly is a positive fact for people who don't have to waste tons of money for buying all the cameras, nice phones and tablets, but it also created a whole new atmosphere within the art world, allowing everyone with a working device to enter. Mocking this trend that goes on for several years now, a group of artists gathered around and organized by Jonathan LeVine Gallery in New York, created a show entitled "Stranger Than Fiction" featuring a selection of works by Ivan Alifan, Jenny Morgan, Juan Francisco Casas, Lu Cong and Melissa Cooke who have a photorealistic style and use portraiture as their main subject.
Thanks to the democratization of photography, portraiture has become increasingly ubiquitous and has inspired artists in the group show to distort their subjects, either literally, figuratively or both. This departure away from traditional portraiture draws attention to society's current state of hyper-reality, in which having a direct relationship with the physical "real" is no longer necessary. Ivan, Jenny, Juan, Lu and Melissa change the standard view of the portrait, utilizing figurative and literal distortion to change how we interpret the image of self. They used different mediums: graphite on paper, oil paint on canvas, ballpen, and/or marker on paper.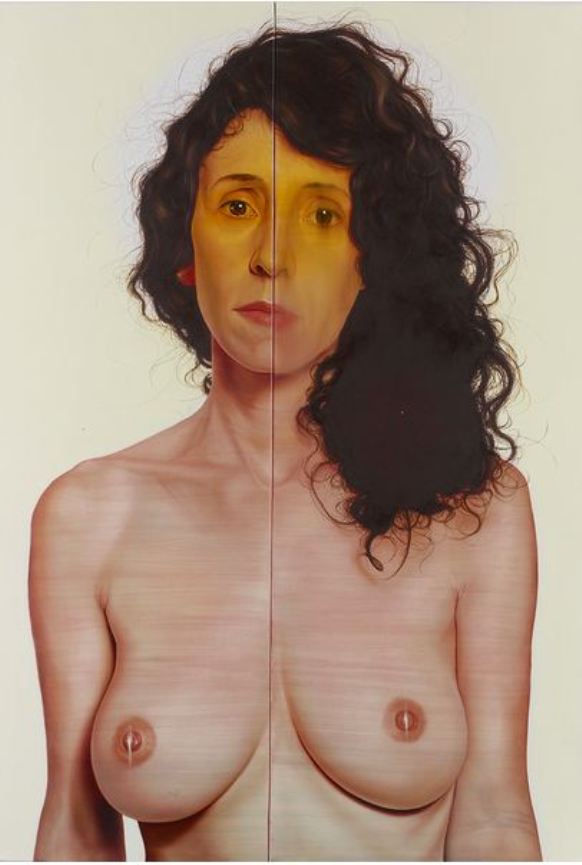 About the Artists
Russian painter Ivan Alifan masks the physical details of his subjects with a thick white liquid, which appears to have been poured over them. The milky substance sensually drips down from the top of his figures, partially obscuring their features, yet accentuating the contours of their form. His portraits are alluring despite their ambiguous nature and create a visual language that is literally whitewashed with sexual subtext.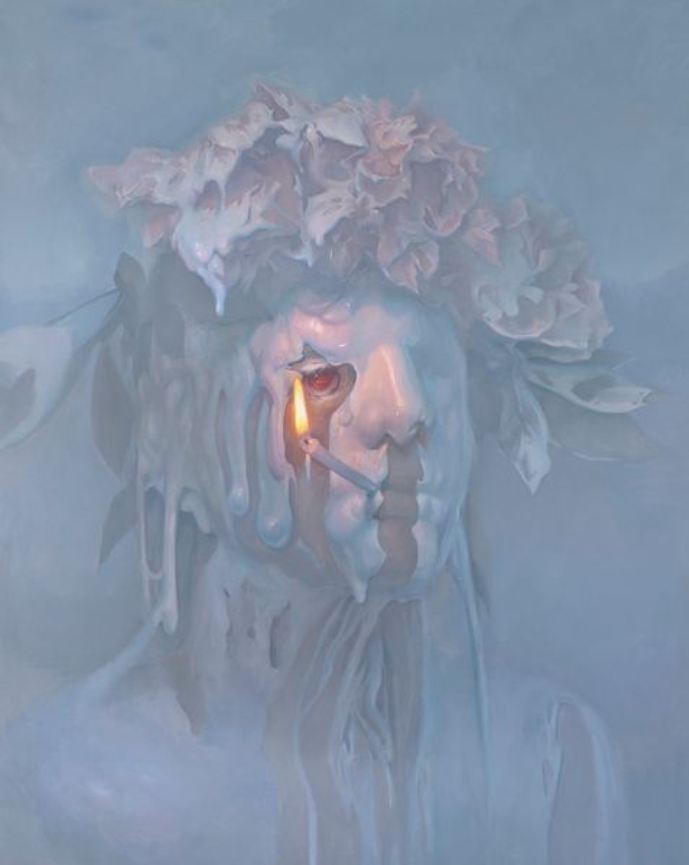 Jenny Morgan uses her family members as her painting subjects, which maybe explains her ethereal style experimented with spiritual realism. Her extremely natural portraits steer away from perfection showing the true beauty and the realism.
Spanish artist Juan Francisco Casas uses ballpoint pen drawings portraying party scenes. His subjects are youngsters – the new, technologically literate and obsessed generation with compositions imitating those seen on social media.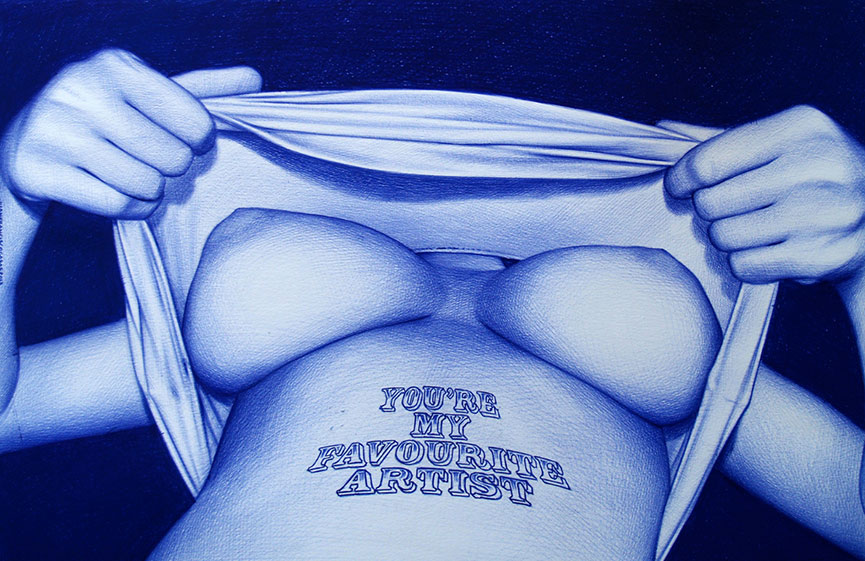 Lu Cong was born in China and immigrated to the United States at the age of 11. His portraits strive to capture both the physical likeness and emotional state of his subjects. Using a diluted color palette, his ghostly pale subjects stare directly at the viewer and provoke an unsettling confrontation.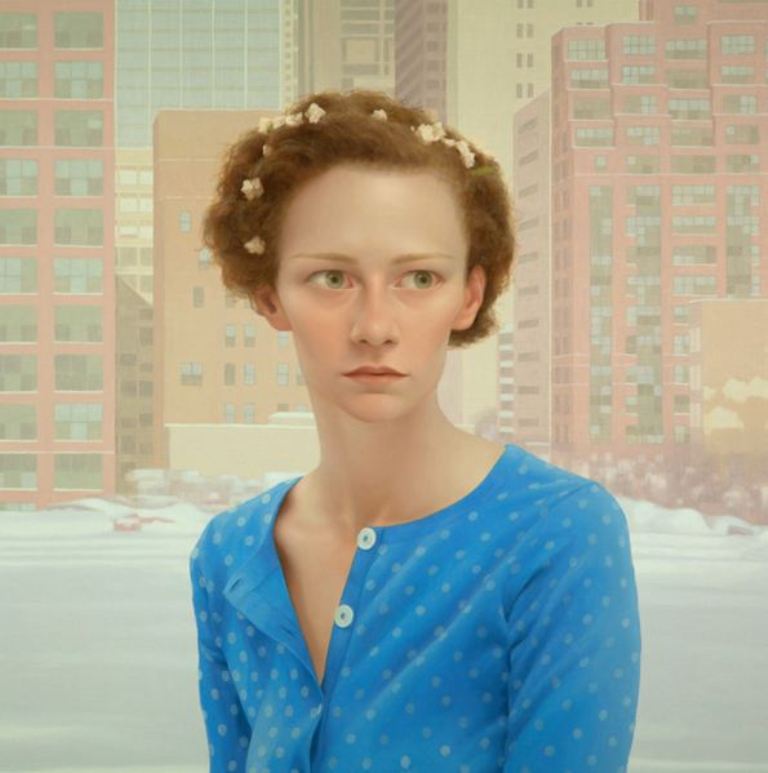 Wisconsin-born, New York City-based artist Melissa Cooke indulges in narcissistic characters and uses herself as the subject to represent contemporary typecasts. Combining her passion for drawing, photography and theatrics, Cooke physically transforms her appearance in an attempt to reveal the expectations dictated by popular culture and how fantasy can transform into reality.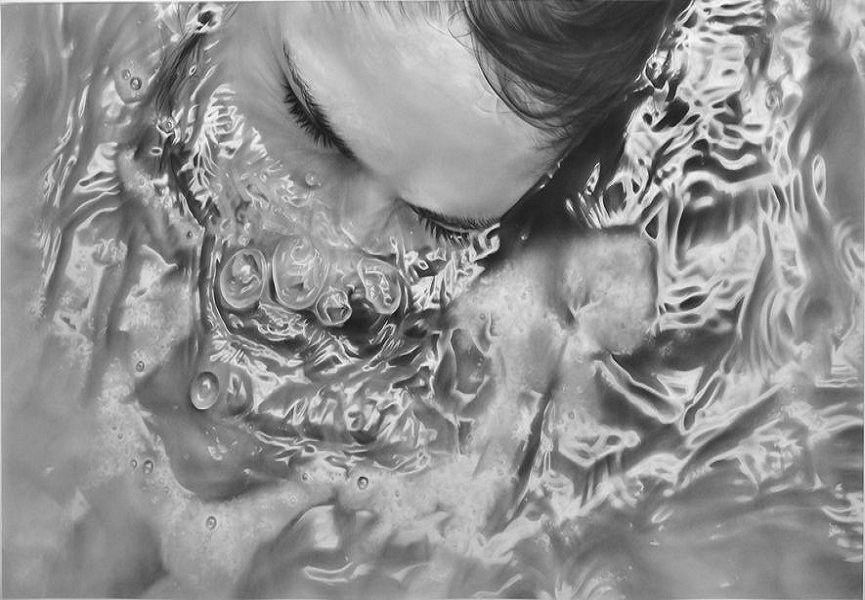 "Stranger Than Fiction" group show opened September 6 and will be running through October 4, 2014 at Jonathan LeVine Gallery at 529 West 20th Street and 557C West 23rd Street, New York, NY10011.
[mc4wp_form]
Follow These Galleries
Jersey City, United States