Street Art Takes a Stand
Yesterday, on July 14th, while the Council of European Fisheries Ministers met in Brussels, famous street artists were producing spectacular pieces of art in several European capitals to call for the ban of deep-sea bottom trawling. Six renowned street artists – POPAY in Brussels, JB ROCK in Rome, SP38 in Berlin, SPOK BRILLOR in Madrid, David 'JAE' Antunes in Lisbon and PANIK in London – teamed up with BLOOM, a nonprofit organization working for marine conservation and protection of sustainable fisheries, for the simultaneous performance across Europe to call on Member States to take the will of European citizens into consideration and to adopt a historical and indispensable measure to safeguard the oceans: the ban of deep-sea bottom trawling.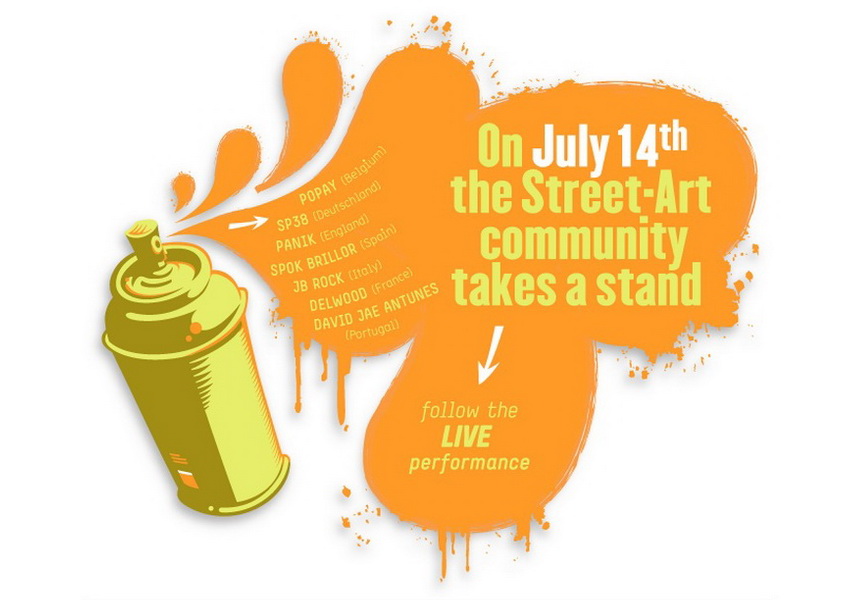 The Ban of Deep-Sea Bottom Trawling
Deep-sea bottom trawling has been recognized as the most destructive fishing method of all: it is the marine equivalent of giant bulldozers smashing corals thousands of years old and reducing bottom habitat to rubble. The nets pull up anything in their path, including large numbers of endangered fish such as deepwater sharks. The bulk of deep-sea bottom trawling in the EU is carried out by French and Spanish vessels. A reform of the EU deep-sea fisheries management regulation, including the ban of deep-sea bottom trawling, was proposed by Fisheries Commissioner Maria Damanaki in July 2012. As trawlers continue to drag their nets, the Fisheries Council drags its feet mainly due to the pressure that countries such as France and Spain have put up to hinder the reform in order to protect a few industrial, heavily subsidized vessels, which are often unprofitable and whose economic and ecological model belongs to the past.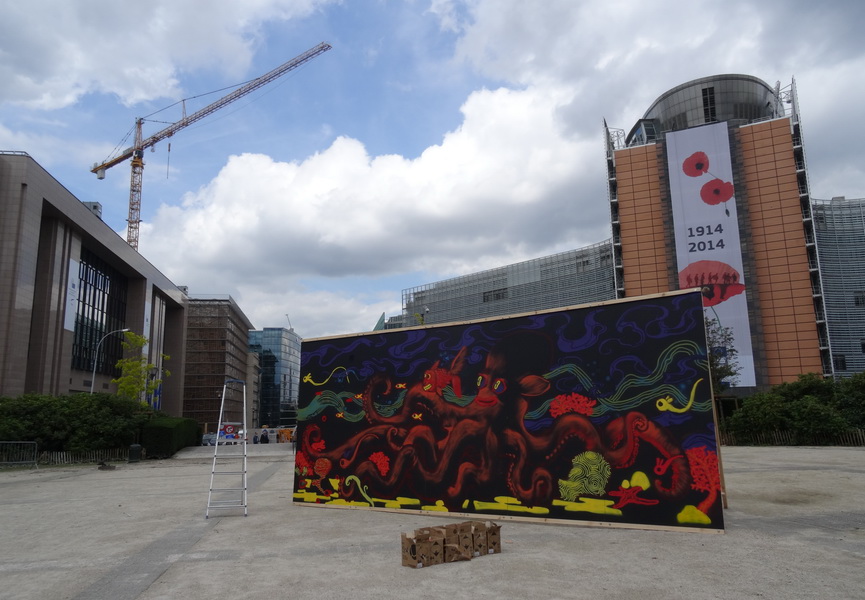 Over 300 international scientists have called on European policymakers to adopt the ban of deep-sea bottom trawling. Banning deep-sea bottom trawling would be a historical measure that would provide the deep ocean the protection it requires from blind and unnecessary destruction. Their voices were joined by more than 860,000 signatories (in France alone) to the BLOOM petition, who want to see this destructive and unsustainable fishing practice come to an end.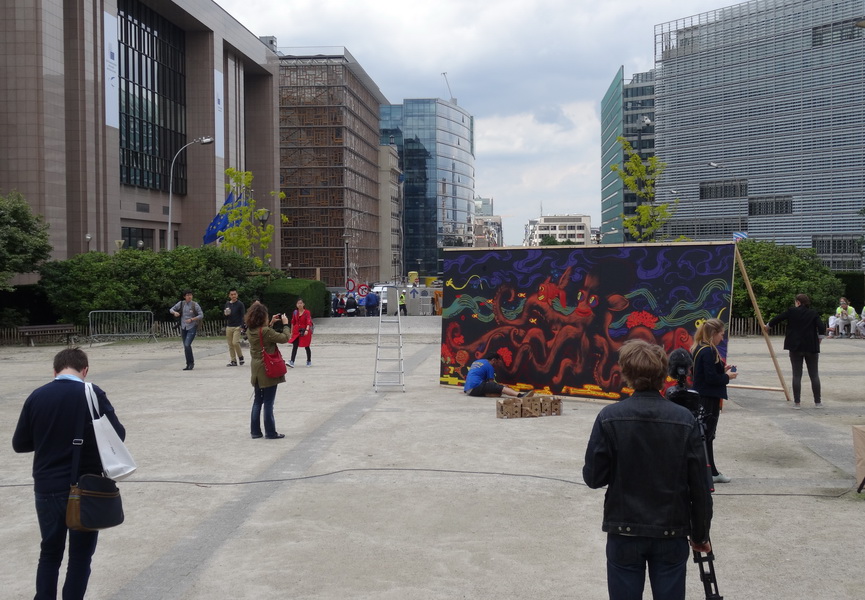 Street Art Community Stands Up
While European Fisheries Ministers gather in Brussels to discuss European fisheries issues, renowned street artists take their spray cans simultaneously to express the will of the people on the walls of several capitals of Europe against deep-sea bottom trawling. The street art community across Europe stands up for the deep sea calling on Fisheries Ministers and EU governments to take the reform of EU deep-sea fishing seriously and ban deep-sea bottom trawling, which is widely recognized as the most direct threat to the immense reservoir of species and the fragile habitats found in the deep ocean.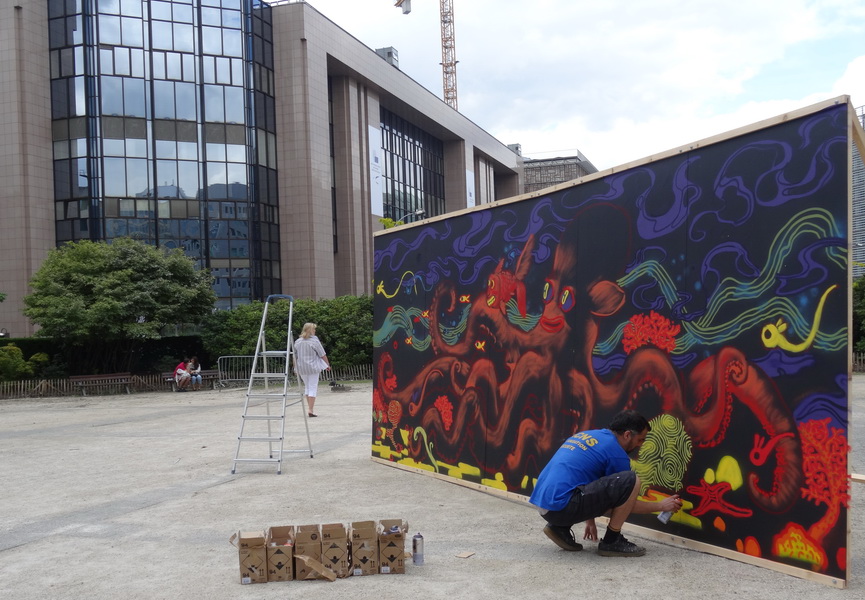 Street Art Uses Powerful Visual Effects
Brussels is the cornerstone, as the street artist Popay creates his artwork right in front of the European Council during today's meeting of Fisheries Ministers. Widewalls was on the spot to shoot some work in progress photos of Popay's mural and to talk with the French street artist and organizers about the whole event.
Last days we had continuous rain in Brussels, a common thing in the capital city of the European Union. Luckily, today dawned sunny. When we arrived on the scene, we found a real working environment. Strange sea creatures and a giant octopus have already begun to emerge from a black background that evokes the dark depths of the ocean. Painted in saturated colors and with Popay's characteristic freshness and spontaneity, his sea figures reveal much of the artist's passion for comics and cartoons. For Popay, the deep sea issue itself was crucial to participate in this project. There was no time to waste. The statement had to be made during the meeting in a neighboring building. We took the opportunity to ask Popay how street art helps to deliver important social and other messages and this is what he told us: "Street art is very appropriate because of its technique. Like today, it is possible to make it here, in this particular place, just in front of the European Council where people just discussing the laws. Street art uses powerful visual effects that can help draw attention to important matters."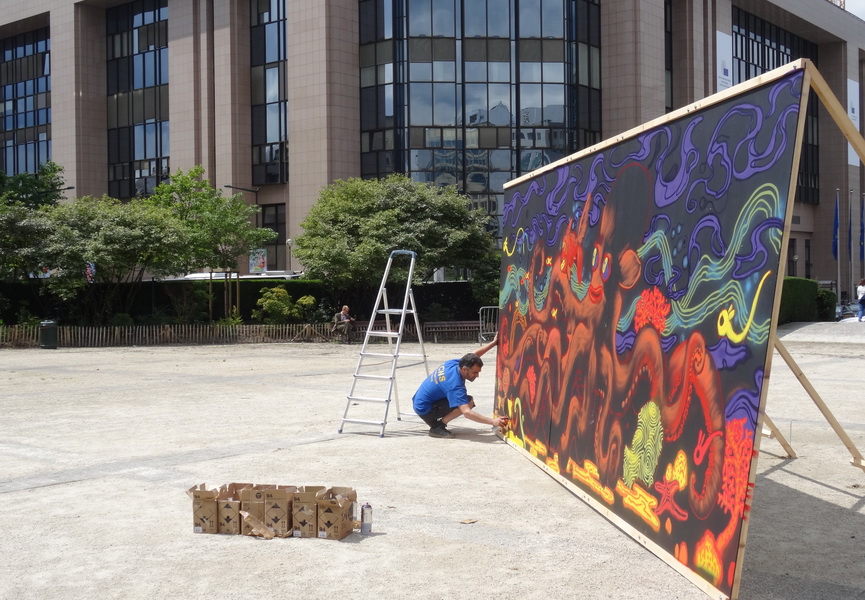 When we asked the BLOOM's spokesperson Victoire Guillonneau why the organization decided to mobilize street artists for their project, she explained: "We thought there was a real connection between street art and the deep ocean. The deep ocean is something people don't see and same goes with street art; it's hidden but is full of character and it's full of energy." Second point concerns the nature of street art technique and performance. "This was a great opportunity because street artists can work really, really fast and do amazing pieces of art. So we have installed the panel in front of the European Council and in a few hours it will be done," Guillonneau explains. "It was important to us to confront the truth and deliver this important message. Everyone will see Popay's mural with giant octopus and other deep sea creatures in front of one of the landmarks of European decision-making."
BLOOM received permission for the event only for a day so the finished panel went back to Paris the same afternoon. By today, the Ministers are expected to give their final position on the regulation. BLOOM expects to hear a stronger position from the Member States as of today and the final cancellation decision by the end of the 2014.
Widewalls plans to share with its readers the photographs of Popay's completed mural as well as an overview of the works of other artists across Europe in the coming days, so stay tuned.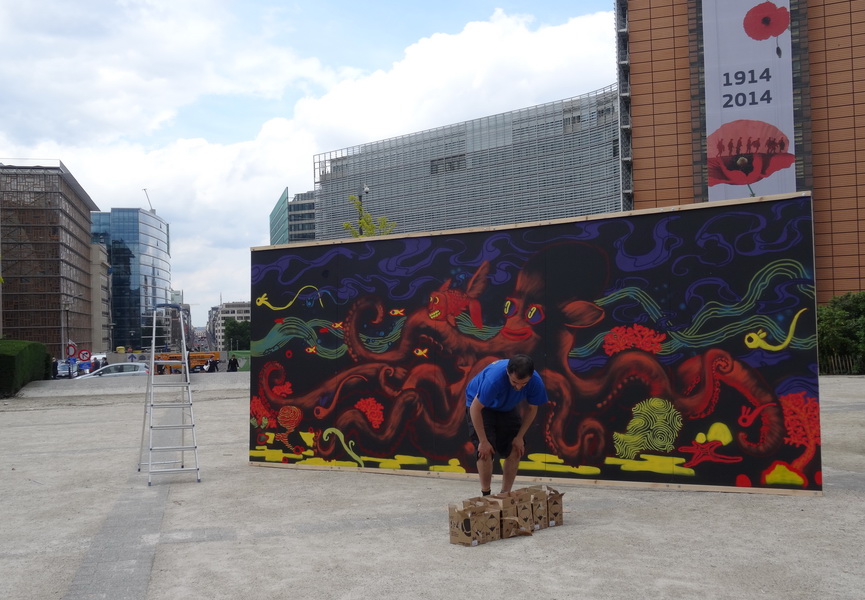 About BLOOM
BLOOM is a nonprofit organization founded in 2005 and based in Paris.  The organization is working for marine conservation and protection of sustainable fisheries through an approach of public awareness and scientific mediation of environmental issues, the production of independent studies, as well as the participation in public consultations and institutional processes. Its actions are aiming at the general public as well as policy makers and economic actors. BLOOM is a member of the Deep Sea Conservation Coalition, a group of more than 70 NGOs committed to the protection of the Deep Sea www.savethehighseas.org
Follow These Galleries
Boulogne-Billancourt, France

Paris, France