Seth and Pascal Vicollet at Geraldine Zberro Gallery
The end of January brought a new French street art exhibition at the Parisian gallery Galerie Géraldine Zberro by two artists, Julien "Seth" Malland and Pascal Vilcollet. The vernissage of January 30 was visited by a crowd of approximately 400 guests from the world of art – gallerists, artists, bloggers and journalists. What connects Seth and Vicollet in their two apparently different artistic practices, is the focus on emotional display of their respective outlook on the environment that surrounds each of them. Through a particular technique, imagery and medium, Seth is recognized by his vivacious, colorful style, while Vicollet strikes as a realist. The exhibition was first displayed at Espace Commine, and it transferred to Géraldine Zberro Gallery as of February 3. The exhibition will be on view through February 22, 2014.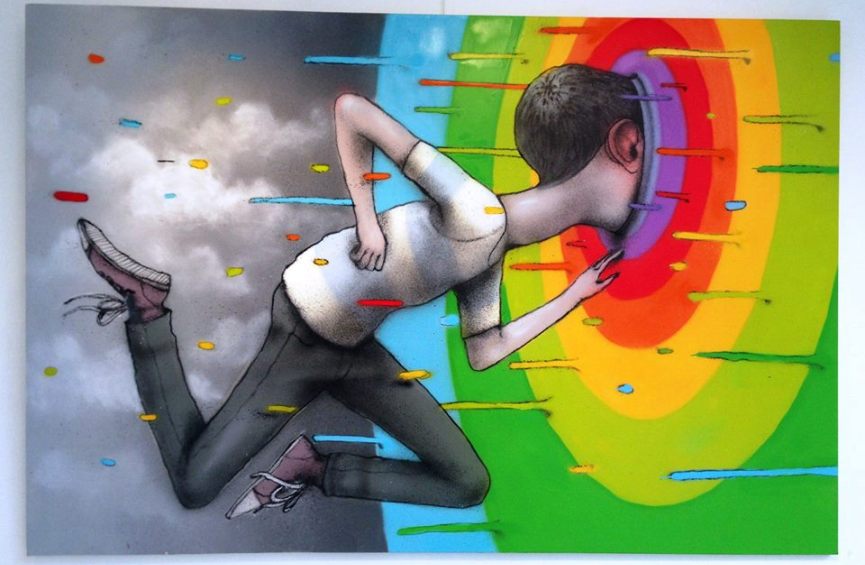 Seth
As a devoted globetrotter, Seth let the influences of his travels, experiences and global street art vitalize his unmistakable expression, while forming singular cartoonish figures of rather joyful disposition. The kids he so delightfully portrays are playing hide and seek with the world, camouflaging themselves in rainbow-colored whirlwinds, snuggled away by themselves or together with their peers, away from the realistic environment. Pollock set the stage for a wider group of creatives than we can imagine, and this is seen in street art inspired dripping technique of Seth. His airy dripped details are everything but accidental, disclosing the true prowess in the method. There is something resemblant of Os Gemeos characters in Seth's pictures of children, but also in the bright and bold palette he uses. The exhibition showcases his large-scale paintings, several collaborative works and, for the first time in his career, sculptural artwork by Seth.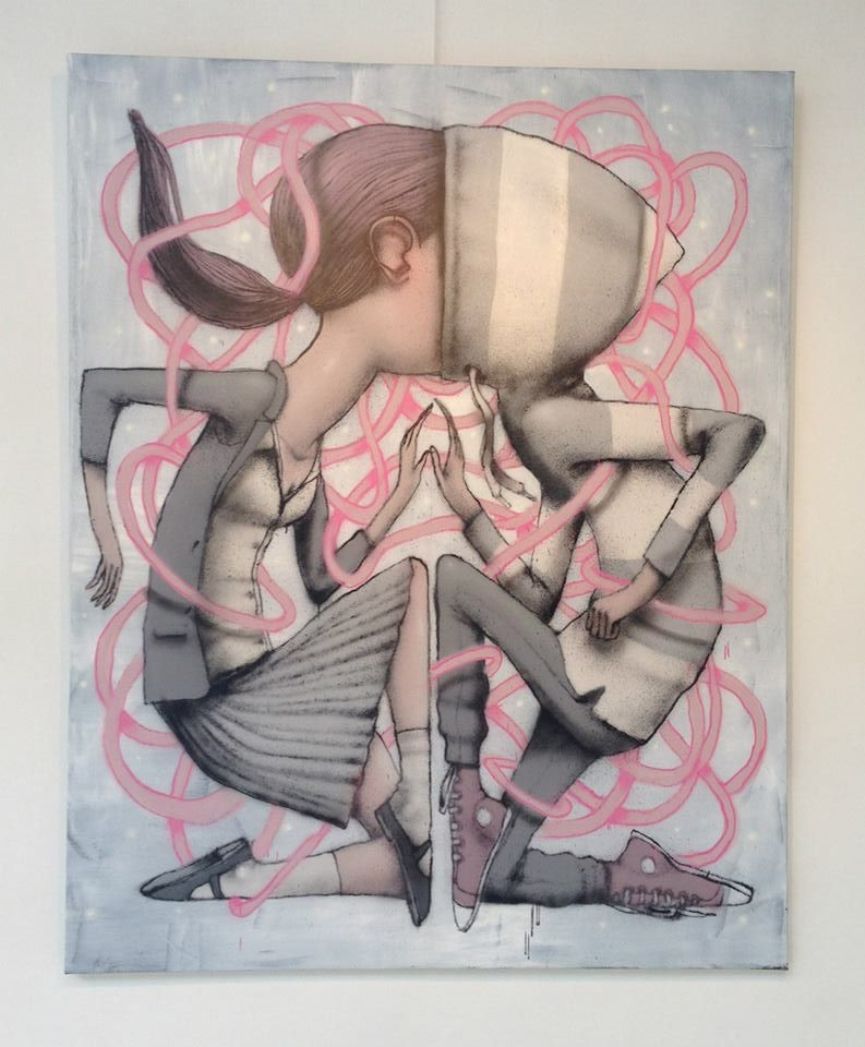 Pascal Vicollet
Pascal Vicollet can be freely named a portraitist, who incorporates a substantial abstract sections into his generally representational pieces. In his earlier work, he revolved around portraiture of celebrities and famous and influential figures of today, but this show brings a new line of his work – interpretations of great religious themes launched to eternity by Caravaggio, Rembrandt and Velasquez. His style is overtly packed with references to his idols, and the viewer can read them in his re-interpreted compositions. Caravaggio is found in theatrical facial expressions, Rembrandt in the lighting of incarnate, and Velasquez in the overall rendering of the emotional substance. The brush strokes are bold and energetic, while the use of color is deliberately off, reinventing the classics into contemporary works of art. Proving his talent, Vicollet has managed to describe the core emotions of the model masterpieces, as his paintings ooze anxiety, devotion, smugness or sadness of characters.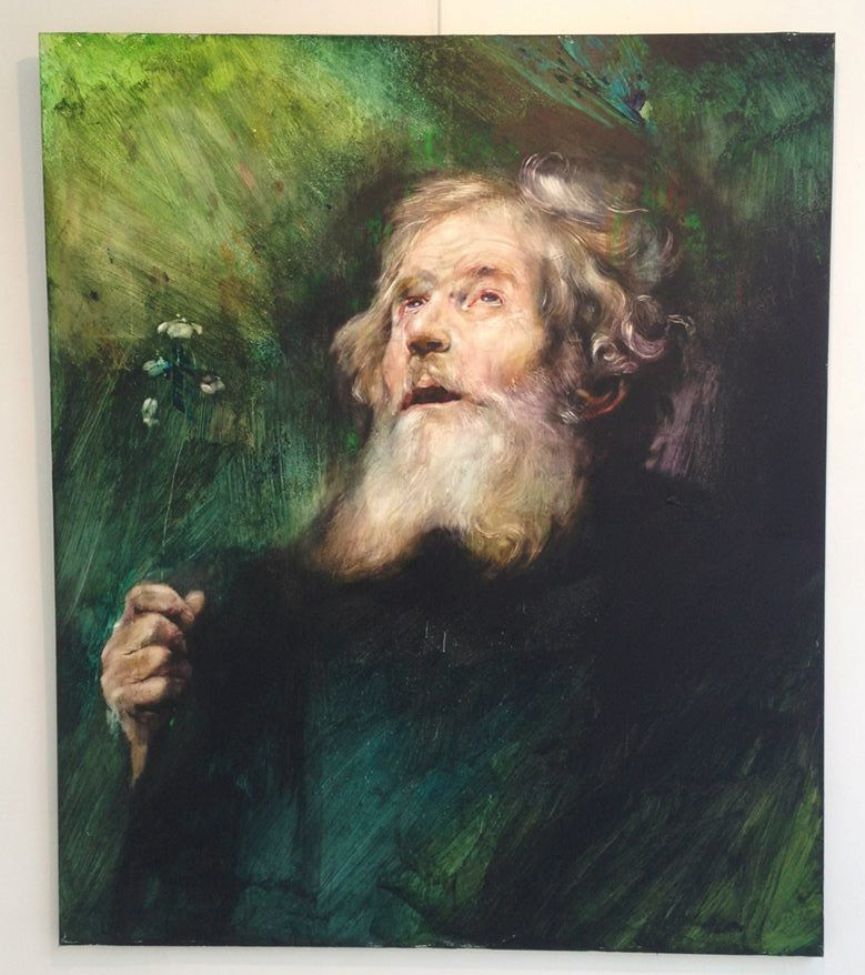 Seth and Vicollet
The idea of collaborative pieces by these two artists raises a lot of curiosity, because of their so essentially different approaches. However, these turned out to be quite successful, as the aerosol Seth applied brought the vibrant tone to the dramatic scenes of Vicollet, executed in acrylic paint. Both coming from the realm of French street art, this event has lifted the artwork of Seth and Vicollet to a whole different realm, as they evolve in their separate artistic careers.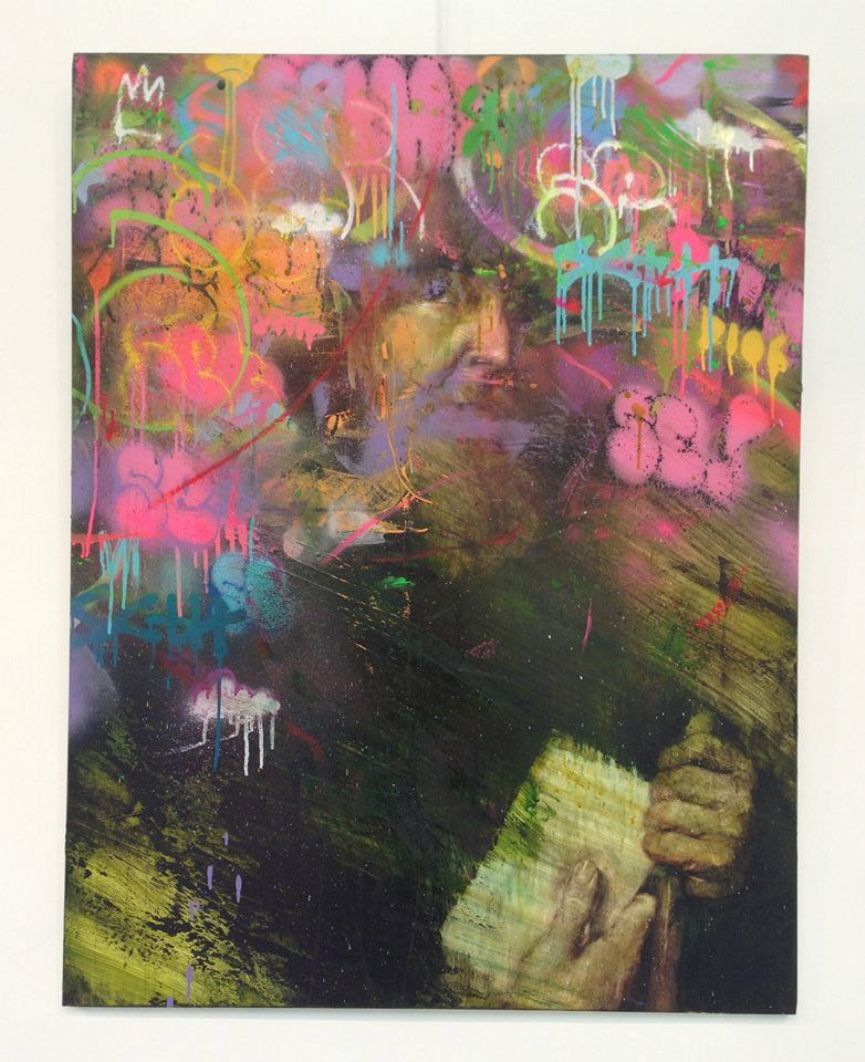 Géraldine Zberro Gallery
Géraldine Zberro Gallery was founded in 2007 and it enjoys the support of the artists is initially represented. The space is dedicated to promoting young creatives from French and international art scene, focusing on new media and emerging artists. The styles in the gallery range from narrative realism, pop art to French street art and urban expressions.