White Walls at Vertical: A Winter Group Show Review
One of the most interesting ongoing collective exhibitions is easily reachable to all Chicago based street art aficionados, currently showing at Vertical Gallery at the city's Ukrainian quarter. The exhibit is a guest appearance of a San Francisco space, titled White Walls at Vertical Gallery: A Winter Group Show. As we previously announced, the artist lineup is more than intriguing including Casey Gray, Niels 'Shoe' Meulman, Max Rippon (RIPO), Word to Mother, C215, Mary Iverson, Ferris Plock, Chad Hasegawa, REKA, and Skewville. White Walls at Vertical opened with a reception on February 1, and vernissage proved to be a huge success. Showcased pieces raised purposeful discussions, as the large assembly of visitors reveled in some of the brightest examples of urban art today.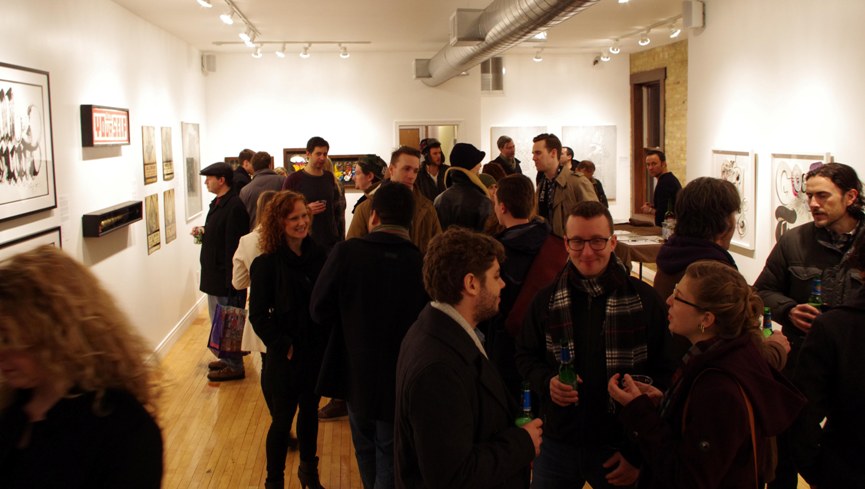 White Walls Selection for Winter Group Show
Winter Group Show of White Walls brought one of the biggest names in street art movement today, C215, presented by interesting pieces executed on scrap metal. C215 exercised his mastery of stencil on these salvaged objects, conveying a warning message of an apocalyptic future. His typical portrait subjects are absent in this series, or they have rather turned to an array of macabre characters and frightened kittens, without promise for a happy outcome.
 One of the most promising still life interpreters, Casey Gray, is also represented with some of his typical works. His style derives from the traditional still life paintings of baroque era, rendered in an eclectic, modern, pop art manner. Stunning trompe l'oeil features fused with linear patterns and digital-like imagery disclose a postmodern eclecticism of a classically schooled artist. We love his floral series!
REKA is featured with three object-paintings, perhaps the most interesting pieces of the show. His recognizable stylized human figures are painted over empty tubes of color, with the use of basic colors plus white only, suggesting an abundance of significant layers supporting the concept of these works. Brilliant as ever, REKA succeeded to depict the dainty expression of his characters while tackling more general topics on painting, skill and imagination.
A phenomenal draughtsmen, Ferris Plock, has two pieces exhibited at Vertical at this show. They are classic examples of his elaborate drawings, featuring pop characters rendered in a style inspired by Japanese Ukiyo-E wood engravings. We love the reduction of color and focus on subject. Note that the skater is short of one leg!
Mary Iverson's landscapes render usual themes that preoccupy the artist – battle of environment and globalization depicted through stylized ship containers scattered across some of the most beautiful natural resorts of the country. Her compositions hold an architectural value, while the message is clear and pessimistic.
Chad Hasegawa explores techniques through different renderings of his signature grizzly imagery. Son of Luka piece at Vertical displays thick color, grey-brow palette and imposing, rectangular brushstrokes, all very expressive.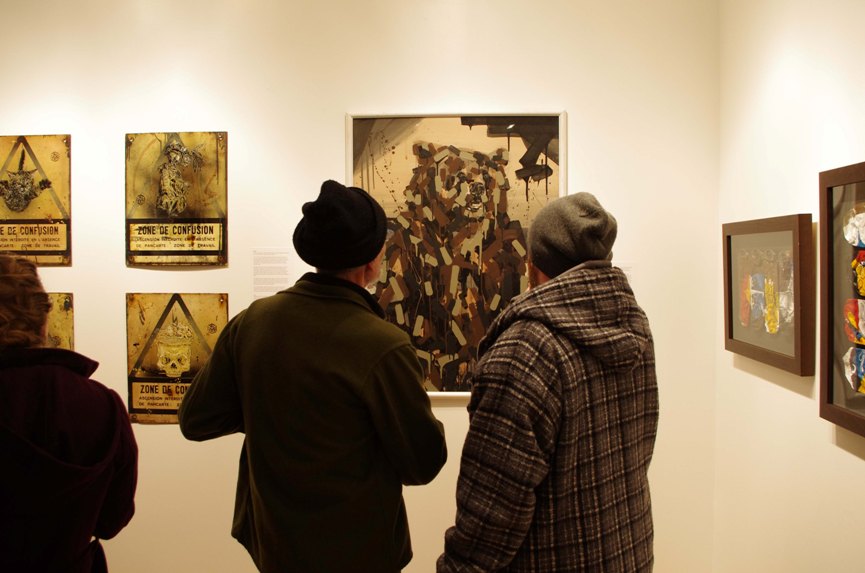 Street art group exhibition would not be it, if it didn't feature some of the graffiti based pieces, delineating letterforms in various ways. Max Rippon's work brought jazzy tags of ambivalent content to this exhibit, while Skewville and Word To Mother are represented by signature communicative pieces executed on found or intentionally selected objects. Also present are the eye-catching pieces of caligraffiti executed by Niels 'Shoe' Meulman, who perfected the art of depicting simple, but deep lines through highly polished graffiti writing technique.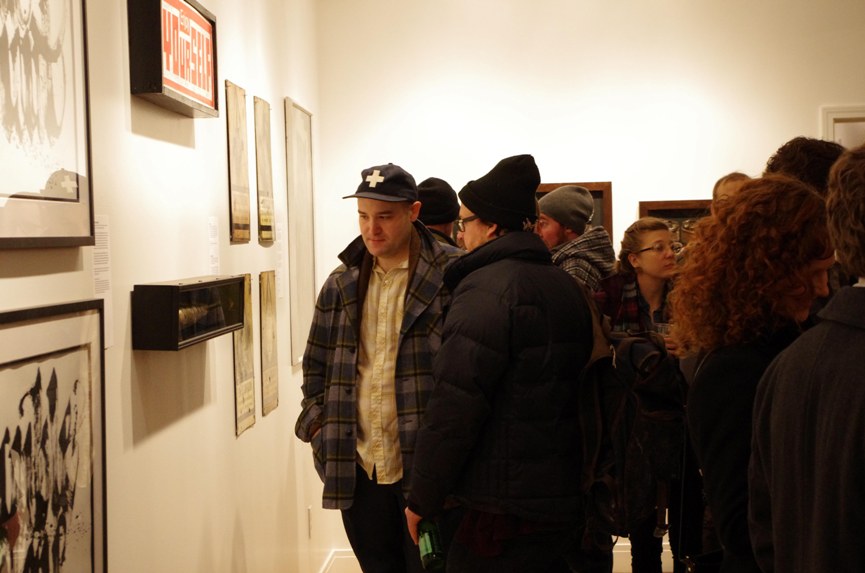 Finally, all of those who are not in luck to be in Chicago during the period of this great show, should know that all the artwork is available for view online, at the Vertical Gallery web page.
Pictures – courtesy of Vertical Gallery.