Last Breath of a Hospital
London is a metropolis with an exceptionally high rate of construction and, preceding it – demolition of buildings. Each destruction of a built structure definitely erases the material aspect of it, but also the immaterial content that the place might have carried. In order to make these doomer buildings more memorable, an independent organization Last Breath has began organizing an unofficial series of pre-demolition exhibitions, by inviting street artists and muralists to ephemerally beautify structures while they still stand. This act provides the sad places with a new meaning and significance, although their fate is sealed. Graffiti artists and urban creatives produce and document pieces and installations and in this way celebrate what the condemned structure once was, preserving the memory of it. These actions are conducted without a permit, as all graffiti ought to be. After the artists make their mark, further development is out of their hands.
One of these buildings scheduled for demolition is Blithehale Medical Centre in Bethnal Green, ruined beyond repair. Last Breath invited three great street artists to prepare it for its upcoming demise – Phlegm, Run and Christiaan Nagel. The three amigos smuggled themselves in the building and conjured interesting works, embellishing the old lady before it's definitely gone. After a few days of illicit painting, an equally illicit exhibition was held as the final wake for the building for half an hour only. After this, now rendered entirely unique, place is destroyed, another one will take its place, but the memento of the abandoned hospital will remain.
Last Breath promises not to cease these secretive actions, that I must admit, put a smile on my face. All willing street building make-up artists can apply to participate, at their own risk of course.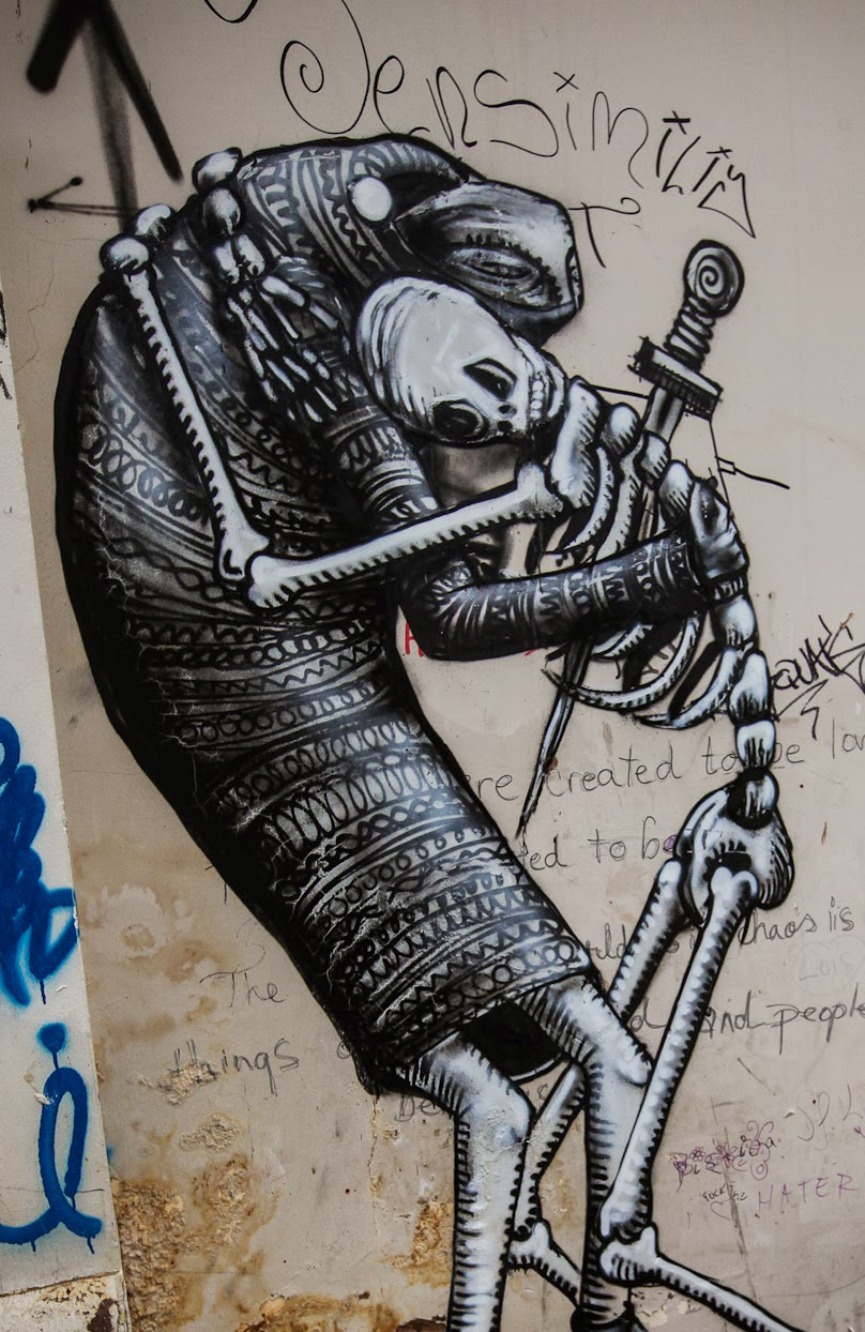 PHLEGM
One of the most interesting creatives on the British street art scene today, Phlegm made a wall piece as a metaphor for the situation the abandoned hospital is in The long-limbed figure, recognizably phlegm-esque is hugging a skeleton, who has been killed with a sward through his back. It's easy to read, since the artists hug the already dead building by carefully painting on its fragile walls. Touching, but never pathetic, this work of Phlegm bears all the traits of his signature style and we are sad to see it go.
If you love Phlegm as much as we do, his phenomenal installation-exhibition is currently on view at Howard Griffin Gallery, titled Bestiary – extended to March 20!
RUN
Another participating artist was RUN who gave last breath to shabby walls with giant bald heads whistle blowing and seeming as if they care not of what will be. This Italian artist currently resides and creates in London, while the big funny heads he paints somewhat remind of a comedia del arte.
Christiaan Nagel
The third spirited street activist was Christiaan Nagel who became known to public for his colorful mushroom installations, that he scattered all around the city, on roof tops, walls, under bridges and other, more unlikely places.
Acting under the idea that demolition is murder, Last Breath strives to give one last kick to the hopeless structures, that once meant  a great deal.