Murals in Tehran
Today we present you Ghadyanloo Mehdi, a Tehran-based artist and author of over 100 gigantic and colorful murals in the Iranian capital of Tehran. It's not the illegal urban art that questions the country's social and political situation, as one might suppose. On a contrary, Ghadyanloo Mehdi's murals were carried out with the permission of municipalities, with obvious purpose of beautifying the city. And they really do that. Ghadyanloo Mehdi does not belong to the outlaws but nevertheless his murals are fun and playful. See for yourself.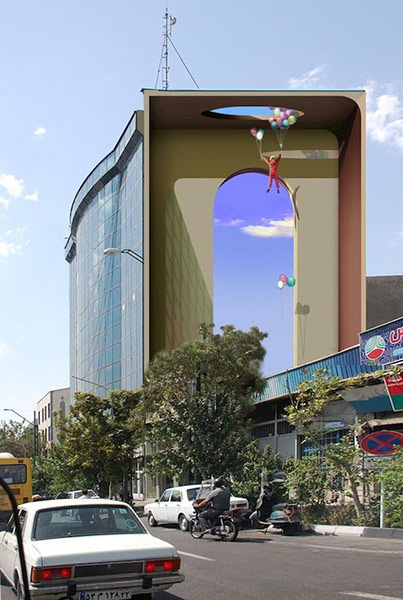 Playful and Dreamlike
Mehdi has been painting walls in Tehran for several years now. His murals are playful and dream-like. They blur the line between reality and imagination.  Mehdi realizes surrealist scenes in which figures defy the law of gravity. The perspective and depth are carried out to generate optical illusory murals that interact with their environment. You can see the sky through the building, or walk right through a wall. Particularly interesting is the use of the sky, which is very common motif in Mehdi's work. Under his hand, architecture and sky interweave. His palette also very neatly fits into the environment. He mainly uses pastel colors.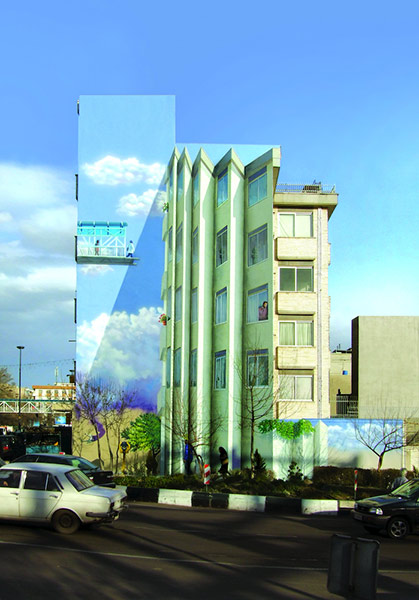 About Ghadyanloo Mehdi
Mehdi studied at Tarbiat Modares University and is the owner and designer of the mural painting company Blue Sky Painters.  With the permission of municipalities, his company has been transforming the grey street walls of Teheran into surrealist scenes. "Graffiti is illegal here in Iran, like in many other countries, so graffiti artists in Tehran work at nights. We have very good underground street artist (network). As for other art fields, the economy in visual art and painting is a little better," Mehdi explained to Huffington Post.