the sickboy dot com
British street art megastar we all know and love – Sickboy – has a new web site! Concept of the site encompasses solely three pages – films, flicks and contact. By keeping it simple Sickboy let the pictures tell his story in a rich gallery of his street art and studio pieces. The cover image is a photo of a tag Sickboy did in India, which you can read more about in an exclusive interview he gave to Widewalls last month. He told us about his Bangalore adventure, how he was mesmerized by the history and culture of this great land, seduced by people and enchanted by religious iconography. We hope to see some of this symbolism incorporated in Sickboy's own abundant pictorial language, and soon.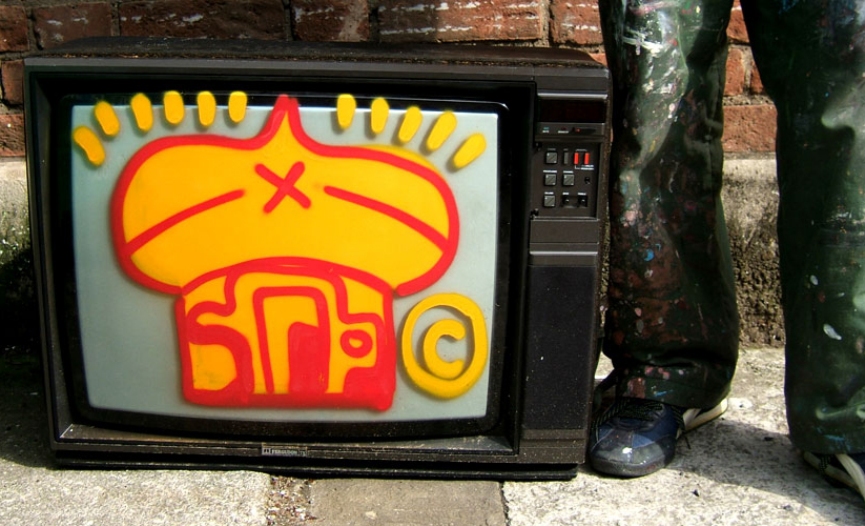 the Sickboy tale
Emerged from the rich and mighty Bristol graffiti scene that gave us Banksy, Sickboy has made a name, or an image – better said, for himself, inventing an entirely new way of tagging. Instead of a lettered inscription, he created an emblem, called the Temple logo that he scattered all around the Earth's walls, litter bins and shady corners. He moved to London in 2007 tagging mostly around East End. Soon after the transfer, this witty street vigilante dropped an installation of a caged heart in front of Tate Modern in 2008, which brought his international acclaim. Today, he is considered one of the most intriguing and most prolific artists in the history of British street art.
Moving his creative urge into a studio, but only partially, Sickboy has rapidly grown into one of the most coveted artists on the scene, as the price of his work is still on the rise. Some of the most famous street art galleries offer his work, including White Walls from San Francisco and Le Feuvre in Paris. His street work was featured in Exit Through the Gift Shop, an intriguing documentary by Banksy, nominated for the Academy award. The odd, spirited and often audacious pieces of Sickboy seem to inspire everyone, and they've been included in numerous books, films, TV shows, magazines etc.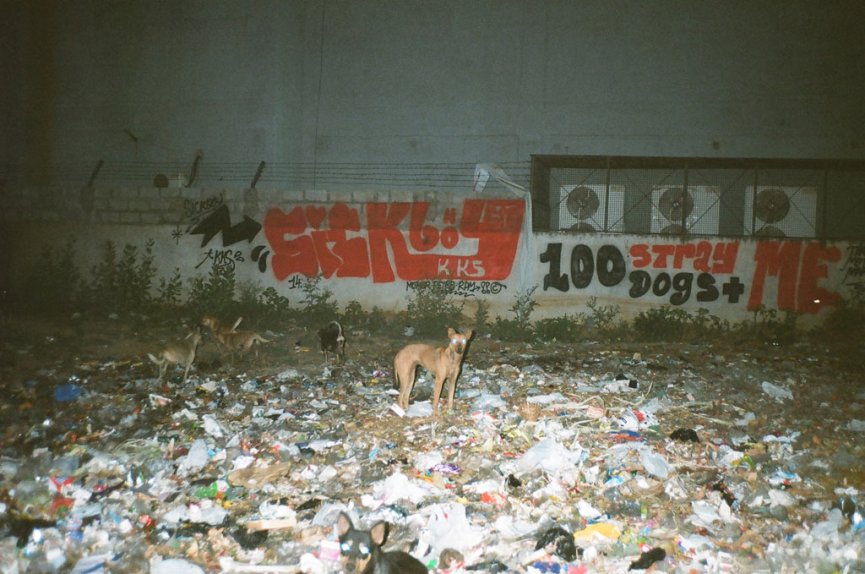 the Sickboy way
As his other peers who came from the Bristol graffiti scene, Sickboy devised a very unique and recognizable style filled with humorous characters, funny situations, ironic interpretations and bright color. His lively paintings are packed with detailed portions of small narratives that weave the central subject of the piece. Imaginative and manic almost, this stunning amount of meticulously told episodes conjures an entirely singular universe, where the reality is shifted reminding us of the weird Wonderland. However, this wonderland is not so wondrous. Looking closely into it, we find sarcastic depictions of human everyday, where individualities are lost in an artificially imposed world of commercials, TV, gossip and cheap thrills. This is why every gaze upon his work will bring a new find, and possibly, open a whole new perspective.
Admiring the art of Picasso, Hundertwasser and Gaudi, Sickboy has chosen a difficult path. Every one of these masters was a genius in their own right, but as the history keeps writing itself so dynamically, we may witness the true importance of Sickboy in the ever-fascinating story of graffiti art.
Widewalls Collection is proud to present some of Sickboy works, as our magazine did features on and collaborations with him as well.