Street Artist mittenimwald Exhibits the Sushi Connection at 30works Gallery Cologne
There's an entire culture that has been developing around the image of a Japanese woman, from the Geishas of the 17th century to modern-day representations through movements like manga and anime, in all their forms. In the eye of a Western beholder, such connotation is rather different from anything he or she is familiar with, as on that other side of the planet things are much more radical, saturated, rebellious and very provocative. But what happens when you combine these two distinctive imageries into a single and, you'll guess, quite intriguing composite? You get elaborated stencil works by Hamburg-based street artist mittenimwald, soon to be on view at Cologne's 30works Gallery. His long-term interest in Japanese culture has now focused on the prevailing image of women there, and the way it firmly represents a certain kind of identity.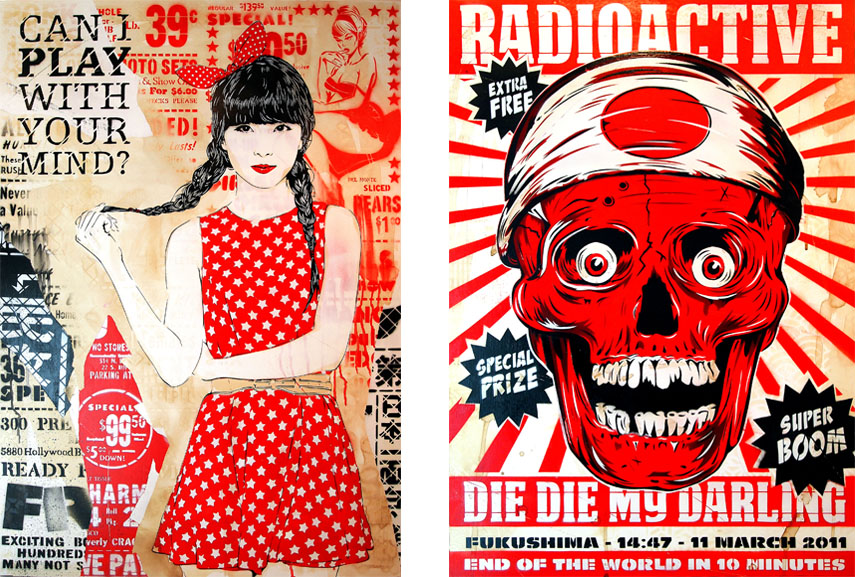 The Sushi Connection
The women and girls that mittenimwald depicts in his latest works, which will construct his Sushi Connection exhibition in Cologne, are sometimes juxtaposed against a graphic world inspired by the Western concepts of punk and pop culture. Their ever-serious, proud and self-confident look is now put in a different environment, where these values are being assigned a whole new meaning – the one the above-mentioned Western viewer is used to. They now seem very pin-up, tongue-in-cheek and not at all innocent, especially when accompanied by mittenimwald's so-called "claims", writings that serve as speech bubbles attributed to his characters. "Can I Play With Your Mind?", asks one of the girls, luring us into a sort of a reversed psychology game in which we're not really sure who's asking whom that very question. "If You Think I'm a Bitch, You Should Meet My Mother", says another one, really making us wonder what it is we're looking at – because mittenimwald is, after all, a true master of suggestion.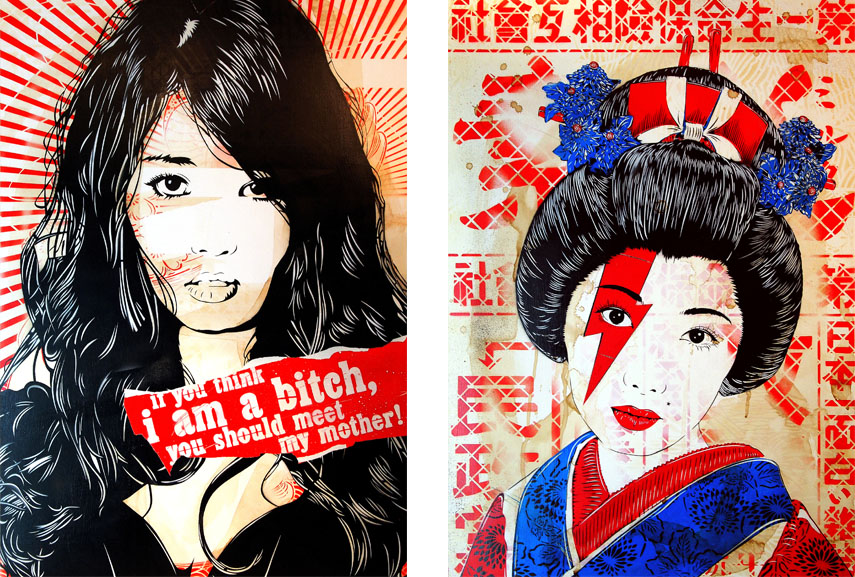 The Art of Meticulousness
Ever since the beginning of his career, street artist mittenimwald has been curiously exploring Japanese culture, putting great effort to depict its fascinating calligraphy and history. His dedication can also be witnessed in his latest works as well, in which his Oriental heroines become icons of a classic and highly detailed stencil style. Glooming with symbolism and motifs, the pieces are depicted with breathtaking accuracy, whether it's the kimono or the geisha make-up, or flower ornaments. At times, subtly occupying the space "behind" his subjects are elements of the Japanese landscape painting, its futuristic digital calligraphy, or even excepts from mittenimwald's "muertos" (the dead), like sewn lips and blood masks – creating a kind of stylized, cross-cultural reference art that, however, works in terms of both aesthetics and deeper meaning.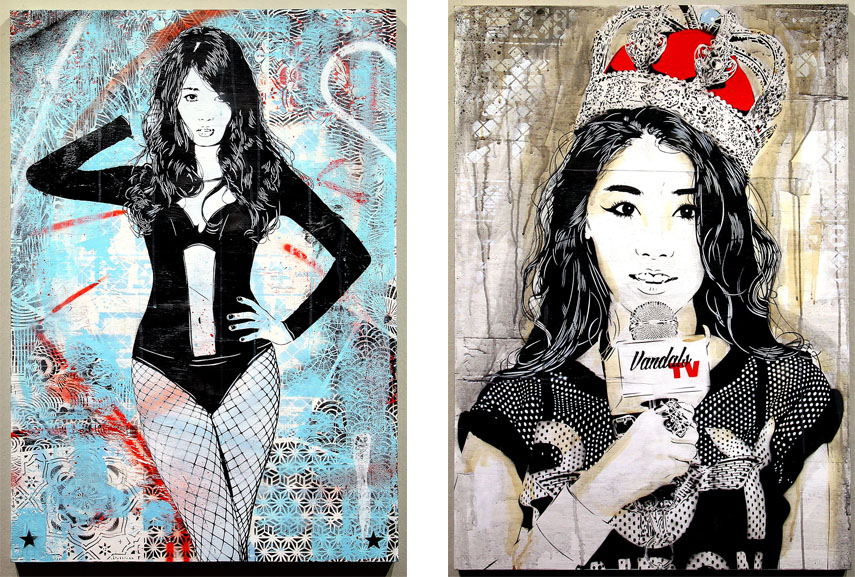 Street Artist mittenimwald at 30works Cologne
Posing many questions in relation of image content, mittenimwald's work consists of many individual parts which, combined, create a larger narrative. As these narratives are so precisely structured, designed and balanced, they are being compared to the delicate compositions of sushi – hence the show title, as yet another reference to the culture of Japan. Sushi Connection, an exhibition of works by street artist mittenimwald, will be on view at 30works Gallery in Cologne, Germany, from December 5th 2015 through January 9th, 2016. The opening reception is set for December 5th at 8pm.
All images courtesy of 30works.