Street Artist SP38 Celebrates 20 Year Anniversary at Open Walls Berlin
Born in Normandie, "prisoner of Berlin", urban poet, painter, performer and one of the first artists to have worked in Berlin after the fall of the wall, SP38 is celebrating 20 years of his time spent living, working and creating in the city of Berlin. The vibrant and alive scene of Berlin wasn't always so diverse and developed. SP38 remembers the times before the concrete jungle became a human zoo. The prominent street artist has been an active chronicler of the many transformations and changes the city and the society went through over the years. Reflecting upon his first 20 years as a Berlin resident, SP38 returns to OPEN WALLS Gallery with the new show entitled Vive SP38! The exhibition will feature twenty different posters and twenty photographs, alongside of a brand new series made especially for this show.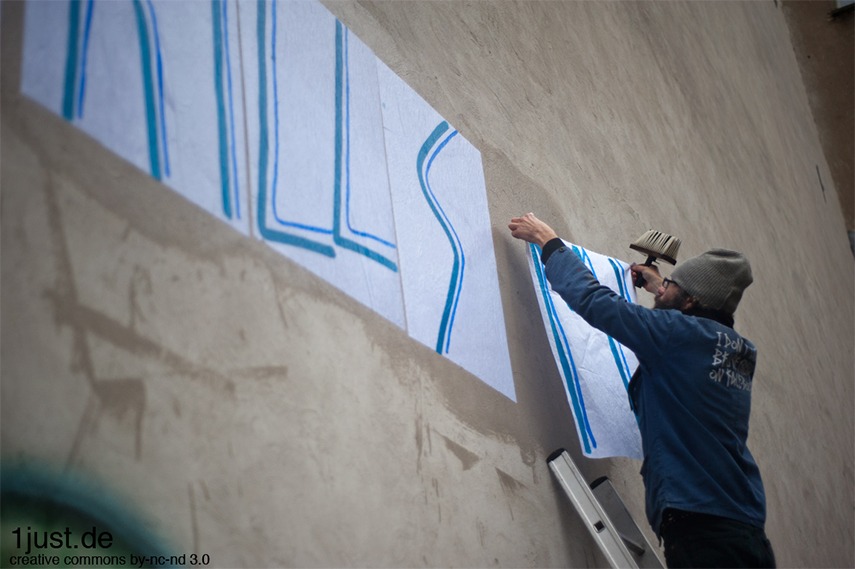 Chronicling the Progress from an Open and Empty City to an Urban Jungle
As someone who has spent two decades being part of the urban art scene of Berlin, SP38 recalls his early beginnings and the first time he arrived to the capital of Germany. According to the artist, at that time Berlin was a symbol for an alternative lifestyle, and it saddens him to see that it has developed in the same manner most of the major cities have developed. This path of progress has cost the city its soul and original spirit. When SP38 came to Germany, it was just after the reunification. The entire country was very welcoming towards the artists, and SP38 came from Paris, where he was active in artist squat movements. His beginnings were paintings on canvas, he met people who worked in collectives in big studios and joined them. Very soon, SP38 discovered the allure of the streets, where he started working with posters. He developed a style that was characterized by creating artwork in a quick and repetitive manner, naming himself as the "human copy machine". Even though he often reproduces his motifs and texts, each piece contains some imperfections and at least minute differences that imply the hand-made factor in his art. For those of you who speak German, have a look at the interview with the artist.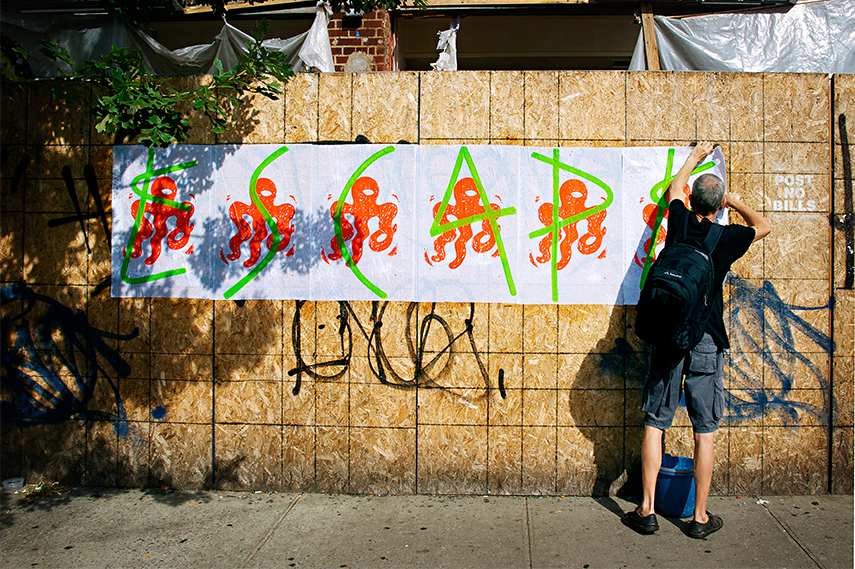 Creating a Dialogue Between the City and its Inhabitants
Even though the French artist is based in Berlin, he has traveled the world and shared his art with people from around the globe. SP38's urban poetry has found its way to the streets of Seoul, Montreal, New York, Rangoon, Bristol, Jerusalem, Santiago, and the Philippines. Alas, there's no place like home, and the streets of Berlin have been home for SP38 for the past twenty years. The veteran street artist draws inspiration from literature, politics, his rich personal life and the society around him. The messages he conveys through paper, via his trademark typography, are aimed to provoke a dialogue between the city and its inhabitants. SP38 uses a unique alphabet, created by himself, to produce witty messages, which, through sarcasm and directness, make people think and re-evaluate some of the social tropes enforced on our daily lives.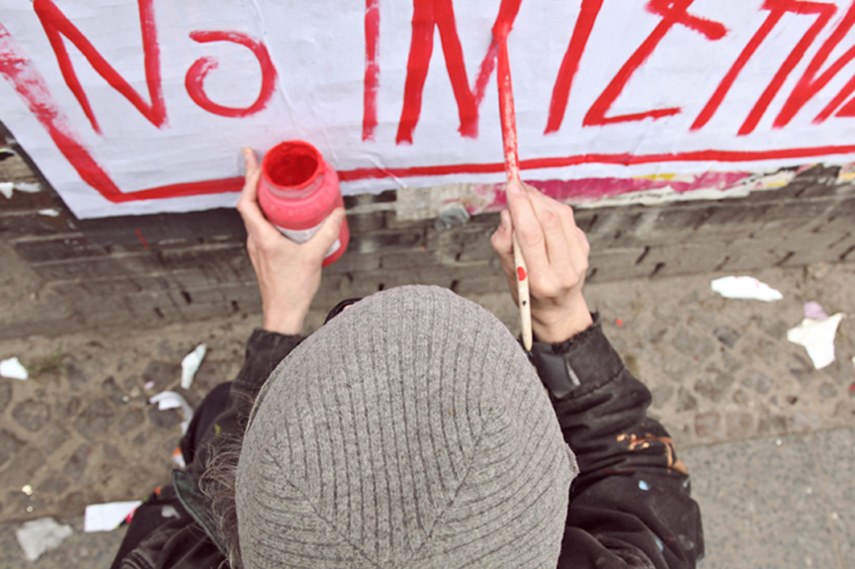 Vive SP38! at OPEN WALLS Gallery
The slogans of this urban artist veteran are connected through their mutual relation to the specific moment or period in time. Obviously, a lot of them are specifically fitting to Berlin. SP38 often creates his art on a whim where he simply reacts to the events happening around him. It is not always a thoroughly thought out or elaborately deliberate process that leads him to create his art, as he described it, his art represents a kind of a dialogue with the city, one that is spontaneous and driven by instinct. Vive SP38! exhibition celebrating the artist's 20 years in Berlin is on view from the 7th of November to 28th of November, 2015, at OPEN WALLS Gallery in Berlin. The Vernissage is scheduled for Saturday, November 7th, 17:00 – 20:00h.
VIVE SP38! Celebrating 20 Years of Street Art & Urban Poetry in Berlin Mitte from OPEN WALLS Gallery on Vimeo.
Celebrate the world of art every day with a free sign up for My Widewalls!
All images courtesy of Open Walls Gallery