Sunglass Hut Launches Mr. Brainwash Collection
Has street art become an art form admired only by middle-class? Do we live in a period when graffiti and urban art are no longer considered as "outside culture"? Many street artists would strongly disagree with these claims; however, everybody is witnessing some street art works being part of posh, classy projects. It's not only about the penetration of street art into high-class art market – it's about street artists (or those calling themselves street artists) whose practice focuses on highly commercialized products. It wouldn't be surprising for anyone if we say that we pose these questions because of the new business endeavor by controversial artist Mr. Brainwash. Apparently, he has moved into the world of accessories – he is taking over Sunglass Hut's newly renovated SoHo flagship for the retailer's sixth Artist Series collection.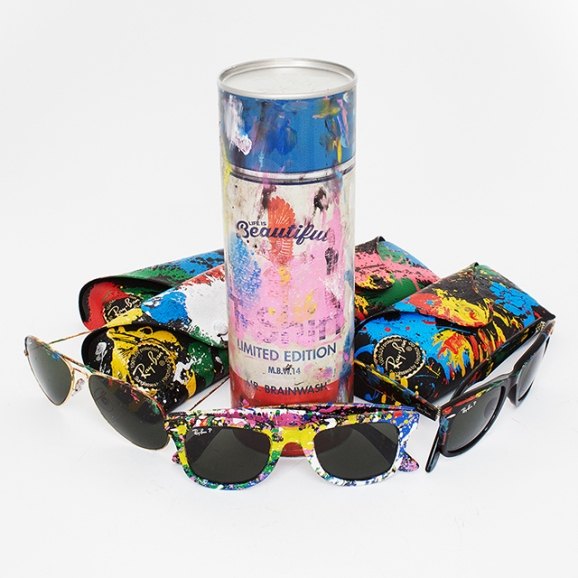 Mr. Brainwash Collaboration with Sunglass Hut
Mr. Brainwash (real name, Thierry Guetta) has just agreed to design a 250-piece line of parody-free, paint-splattered Raybans for Sunglass Hut's New York SoHo shop. This is not the first time Mr. Brainwash is involved in, what we might call, the commercialization of art. He is probably best known for his role in Banksy's film Exit Through the Gift Shop from 2010. Mr. Brainwash (often written MBW) is called a pseudo-artist by many experts, mainly because of his bizarre involvement in this Banksy's movie project. And, indeed, many reject to acknowledge his status of an "artist". Yes, he is an author of many street art works, particularly in New York City (but, not only in NYC, check out our Mr. Brainwash vs. Invader article); but somehow his work is completely marginalized by his "business projects". Designing classy sunglasses is not the first time Mr. Brainwash attempts to enter the fashion industry. Last year, he released Just Did It. 13, one of a kind Nike Air Force One sneakers. It seems he wants to continue with his engagement with fashion and design industry.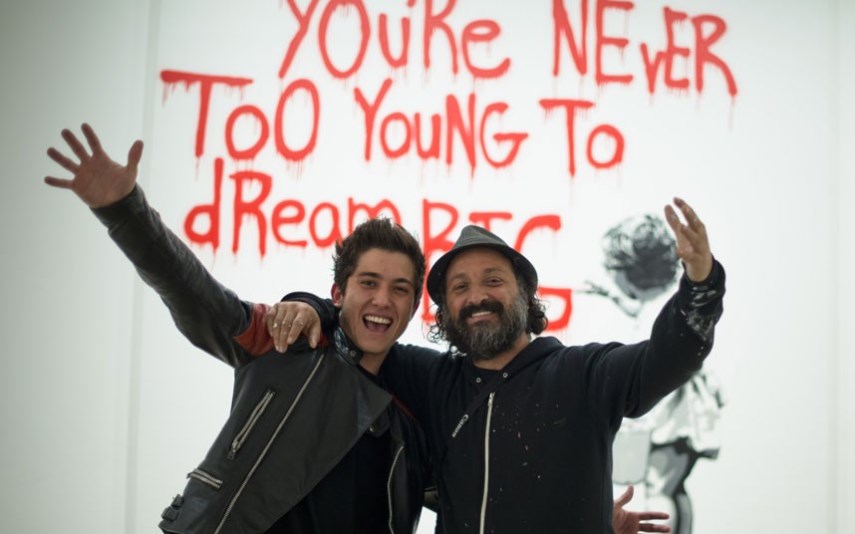 Mr. Brainwash Sunglass Collection
The Sunglass Hut Artist Series is an annual program that identifies up-and-coming artists to create exclusive, collectable sunglasses. This year, collection is made by Mr. Brainwash. The collection is comprised of 250 unique designs rendered on Ray-Ban's iconic Wayfarer, Clubmaster, Aviator and Round models. The sunglasses cost $ 399.95 per piece, and come in a unique painted case placed in a custom made "mock spray can" in Mr. Brainwash's signature style. The store that is located at 496 Broadway in New York will also feature a mock art studio, the new sunglass collection and well-known works of art by Mr. Brainwash. So, potential buyers will also have an opportunity to see some MBW's works. And, what should we expect from this sunglass collection? It will probably be quite popular (let's have in mind that fashion has a longstanding relationship with street art). On the other hand, this project by French-born and Los Angeles-based artist will only contribute to his "controversial" status in the world of street art.
What's your opinion on this Mr. Brainwash new design project? If you want to comment, visit our Facebook Page.
For the latest news from the world of street art, sign up for My Widewalls!
Featured Image: Sunglasses from the Mr Brainwash x Sunglasses Hut collaboration (courtesy of elle.com)
All Images used for illustrative purposes: