Passionate Superman and Batman Kiss Emerges in Streets of London and New York
Homoerotic images in the art world are always interesting to the general public, especially when they feature two alpha superheros. The decades-long sexual tension between these comic book characters has recently been made public. Superman and Batman are getting intimate on the streets of New York and London. Clark Kent and Bruce Wayne share a passionate kiss in a series of street art images made by London-based artist Rich Simmons. This iconic moment of the two brawny superheroes in a loving embrace is decorating the walls and making a strong statement at the same time. The artist has stated that his intention was to create art that will spark a dialogue on equality by placing these alpha males in a passionate make out session. The piece makes us wonder just how important it is that someone who helps us and saves us from something is gay, straight, or bisexual. It carries a strong message of the importance of equality and will surely create a path of understanding, bereft of prejudice.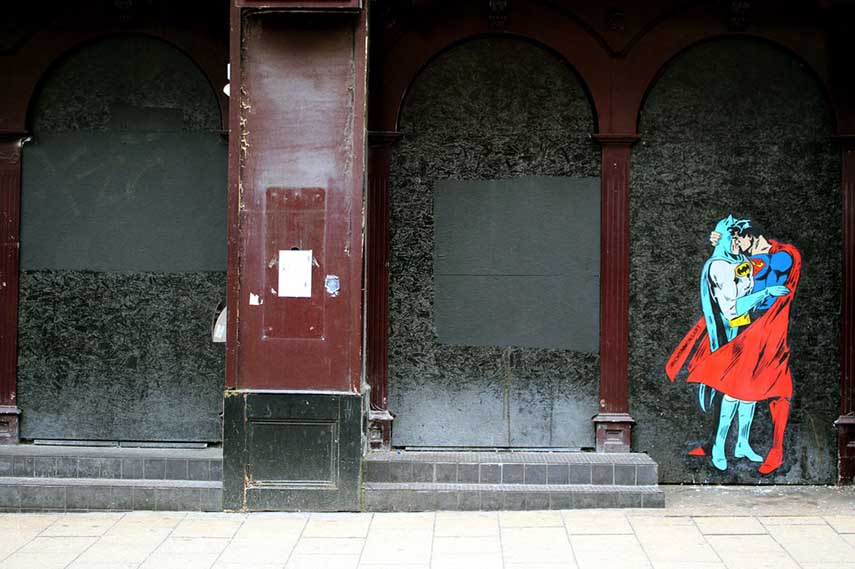 Kent's and Wayne's Romance
Rich Simmons' first piece in the Superman Kissing Batman series had its debut at the Imitate Modern gallery in London back in 2014. Now, in 2016, when the blockbuster movie Batman v. Superman: Dawn of Justice is having its moment on the silver screen, the artist has decided to create a series of large-scale paste-ups and to show them in Croydon and SoHo in London and in Lower Manhattan. As images of his sexy superhero graffiti continue to get likes and shares on social media, the artist hopes that it will also make people think about the meaning of his work. He says that it shouldn't matter to us who the person is and who they love, or what they believe in, or where they are coming from. All of this perishes in front of the greatness of being a hero. The artist wants us to judge people on the way they treat others and not on who they choose to sleep with.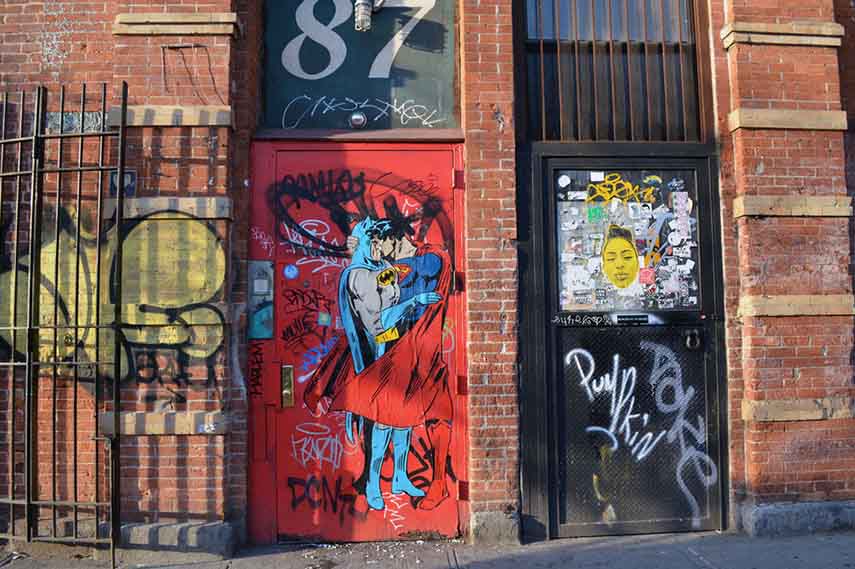 Art Fighting for Gay Rights
Here at Widewalls, we have already written about LGBT rights and art, specifically in the medium of photography. Since the Supreme Court's ruling on June 26th, 2015 on the constitutional right of same-sex marriages, the LGBT community has gotten the long-awaited prerogative to proclaim their love publically instead of covertly. Long have the artists been standing up for gay rights, before the legislative world caught up with them. What perplexes the progressive thinkers of today is the fact that homophobes disregard the fact that homosexuality was considered to be perfectly normal in the ancient cultures that stand as the pillars of the society. Hopefully, Rich Simmons' murals will restore some of that common sense and promote the prejudice-free thinking even among the individuals who refuse to accept the idea of same-sex couples as equal members of the society.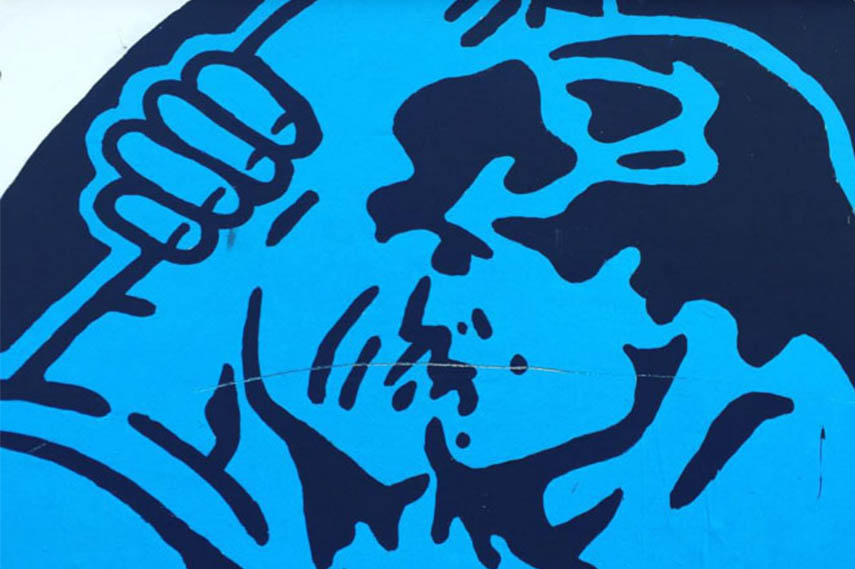 Homophobia or Superhero-phobia Strikes Again
As wonderful the message behind Simmons' art is, some individuals still cannot escape their own prejudices. The Superman and Batman kiss is supposed to promote love and equality, and make people realize that our heroes, whether they are doctors, firefighters, social workers, or paramedics, or even real superheroes that selflessly rescue people from drowning or earthquakes, can love whomever they want and be whoever they want without the fear of social ostracism. However, it seems that some people did not get the memo since the real-life Lex Luthor or a jealous Lois Lane has taken matters into his/her own hands and desecrated the mural with a knife in March. Someone has apparently had an issue with an earlier depiction of Kal-el and Bruce Wayne's romance and lacerated the kiss to break them apart. The author considers this an act of vandalism for a homophobic cause. The mural was controversial in its nature, but since when does controversy justify violence?
Share your thoughts on this Superman and Batman kiss on our Facebook page!
Featured image: Rich Simmons – Superman kissing Batman in Soho, London via huffingtonpost.com