To Be Constantly Observed - Watched! Surveillance, Art and Photography at CO Berlin
Total surveillance, digital technologies and big data — the current C/O Berlin exhibition contributes to a better understanding of our modern society under surveillance.
We live in a world in which everything is constantly observed. Everything we do is recorded. Whether on Facebook, Twitter or Instagram, what we think we should know about an individual, personal details, are available with just a few clicks . Invisibility has been lost to the digital revolution — but why should that matter?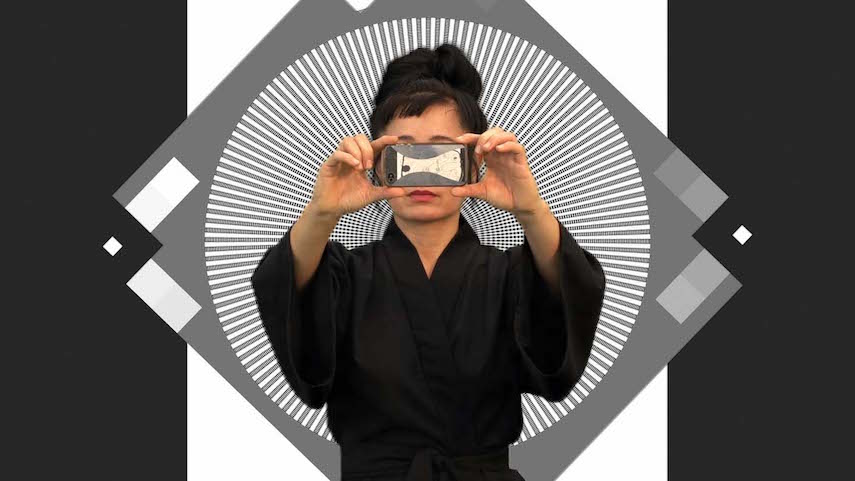 Cameras in Public Spaces
The exhibition Watched! Surveillance, art & photographie at C/O Berlin addresses this among other questions: How does living under constant surveillance affect us? What results in living in a "watched" society? And, are we conscious of this control or ignoring it? Twenty artists, among them young aspiring artist such as Esther Hovers as well as internationally renown ones including Hito Steyerl and Hasan Elahi, illuminate the complex contexts of modern surveillance. This can be best understood by the piece of participating American conceptual artist Jill Magid. Her performance video greets the viewer while first entering the exhibition, and not for nothing. The video displays images of the artist dressed in a bright red trench coat walking the streets of Liverpool with her eyes closed for 31 days. These pictures are provided by surveillance cameras, which locates the viewer in a position of surveillance and context of the exhibition. Magid asked the company responsible for the Liverpool's surveillance Citywatch to film her at various places in the city. Interestingly, the request forms she submitted to access the footage were written in the form of love letters. The video work, Trust, addresses the ubiquitous presence of cameras in public spaces, which observe and archive every second of the day. The work assumes this control requires a degree of trust, hence the title "Trust", which she considers as only comparable to blindly roaming the streets of a bustling metropolis.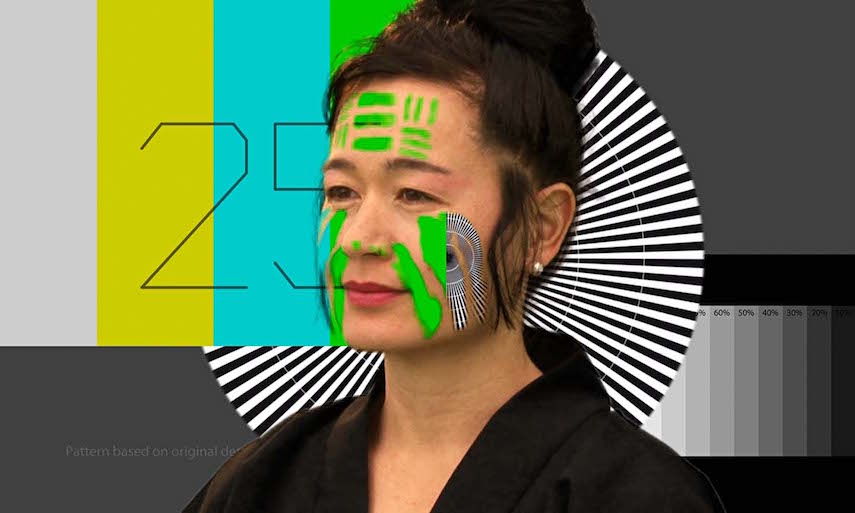 What is Hidden from the Public?
The exhibition's greatest strength is not only its representation of the political facets of total surveillance , but its making the disturbing pervasiveness of surveilance perceptible. To feel what it means when eyes are constantly on you, we become transparent and the incessant observation of everyday life self-evident. The former US-Secret Service employee Edward Snowden published documents about a massive breach of civil rights committed by the NSA (American Secret Service) and its British counterpart, GCHQ in their Internet supervision of individuals, triggering a worldwide wave of protest. The print by artist Willem Popelier is linked to the question whistle-blower Edward Snowden raised: what information is made visible to and what is hidden from the public? Popelier refers to the famous photo from the so-called Situation Room, which was chosen, among others, by the White House chose to releasee to the public when Osama bin Laden was killed. The photo displays then US Secretary of State, Hillary Clinton, sitting at the table, in front of her a pixelated sheet of paper. Popelier rephotographed the photo, zoomed in on the pixelated document, enlarged it, thus making a clever statement that the public is transparent, but not everything is visible to the public.
This mass monitoring by the government and companies, which outraged the world, is realized with the aid of drones. In the audio-work of designer Ruben Pater and the composer Goncalo F. Cardoso, these flying machines change into quasi-bird — there every kind sounds and develops into a sort of modern bird's voice potpourri.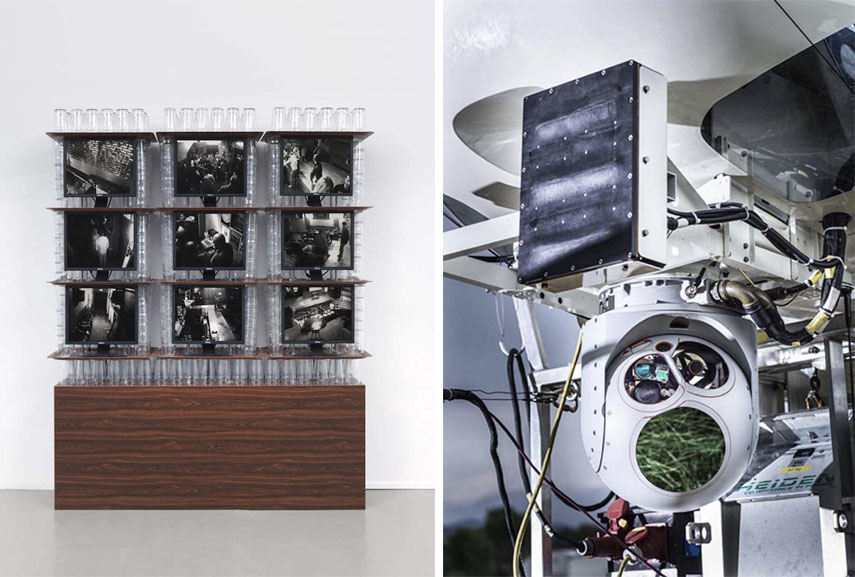 The Compulsion to be Observed
Clearly, drones aren't birds. They are machines developed for supervisory purposes and forcible attacks; at the same time, these machines were produced for rescue missions and scientific research. Every technological development has negative side effects that we are prepared to swallow. Finally, we profit from the new offers, as a countermove we open the doors to our private lives. Nevertheless, this perspective is not totally unambiguously: The shown works described here, like — above all by the state and officially used — supervision functions as the technologies intervene in our lives and decisively change them. The compulsion to observe others and be observed ourselves voluntarily — out of fear or comfort — becomes more important to understand than modern supervision itself. We are not only victims forced out of hiding, we are volunteers, too often aware of the damages. And yet, we still continue to open our doors that lead to our private lives.
Watched! Surveillance, Art & Photography18/02/17 till 23/04/17C/O Berlin Foundation, Berlin, Germany
Featured image: James Bridle – Homo Sacer, 2014. Installation view FACT Liverpool © James Bridle.