Swiz Graffiti Exhibition is Coming to 44309 Street Art Gallery
Whether working on the streets or in the studio, Swiz, a graffiti artist from France, has managed to maintain his signature style that echoes the great Futurism movement. Deconstructing words to create alphabetical matter, his works carry a message that needs to me deciphered. His latest exhibition ECLOSION at 44309 Street Art Gallery will reflect the notion of genesis and emergence of new forms. Featuring a series of his current works, the exhibition will explore the progression of cityscapes and the evolution of men and architecture. In addition to presenting a series of works on paper, Swiz will also paint a wall close to the exhibiting space. Known for layering shapes and forms to create elaborate labyrinth-esque spaces, Swiz will take the viewers on a complex visual journey.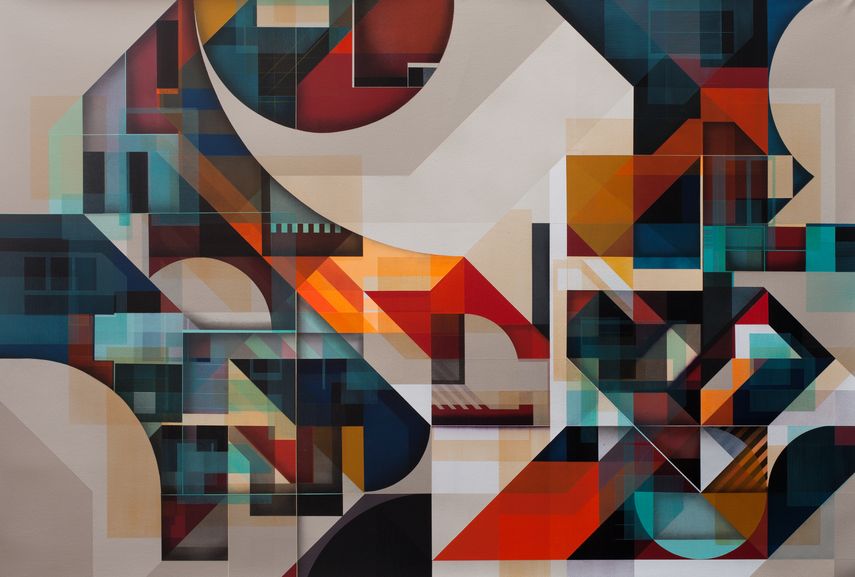 Swiz Graffiti As a Sane Reaction to the City
Without prior education in arts, Swiz emerged on the graffiti scene in the year 2000. Attracted to abandoned places around the city of Paris, he transformed them into his own playgrounds and created a visual password left for the viewers to decipher. For Swiz, painting outside is something completely natural and a sane reaction to the city. Even though abandoned places are his preferred canvases, he has also extended his practice to creating studio works. Whether using spray paint, acrylics or a sewing machine, in-between aerial photography and electronic circuits, his constant graphic experimentation has defined his signature futuristic style.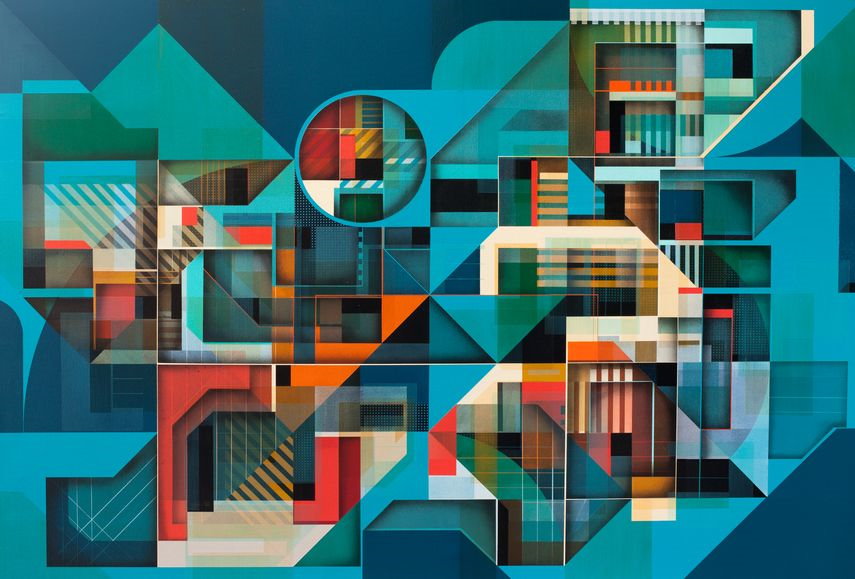 The Unique Style
Combining blocks, fonts, type, and mix media murals, Swiz still maintains his traditional style technique. Playing both with words and typographic rules, Swiz turns letters into shapes that divide and overlap creating a jigsaw. Playfully juxtaposing them to echo the Bauhaus, his style is based on the logics of the mathematics of shapes or even words. Consistently working with letter forms, he has managed to create some of the most progressive and interesting graffiti aesthetics. Stripping the letters from their stylistic effects to return to their initial simplicity, his studio work strengthens his passion for writing. As the artist himself explained, even though his studio works are based on a precise geometric way to encrypt letters, he never paints with a sketch. He works directly on the medium, allowing a line to lead to another one. The conceptual direction and often intricate details make Swiz's work stand out.
Swiz Exhibition at 44309 Street Art Gallery
Located in Dortmund, 44309 Street Art Gallery is focused on street art, graffiti, urban and contemporary art. With its diverse and eclectic program of exhibitions, the gallery has made a huge impact on the German graffiti and street art scene. The exhibition ECLOSION will be on view from November 5th until December 12th, 2016. The opening reception will be held on Saturday, November 5th from 7pm.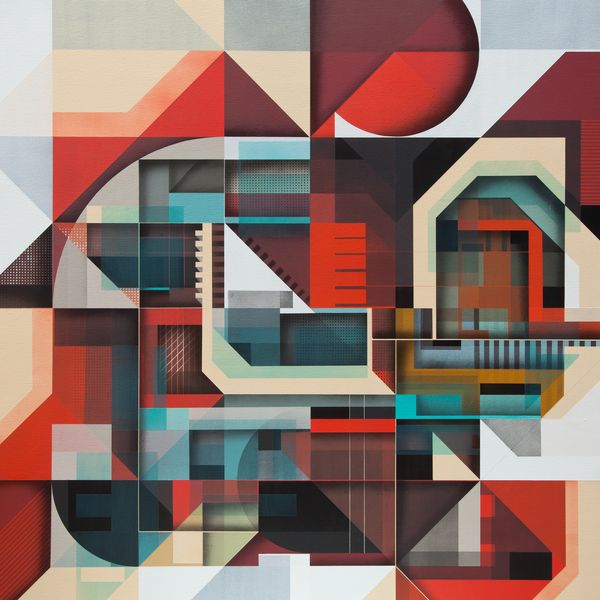 Featured images: SWIZ – Eclosion (detail), 2016. All images courtesy of 44309 Street Art Gallery.