Submerged Collaborations
Coinciding with the fantastic exhibition at Brooklyn Museum entitled Submerged Motherlands, Swoon will present a night of film and performance named Submerged Collaborations on June 12, 2014. The event will start with the projection of the film Flood Tide, a fictional story placed in the celebrated Swoon's moving installation Swimming Cities on Hudson River. It is directed by the street artist's repeated collaborator Todd Chandler.
After the screening, a discussion with Swoon and her associates who participated in several big projects will follow, addressing the topics found in their work and suggesting ways of cooperation on the level of community in order to make opportunities for joint action.
The evening will culminate in a silent procession and a performance of sound and light in the Cantor Rotunda section, envisioned in response to the Submerged Motherlands installation. Featured in the performance will be The Submerged Motherlands Orchestra, singer-songwriter Mirah, musician Marshall LaCount, Todd Chandler, the band North America and violinist Chloe Swantner.
Tickets for the event can be bought in advance and they include entrance to the Ai Weiwei exhibition.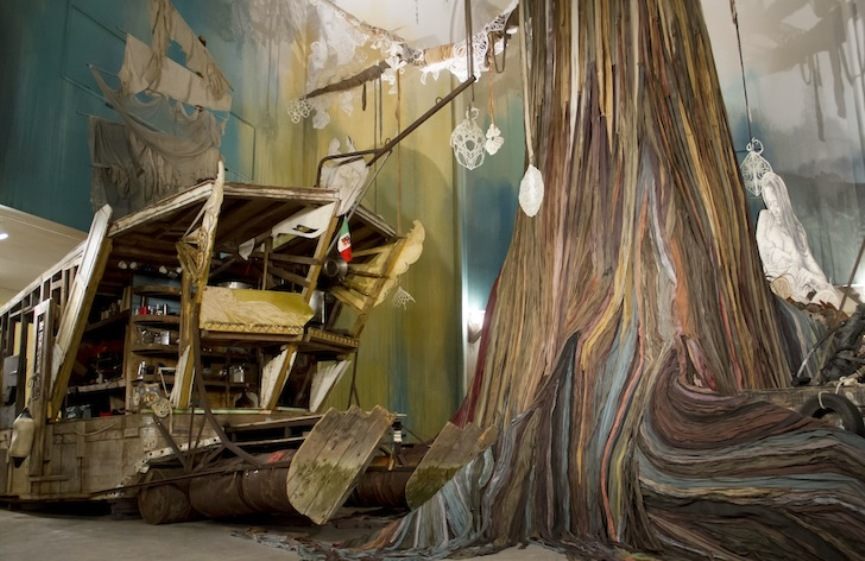 Submerged Motherlands
Swoon has been known for her accessible style of art embodied in paste-ups and installations, rendering current social and environmental issues. He most famous pieces are large in scale and pasted over boroughs of Brooklyn and Manhattan.
The exhibition at the Brooklyn museum is actually an in situ installation in the rotunda gallery of the institution, which the artist completely converted the space turning it into an amazing naturalizing setting dominated by a huge tree in the center. The tree sculpture has an artificial environmental base around it, displaying various boats, rafts, prints, drawings and paper foliage, all in dialogue with the central eco-conscious topic.
Swoon finds her inspiration in different historical and current events, incorporating issues such as climate change and natural disasters such as hurricanes, landmass movement and tsunamis from the past and from most recent history.
The tree of Swoon at the Brooklyn museum fuses universal topics of climatic shifts with just as universal values of motherhood, nature and survival.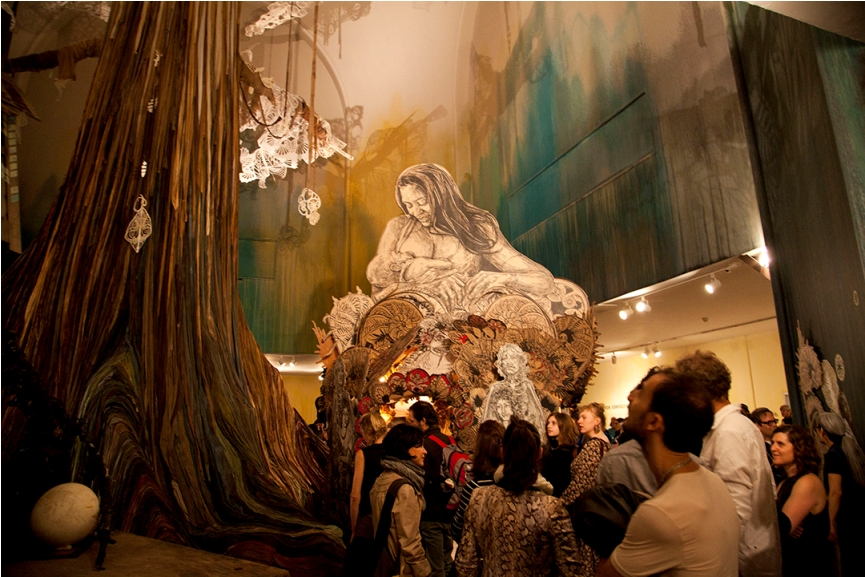 Flood Tide
The movie Flood Tide is a post-industrial mystery visually inspired by Swoon's moving installation project Swimming Cities. It was made in collaboration with the project, which consisted of seven large structures – sculptures that floated simultaneously down the Hudson River. It's a mix of documentary shots of the actual event and the fictional story following a group of friends on their mysterious journey.
Music is a very important segment of the film, and original numbers are featured through it written and performed by Dark Dark Dark and several other professional musicians. Flood Tide had its official premiere at the 2013 Torino Film Festival last fall.