Tara McPherson at Dorothy Circus Gallery
One of the legends of the pop surrealism art movement, Tara McPherson, is heading to the always fascinating Dorothy Circus Gallery, to present her first solo show in Rome. The New York based artist, who is renowned for her combination of refined illustration skills and expert oil painting skills, has become one of the foremost artists in pop surrealism. Her solo exhibition, I Know It by Heart at Dorothy Circus Gallery, will see McPherson present Quantum Dancer, an artwork created for the Scope Art Fair in Miami, along with eight brand new pieces which are being created during an artist residency in Rome prior to the exhibition. Also on show will be a large selection of the iconic rock posters illustrated by Tara McPherson for music artists such as Beck, Melvins, Death Cab for Cutie and Franz Ferdinand. Previous exhibitions presented by Dorothy Circus Gallery include the works of Seven Moods & Zoe Byland plus Even a Doll Can Do It by Kazuki Takamatsu.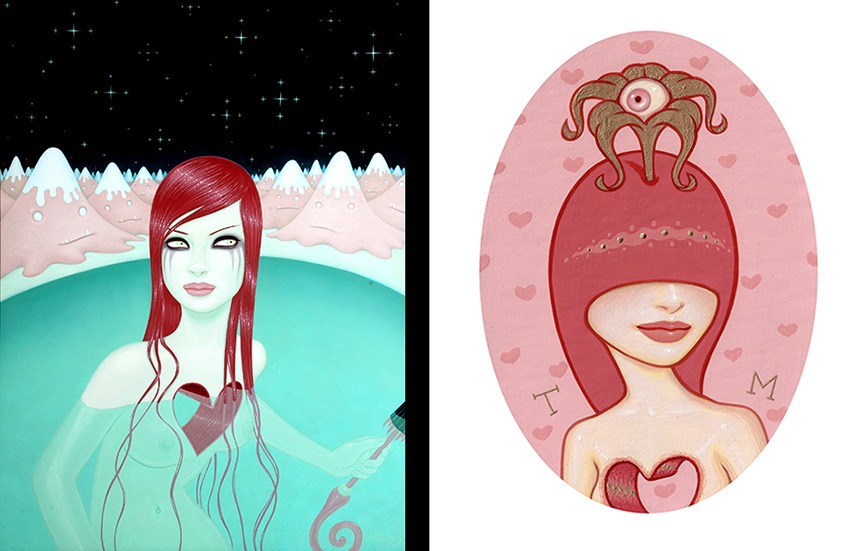 Solo Exhibition in Rome
For her first solo exhibition in Rome, Tara McPherson will be presenting I Know It by Heart in the sumptuous surroundings of the Dorothy Circus Gallery Red Hall, a perfect setting for her dark female figures. Much of the new show centres on the life experience of becoming a mother, with the figure in Quantum Dancer representing female divinity, symbolising the power of creation and destruction. The iconic McPherson character, The Girl with No Heart, Orion, who is always represented as a female figure with a heart shaped hole in her body standing for strength and resilience, will guide the viewer through an unseen constellation of emotions and feelings in the new artworks. With a personal experience of becoming a mother, Tara McPherson explores the new grounds of love and creation in I Know It by Heart, providing us with her usual strange imagery but this time accompanied by a surprisingly fresh and charming use of colour.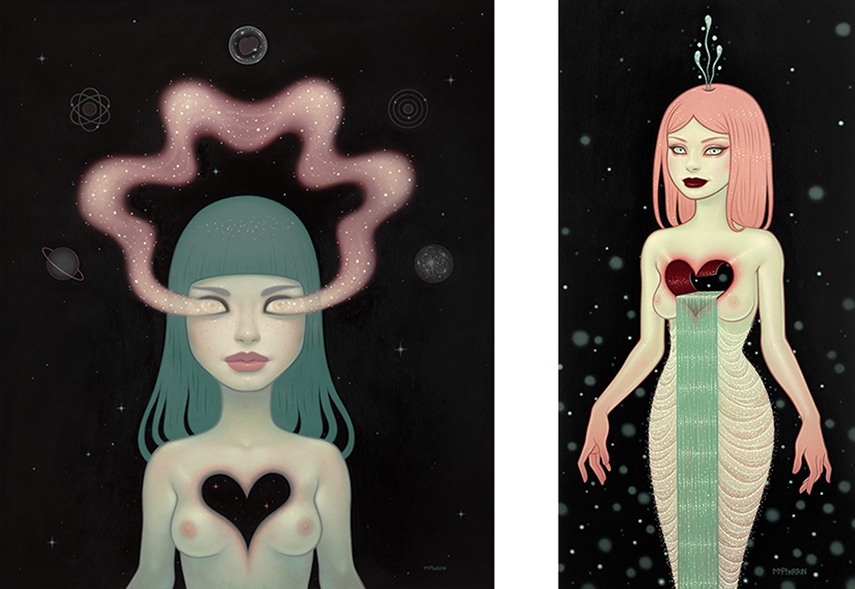 I Know It by Heart
I Know It by Heart will bring to Italy some of the beautiful pop surrealism figures that Tara McPherson is acclaimed for creating. Her odd characters seem to exude an air of innocence and deep wisdom at the same time, luring us in with their seductive life stories. The eight brand new pieces being created in Rome are sure to add to the fascinating legacy of characters, the so called emotional totems revealing stories from outer space and under water, extending hands to all the dreamers out there. The new solo exhibition is the perfect chance for fans of dark pop surrealism to view the wonderful imagery in the fantastic Red Hall, while also being able to enjoy some of the iconic poster illustrations at the same time.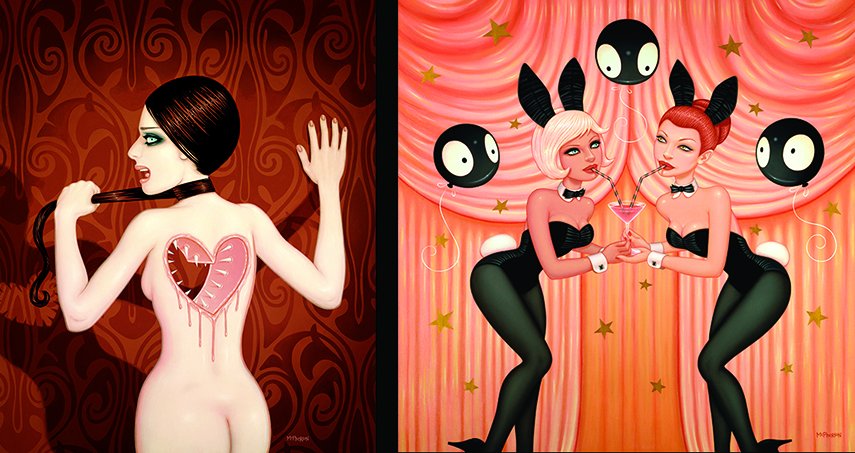 New Mural in Italy
While in Italy for her solo exhibition, Tara McPherson will also be painting her first mural project in a very central location of Rome. Her work will also be included in Spray 4 Your Rights, a social activism related street art project started by Alexandra Mazzanti of Dorothy Circus Gallery. Spray 4 Your Rights is a series of exhibitions and murals featuring the works of street artists, whose works speak about various social topics, from immigrants' rights to feminism. ROA and Eduardo Kobra have both created murals in the past for the Spray 4 Your Rights project, while ZED1 will also be contributing later this year.
I Know It by Heart by Tara McPherson, opens at Dorothy Circus Gallery, Rome, Italy, on 11th June, 2015 and runs through until 23rd July, 2015. Opening reception in the presence of the artist is on 11th June, 2015. 7.30pm.
For all the latest exhibition news sign up to My Widewalls today.
Featured image: Tara McPherson – Hey We All Die Sometimes.
All images courtesy of Dorothy Circus Gallery.
Follow These Galleries
Roma, Italy

Jersey City, United States