Tauba Auerbach Empowers Projective Geometry in Exhibition with Paula Cooper Gallery
Projective Instrument exhibition at Paula Cooper Gallery presents new body of work by Tauba Auerbach inspired by the theory of celebrated American architect Claude Bragdon. The comprehensive solo show features an array of artist's latest acrylic and weaving paintings. Additionally, a series of glass sculptures is displayed in the central part of the gallery and books that Tauba Auerbach often used as references in her artistic process, are exhibited at Paula Cooper gallery's bookstore.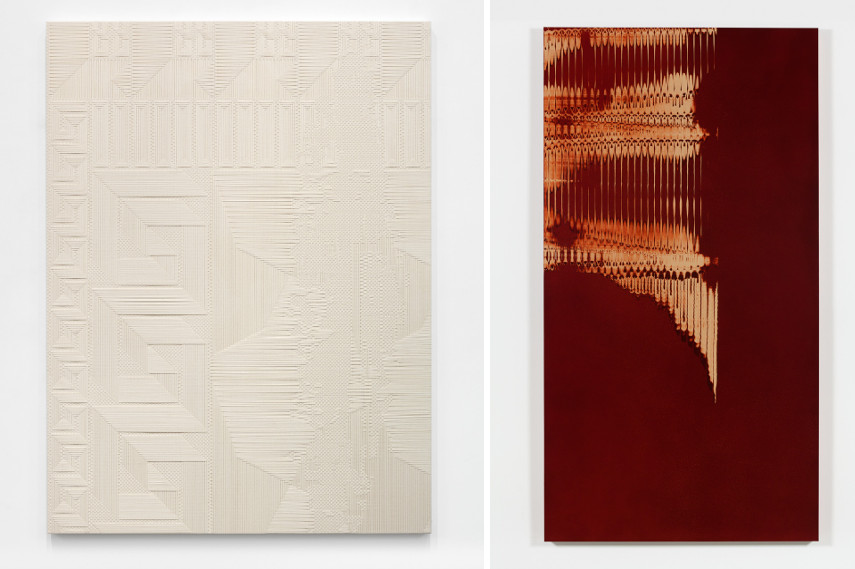 From Projective Ornament to Projective Instrument
The exhibition is inspired by the 1915 publication, entitled Projective Ornament that describes the system for making four-dimensional ornaments on two-dimensional planes. The book was written by architect and theorist Claude Bragdon, who believed that ornamentation can act as a critical opportunity and a vocabulary for overcoming gender, class, religion and other divisions in a society. By showing how this series of geometrical patterns can be used to solve every design problem, Claude Bragdon wanted not only to integrate architecture and design, but also to surpass the gaps in the society. Tauba Auerbach adopted this early 20th century concept and then reinvented it by turning the ornament into an instrument. The change implies a more active role of geometrical forms that converts the ornament from mere depiction, to an apparatus for transformation. Both ancient and new geometrical and topological elements recur throughout Projective Instrument artworks and include recognizable features such as Greek key design and the artifacts of rotation, slicing and interlacing.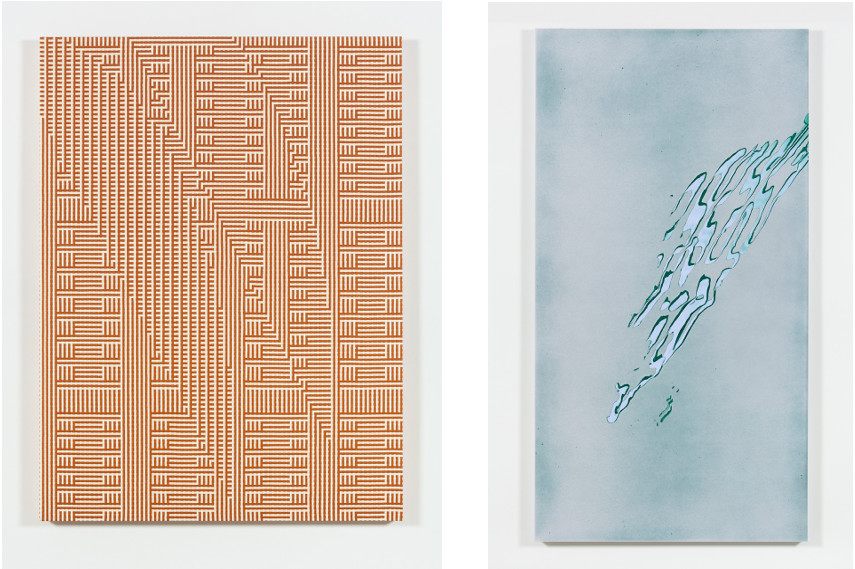 Four-dimensional Geometry by Tauba Auerbach
At Projective Instrument solo show, Tauba Auerbach displays a series of acrylic paintings, made with the use of special tools created by the artist herself, to better manipulate the paint. The artworks reveal patterns made with thin layers of paint that evolved from chainmaille and four-dimensional geometry. Projective Instrument exhibition also features an array of the artist's Weave paintings. Tauba Auerbach started to use weaving as a mean of completely transforming flat, empty canvases five years ago, and Projective Instrument show represents the latest part of the series. In addition to the complex, layered architectural paintings, the showcase also includes the artist's glass sculptures that represent a mechanical engine, built from interlocking, entangled elements. The sculptures are inspired by various tools and fabrics and created from dozens of 3D printed parts.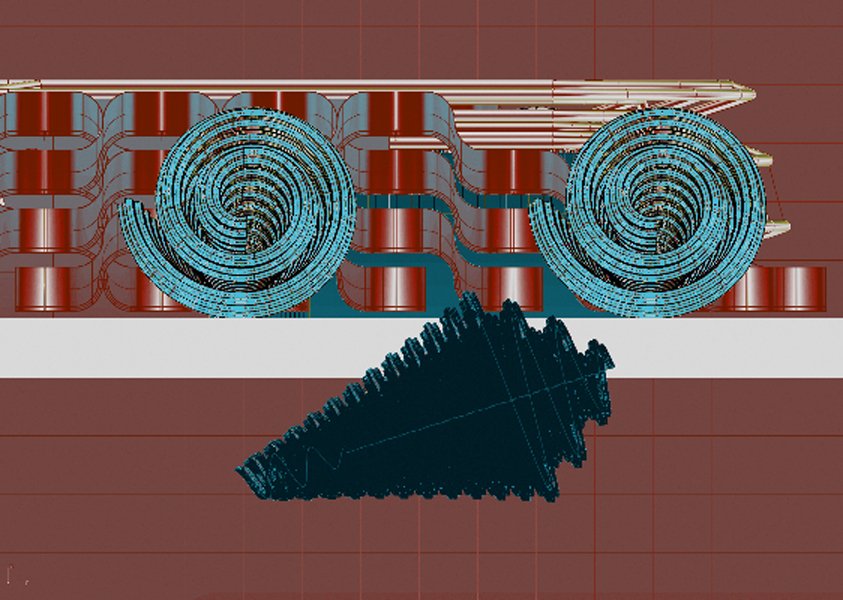 Books Viewing and a Series of Concerts at Paula Cooper Gallery
Numerous publications, that inspired the artist in the last few years, are also displayed at the gallery's bookstore. Naturally, this unique library includes Projective Ornament and A Primer of Higher Space books by Claude Bragdon. A series of three concerts will be held alongside the show, starting with a performance by Zs held at the opening reception on January 9th. Projective Instrument show will be on display till February 13th, 2016 at Paula Cooper Gallery in New York.
All images are © Tauba Auerbach. courtesy Paula Cooper Gallery, New York