Tellas at Mini Galerie
Mini Galerie is excited to announce their upcoming show by emerging Italian artist Tellas. It is his first ever show in the Nederlands and it is titled This Quiet, Harsh Land. Tellas, who mostly paints murals has prepared new drawings on paper and paintings on canvas to exhibit in Mini Galerie in Amsterdam.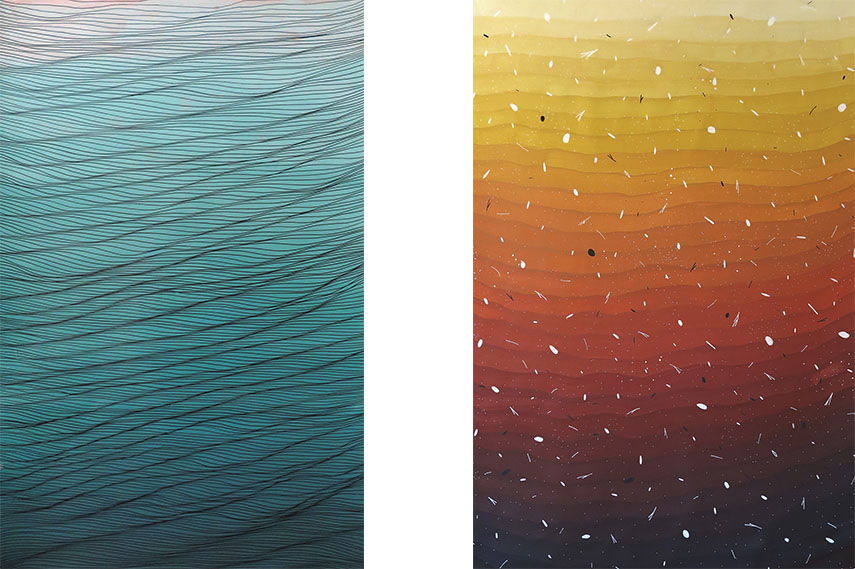 Tellas and his Walls
Fabio Schirru (Caligari, b.1985) aka Tellas is Italian artist from Sardinia who received his degree in visual arts at the Accademia di Belle Arti in Bologna. Although he studied fine arts Tellas got inspired by various murals he had come across in the different cities where he had traveled. So he started painting his large scale murals. Tellas seems to draw inspiration largely from nature and its various elements such as flocks of birds or schools of fish, pieces of wood, leaves and similar. He then goes on to exploit the motif to the fullest usually by replicating it numerous number of times. Tellas is probably so immersed and enchanted with nature because of his growing up on the beautiful Sardinia. In the last five years Tellas has painted in several European cities, participated in a few art festivals and cooperated with street artists such as Ericailcane, Blu, Dem, Escif, Moneyless, 108 among others.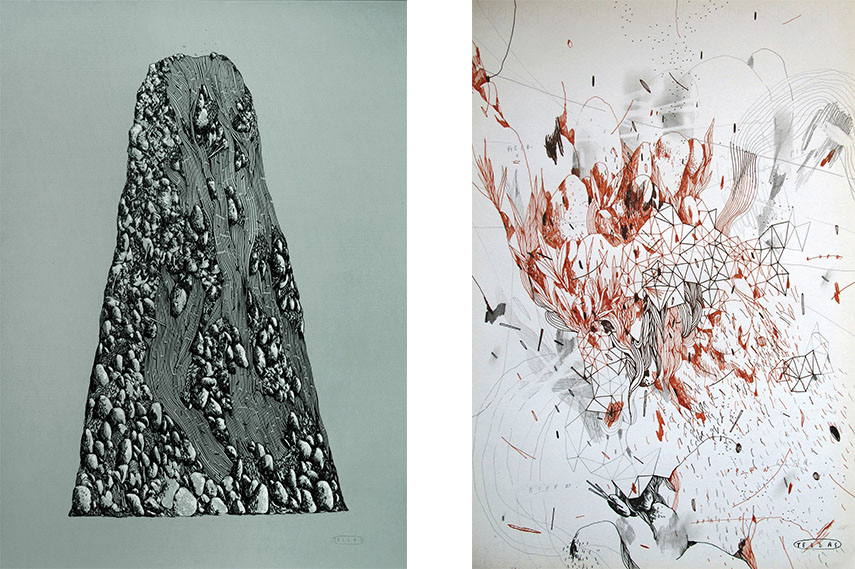 Poetic Minimalism
One could notice that unlike most of the street art that is usually characterized by vibrant, in-your-face colors Tellas's murals seem serene and poetic. His colors and his messages are not in the least aggressive. He often uses minimalistic means to accomplish such elaborate results. It is not rare to see his work done solely in black and white or in different tones of a single color. Although his work is minimalistic, Tellas manages to make it very detailed. Tellas's work is mostly site-specific and generally very well incorporated into its neighborly environment. In his own poetic manner Tellas's explores untouched landscapes of which he derives abstracted motifs. With persistent patience required to do so he repeats those abstracted details endlessly in order to fill the enormous walls on which he works. The results of such tenacious repetitiveness bring about a sense of vastness of our surroundings.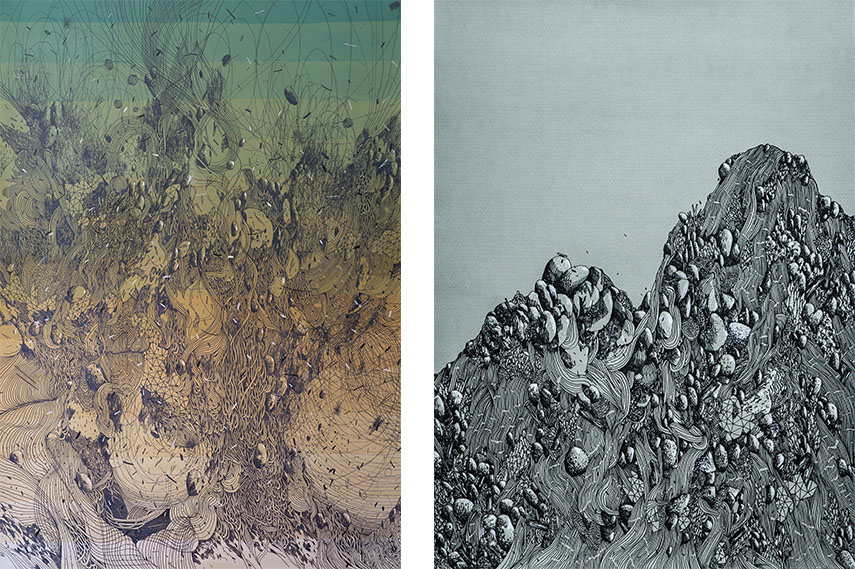 Tellas at Mini Galerie
Fabio Schirru aka Tellas seems to introduce a new type of street artist, the quieter one, the one who is not striving to convey strong political messages but rather create a beautiful, meditative pieces of art that make by-passers feel good. His enlarge intricate compositions evoke awe, admiration and a feeling of contemplation. His work represents abstracted concept of nature that he expresses through use of different techniques such are mural painting, illustration, various painting techniques and installation art. Tellas is most certainly an emerging artist that we need to watch out for his promising clear vision and striking style. So if you are in the neighborhood makes sure not to miss his solo show at Mini Galerie in Amsterdam. This Quiet, Harsh Land opens on May 16th and will run until June 20th.
Sign up for My Widewalls to keep up with the exciting art.
Featured Images are Courtesy of the Mini Galerie.
Follow These Galleries
Amsterdam, Netherlands

Bologna, Italy