The Bestiary of Phlegm
Recent addition to London's urban art scene is newly founded Howard Griffin Gallery, as it strives to impress with imaginative street art exhibitions. The next one in line is the complete transformation of exhibiting space by Phlegm titled The Bestiary. The opening reception is scheduled for February 1 at 6:30PM, with drinks to be served. The artist announced that no artwork will be for sale, as this exhibition is completely ephemeral, in the best tradition of street art. The show will run through March 4, 2014.
Bestiary – Real and Unreal Creatures
Bestiary is a book, originating from the ancient time it had been popularized during the middle ages as a tool for learning, a type of an animal encyclopedia. It was illustrated throughout, but what is the most interesting about it, is that the animals presented were, more often than not, entirely imagined, while those that do exist were illustrated clumsily, by illuminators who had probably only ever heard about them, and never seen a single one. The result was a comprehensive collection of real and unreal creatures, all depicted with a lot of spirit. Each illustration of an animal was followed by a story about it, which had a moral at the end. Although this was not a scientific book, correct illustrations of some animals were present. The significance of a bestiary is great, as it, in a way, signified a start of natural history.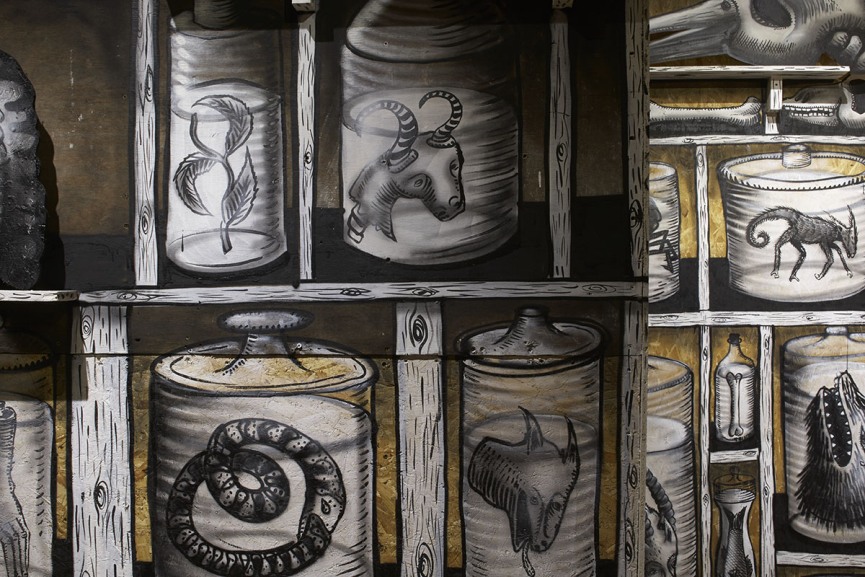 Phlegm's Beasts
Inspired by idea of a medieval encyclopedic almanac, Phlegm made a street art exhibition presenting the current bestiary of his own world, by the means of a mesmerizing huge installation constructed of wood, clay and plaster. Known for conjuring strange fantastic creatures, Phlegm gathers them all in his bestiary for the first time ever, as he classifies them per category he himself assigned. Ephemeral and huge, Phlegm's large scale artistic project has a lot of stylistic similarities with prehistoric cave drawings, as well as conceptual nature of a spectacle. Narratives of his bestiarium remain unwritten, as he portrays the immaterial beings of his imagination in sculpted relief.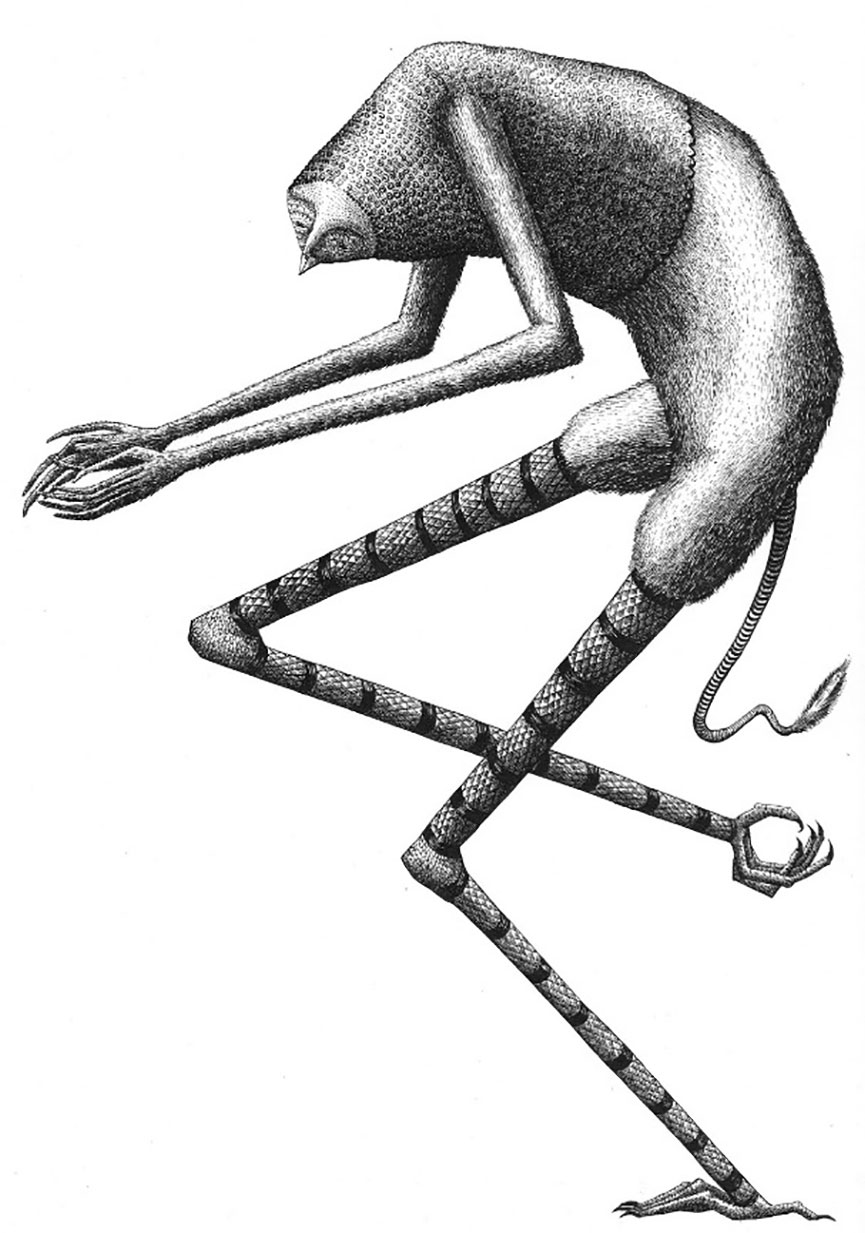 Phlegm – Background
Based in Sheffield generally, Phlegm is primarily a muralist and a comic artist who creates highly imaginative illustrations for his self-published comics. Adorning ruined and abandoned spaces, his work can be seen on walls or creatively set within the urban landscape. Telling the story with his murals, Phlegm opens the door to a fantastic world of his imagination, alluring the viewer to look for more. His images reminisce children's books illustrations, sometimes scary, sometimes tame, happening in pretend cities or castles, towers and maze-like staircases.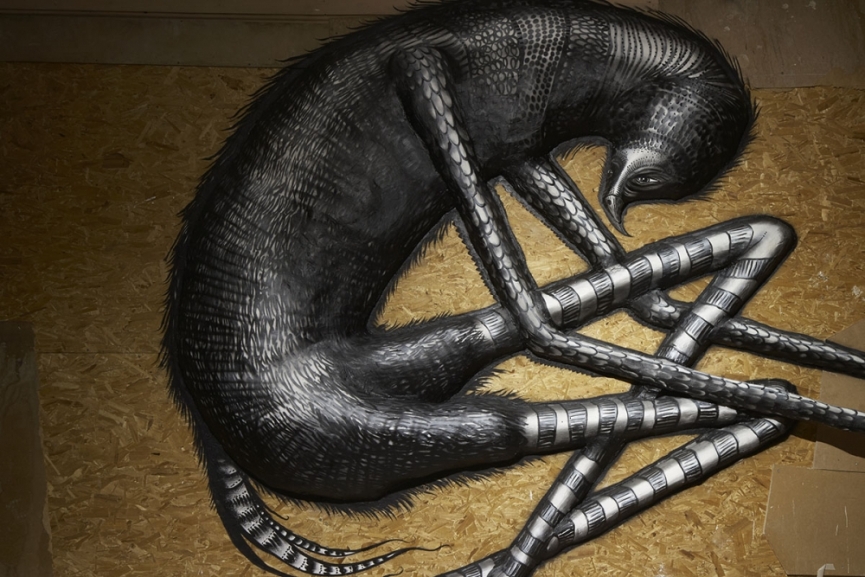 Phlegm's Robots
Along with the animate section of his surreal universe, Phlegm also paints another set of characters and visuals. HIs murals show crazy machines, flying contraptions, complicated webs of mechanics, conjoined with magnifying tools big and small. Phlegm uses black and white shades exclusively, while he refined his method to a high level, rendering every detail to perfection. His wonderful murals can be seen in many countries of the world, including Belgium, Canada, Italy, Norway, Sri Lanka, Poland, USA, Switzerland, Slovakia and Spain. The Bestiary will be the first solo exhibition by this beautifully talented street artist.