The Bride Series
You still have time to go and see a new powerful series of female portraits by Jennifer Caviola, aka Cake, at Anno Domini Gallery in San Jose, CA. The show entitled "The Bride Series" is a result of a lost marriage, which left Cake wondering who she was and what she could do to reclaim herself. Acceptance of the fact that she is no longer a wife has come through painting. Cake painted every day into the night for five months straight until the series was finished, and each Bride carried her closer to a healed heart. "They carried me, they kept me safe and they gave me myself back again," Cake explains.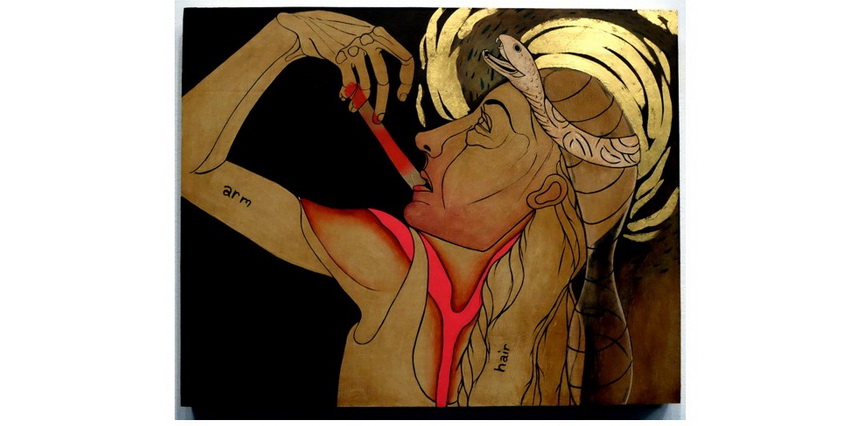 Unspoken Feelings
This profoundly personal and touching series is an expression of her support of all women with a voice of solidarity. Here, Cake touches on themes of vulnerability and femininity but also strength. Her muses are not idealized but they are, however, given the symbolic value through the introduction of various animals such as snake, monkey, or pigeon, as well as through discrete indications of halos. They are skinny with sad eyes and translucent skin that reveals their anatomy. Predominantly rendered through a clear and continuous line, women's curves become sharp lines that in an architectural sense propel a feeling of strength, power and vulnerability.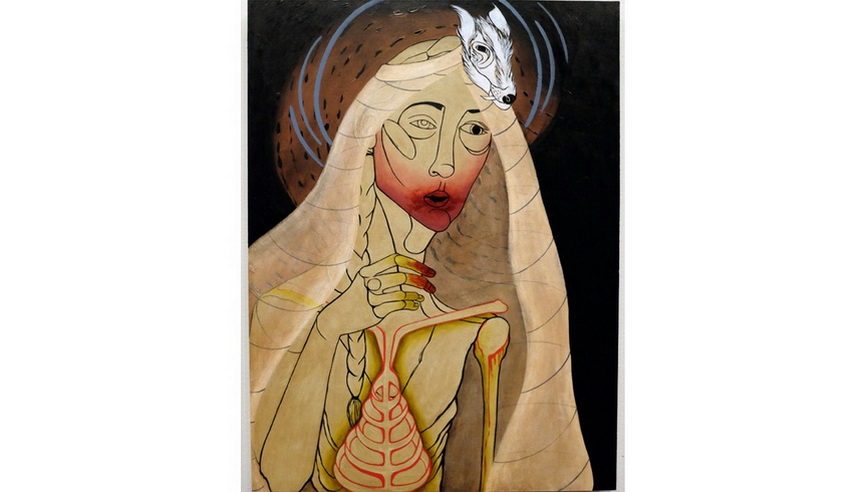 Through this particular focus on the human anatomy, Cake tries to reveal unspoken feelings that we commonly express through various forms of nonverbal communication i.e. body language. She is interested in how the human body expresses emotion of pain, confusion, loss, and strength, not only through facial expression but also through posture and gestures. Furthermore, Cake's preoccupation with the notion of nonverbal communication is also reflected in the use of color. We see that Cake concentrates bright reds in the mouth and throat, as centers of accumulated unspoken emotions. Simply a breathtaking and thought provoking series of paintings that leaves no one indifferent.
"The Bride Series" remains on view through October 18.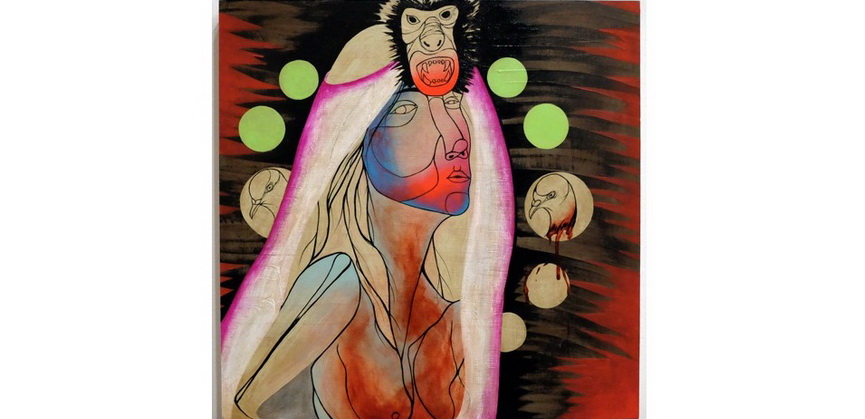 About Cake
Jennifer Caviola, aka Cake, found great aesthetic and spiritual beauty in the graffiti and street art. After years of being a silent and grateful witness to it, she became an active participant in the street art culture of New York in 2007. Surfaces and context of environment are all considered when she's creating whether it's in the studio or out in the wild. Cake has a BFA in Painting from Pratt Institute and a MFA in Fine Arts from the Parsons School of Design. She has been featured in the Huffington Post, Complex Magazine, Vogue and High Fructose Mag, just to name a few. Cake was recently featured at a recent panel discussion on Street Art at The Brooklyn Museum for her mural in the Bowery that she made in conjunction with FAB NYC and Many Project. The artist resides and works in Brooklyn, New York.

[mc4wp_form]