Artists of the Week - The London Police
When thinking about the title of this article I actually thought about leaving the singular form of the noun artist. These two guys, whom you probably know as they are certainly UK's most renowned street art duo, have been sharing the same vision for almost twenty years and it became so hard to separate them from each other. Chaz Barrisson and Bob Gibson the two members of The London Police have even played with the same notion a couple of years ago when they handcuffed themselves together for the LA exhibition Brother in Arms, celebrating their tenth anniversary. The partnership to which the artists refer to as "more cohesive than Han Solo and Chewbacca" has brought many charming and humorous pieces on the walls worldwide over these eighteen years. Their collaboration saw a short break at one point, but now they are back on track, embracing their individual talents and working harder than before to find a balance between their different creative processes. The London Police duo sees life and art as adventures and their latest journey has brought them to the city of Turin for their latest exhibition.
Playful LADS and Futuristic Cityscapes
When they first started working together back in 1998, Chaz Barrisson and Bob Gibson, two founding members of The London Police probably did not imagine how important their work would become in the community of street art lovers. It is not until they moved to Amsterdam and started drawing their signature characters, whimsical stick that became known as LADS. And it is truly a mystery how this perfectly simple figures became one of the most iconic street art emblems, launching The London Police duo to the very top of the global street art scene. During those years when their collaboration was on hold, two members of the duo started to explore different directions in their artistic practice. Bob turned towards the architectural drawing, exploring the futuristic vision of cityscapes in highly detailed artworks and black and white hues, while Chaz continued to work on his LADS characters making them more rounded and figurative than the original stick-men. When they teamed up again in 2008, their collaboration started riding on a completely new wave of inspiration, more complex and innovative than before. Doing what they do best and merging their creative potentials, they have put their newly found strength into the making of more serious studio works with spectacular results. They also haven't abandoned their public works and if you remember their collaboration with Tristan Eaton brought them to the top of our choices of 10 best murals for the Sea Walls: Murals for Oceans Festival earlier this year.
Torino Days, Barolo Knights
Ever since they started working together Chaz Barrisson and Bob Gibson traveled frequently leaving their marks on the walls everywhere they went. One interesting thing about them is that they always try to incorporate the specific local imagery and inspiration into their artworks, and given the title of the exhibition, we can expect the same in Turin. Currently, The London Police duo is exhibiting their works at Galo Art Gallery and for the show they have prepared a whole new and exclusive body of work. The exhibition is titled Torino Days, Barolo Knights and we can only guess how many bottles of Barolo wine were sacrificed for the sake of artistic inspiration. Jokes on the side, The London Police duo has presented some astonishing works of art lately and you can be certain that things will not be different in Turin. And if their LADS don't brighten your day than I don't know what will.
Maybe next week your favorite artist will become our favorite too, so sign up for My Widewalls for free and find out!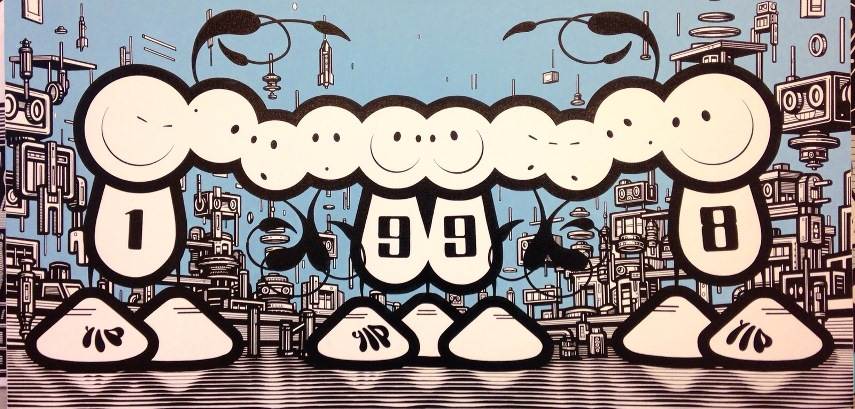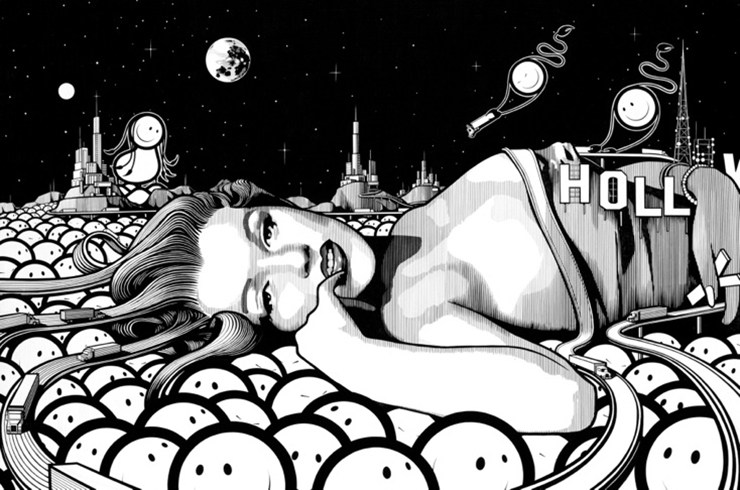 Featured images:
The London Police Portrait. Photo via discosalt.com
The London Police. Courtesy of Galo Art Gallery
The London Police – Lores 900. Courtesy of Corey Helford Gallery
Tristan Eaton and The London Police – Sea Walls, 2015. Photo by Josh Wright
The London Police – Bob Sky. Courtesy of Galo Art Gallery
Follow These Galleries
Amsterdam, Netherlands

Los Angeles, United States