The Mathematics of Droves
White Cube São Paulo will open an exhibition of new paintings and works on paper by Julie Mehretu on September 1. Marking her third solo presentation at White Cube, "The Mathematics of Droves" is Mehretu's first major solo show in Brazil. As written in the press release, this new body of work has evolved from the "Mogamma" series of 2012, which was informed by the Arab Spring revolution of the same year. Whilst those works utilized distinct architectural motifs as a metaphor for the unfolding socioeconomic and political scenario, these recent paintings appear as a direct response to the aftermath of this event and are seemingly more contemplative and pared down.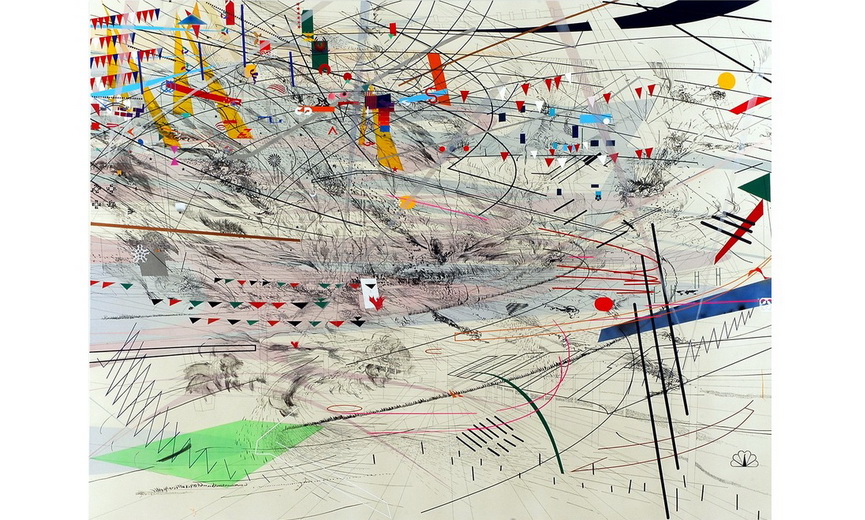 Story Maps of No Location
Julie Mehretu makes large-scale, gestural paintings that are built up through layers of acrylic paint on canvas overlaid with mark-making using pencil, pen, ink and thick streams of paint. Her work merges the dynamism of the Italian Futurists, unrestrained energy of Abstract Expressionism, geometric abstraction of Malevich and delicacy of Klee's line. Mehretu's points of departure are architecture and the city, particularly the accelerated, compressed and densely populated urban environments of the 21st Century. Her canvases overlay different architectural features such as columns, façades and porticoes with geographical schema such as charts, building plans and city maps and architectural renderings, seen from multiple perspectives. Countless urban details make Mehretu' paintings chaotic at first glance but they are all actually perfectly controlled by the artist. Mehretu has described her rich canvases as "story maps of no location", seeing them as pictures into an imagined, rather than actual reality.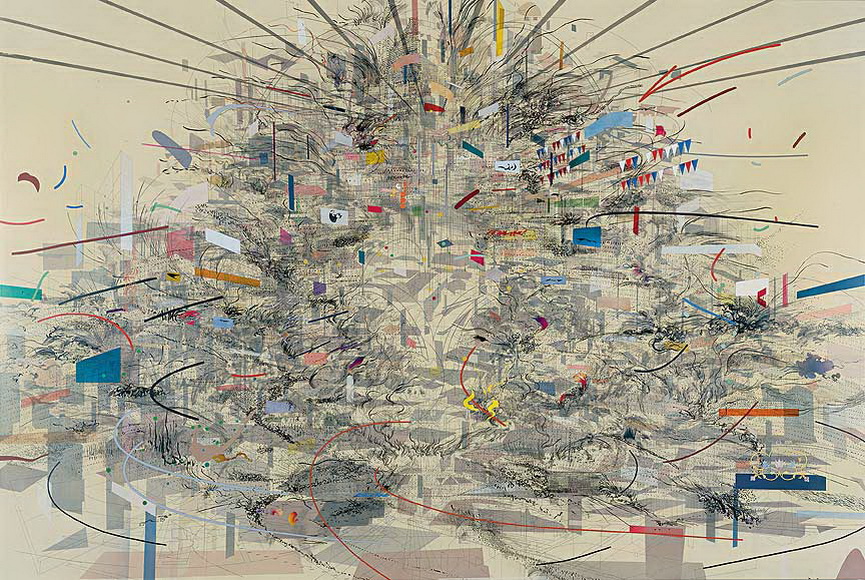 "Adhering to Lost Lines" (2014), one of the first paintings that Mehretu made for this new series, employs the artist's familiar visual style with the ground overlain with images from Parisian city maps and monumental arches that can be found in the chapels, gates and mausoleums that populate the city of Damascus. Using more typical architectural tropes mainly drawn from the city of Aleppo before its destruction in the recent Syrian conflict, "Aleppo" (2014) contains an impossible universe, created from layering numerous cartographic elements. Certain aspects become indecipherable and congested. The specificity of place becomes less relevant – wiping out of certain histories being an opportunity for something new to emerge and take root. Mehretu describes this as "the intention of everything just distilling – allowing everything to break up into pieces of dust, vapor, or more atmosphere".
"The Mathematics of Droves" will run until November 1.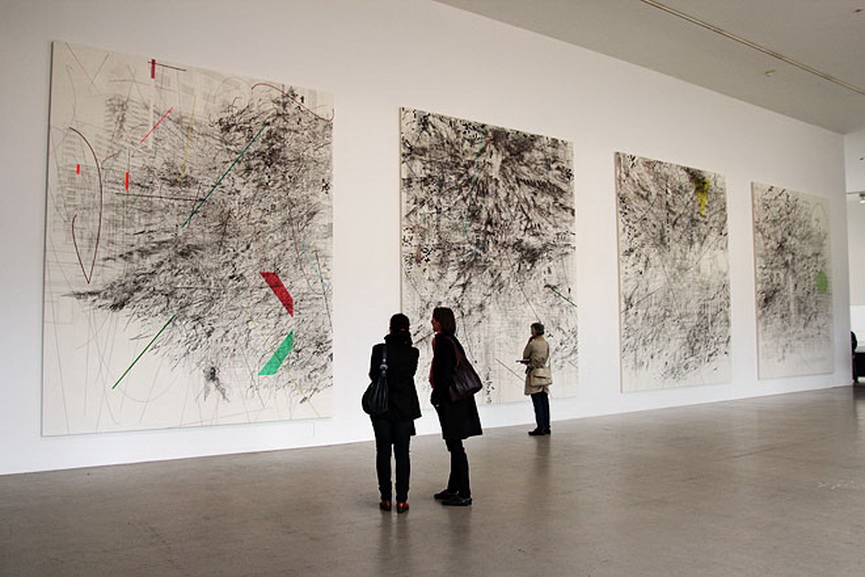 About White Cube
White Cube São Paolo opened in December 2012, becoming the second venue for White Cube outside the UK. Following on from the success of a one-off, special project – Facts and Systems by Antony Gormley – White Cube has committed to a program of major exhibitions for a further three years in Brazil. Housed in a converted warehouse that was designed by London based Maybank and Matthews Architects with São Paolo based Estudio Gru, the gallery provides 298 sq m of exhibition space in the centre of the city.
Follow These Galleries
London, United Kingdom

London, United Kingdom