The Widewalls Collection – Dotmasters
Today we showcase a beautiful stenciled canvas by British street artist The Dotmasters. For some of you this painting might be familiar. Two months ago we had a lottery to win of the prints with the same imagery. This particular canvas found an amazing spot in our office next to the window. The canvas depicts a familiar Dotmasters image the "pssst" finger atop female lips. Next to it is a blue eye and the finally a full coffee cup. As we have become accustomed to from Dotmasters this artwork represents subtle aesthetic (at least in comparison to other street art). We love it. It's great and that why we share it with you.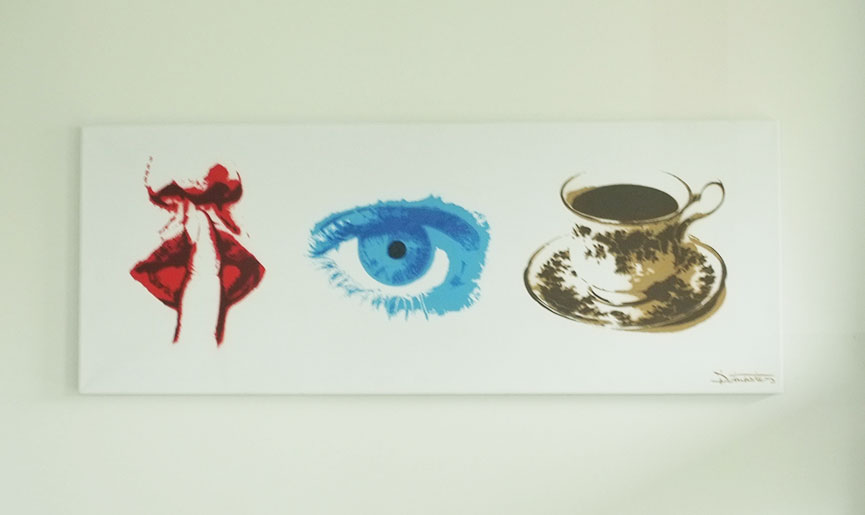 The Dotmasters – Background
Born and raised in London, The Dotmasters is the offspring of C6.org, a new-media based collective of art-pranksters. Active throughout the 1990's, they bridged the gap between art and activism with attention snatching events that pulled no punches. Hitting the headlines worldwide in 1997 with Man in a box"they incarcerated and starved one of their members in a surveillance cube in a gallery in Brighton. Their work was eclectic, merging graffiti, new media and performance from the street, night-clubs and galleries generating a steady stream of irreverent broadcasts. Founding member Leon Seesix, bored of the new-media world and the group dynamic started working under the alias 'The Dotmasters', sideways look at a populist medium says the East London based artist. The Dotmasters possesses a typically English sense of humor, throwing two fingers up at the passer-by with his impeccably detailed stencil work. As at home in the ghetto as he is in paradise, The Dotmasters work can be found anywhere from a pikey trailer park to the penthouses of Europe and have featured in both Banksy's Cans Festival in Waterloo and his Oscar nominated feature film 'Exit Through The Gift Shop'.
style="display:inline-block;width:728px;height:90px" data-ad-client="ca-pub-3815041535929195″ data-ad-slot="2364573864″>
Follow These Galleries
Paris, France

London, United Kingdom

London, United Kingdom