The Widewalls Collection – Herakut
Wonder what else we have in our collection? Remember these unbelievably talented two German artists they call Herakut. We have this amazing triptych from Herakut in our Collection since 2011. The artwork series is titled "Fun is not for Everyone" and depicts the signature Herakut figurines. Affronted, all of them avert their eyes from ours. In subtle red-brownish earth tones they sulk at us because they are everyone, an ending that especially Berta didn't like. The fun practically jumping at us inspired us to hang the work above the library bookcase in our office. Get it?!
Fun is Not for Everyone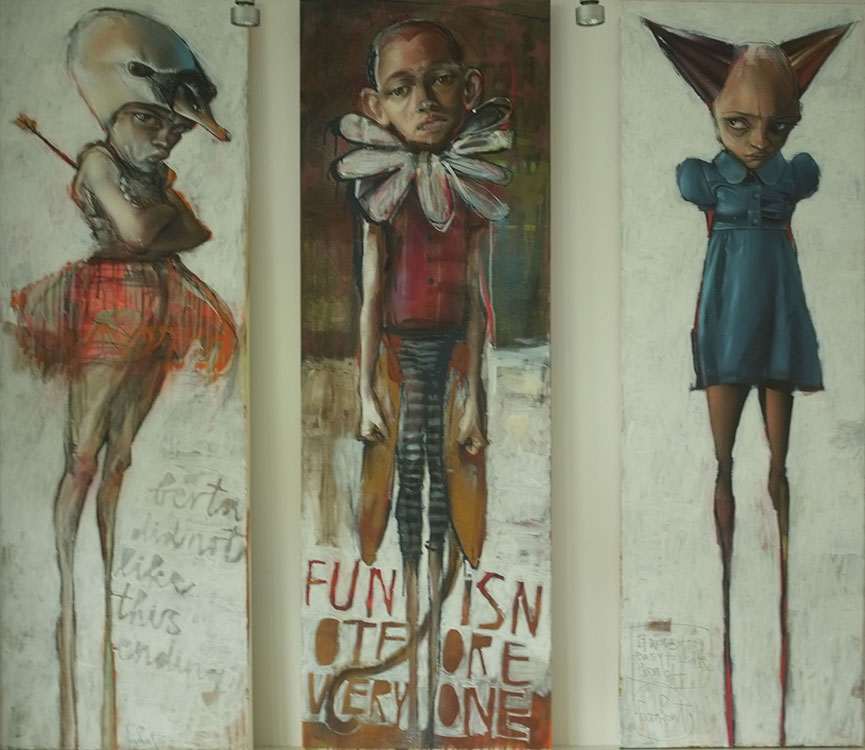 Herakut – Background
The two artists found each other at the Urban Art Festival in Sevilla in 2004 and have been working together as Herakut since. Together Herakut is the perfect street art symbiosis. The classical art education of Hera and the hip-hop culture influenced graffiti experience from Akut make their work unique. The precision and specificity of Akut and the visceral style of Hera produce holistic urban art murals that are unmatched.
Hera
Hera, this unbelievably talented young woman from Frankfurt, Germany, began painting walls in 2001. Her artistic background derives neither graffiti, urban- or street- art. She had a strict artistic education as child. Learning the classical approach to painting had a twofold impact on her work. For one unspoken laws and rules of graffiti never limited Hera. Second, Hera always tries to rid herself from the classical painting restraints of her childhood, by reserving the freedom to paint free and spontaneous.
Akut
Akut, the man from Erfurt, Germany, on the other hand has a very different artistic background. His way into the game was straight up bombing. He began spraying when he was fourteen. Akut is autodidact, everything he knows about graffiti he taught himself. Contrary to Hera, Akut had no artistic education whatsoever. He approaches his photorealistic street art pieces meticulously. Akut develops a concept on the computer, mapping out the different stages of the mural. He uses photography's as reference and predetermines the aerosol cans he will use. When it comes to working he always has one eye on the mapping the other on the wall.