The Widewalls Collection – Moona Lisa
Today we bring you the ass of the most famous women in art: Moona Lisa. This piece is one of Nick Walker's signature pieces. The Moona Lisa is also the Nick Walker painting that achieved the highest price at an auction. The Moona Lisa reached a hammer price €60.000 (10 x the estimate) at Bonhams in 2008. Our Moona Lisa is a triptych that was ground coated and stenciled in one piece and then severed into three. Each painting depicts Da Vinci's creation with Nick Walker's exhibitionist touch. The priming is silver, white and black, while the stenciled Mona Lisa's moon us in 3 different color compositions. The reoccurring numbers 2, 3, 7 and 5 are stenciled in monochromatic black and white. Viewed from the left-hand side each painting picks up color ways from the previous. Markings on each 180cm x 130cm painting indicate the original entirety of the artwork. The silver lines and the numbers continuing on the next piece are the most obvious hints. Harder to decipher is the Da Vinci Code that Nick sprayed in the background running along all three paintings at the same height. Might this be the secret phrase that reveals all secrets of the Societe Rou Art? Or is it the exact location of the holy Spraycan? We can say nothing for sure but this: The mysterious triptych fills the halls of our new Berlin office space with the sensation of being mooned.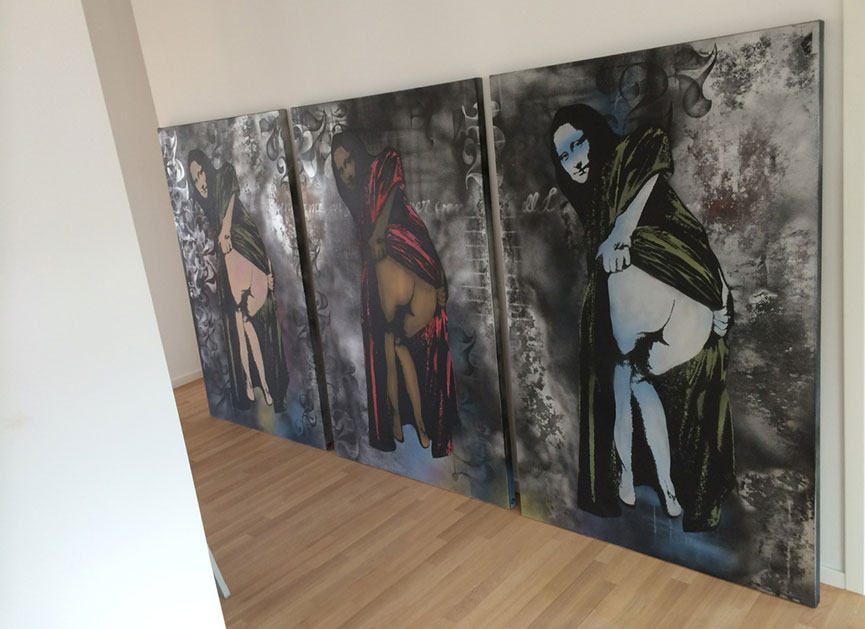 About Nick Walker
Nick Walker is one of the world's best-known street artists. Born in 1969, he emerged from the infamous and groundbreaking Bristol graffiti scene of the early 1980s. As a forerunner of the British graffiti phenomenon, Nick's work has become a blueprint for hundreds of emerging artists. His work is constantly evolving and remains innovative, modern and thought provoking. Walker's work has been a major influence on the work of Banksy. Nick draws on the energy and imagery of graffiti but he succeeds in combining the freedom the spray can brings, with very controlled and intricate stenciling. The results are highly sophisticated and infinitely desirable. The methods he uses retain their forcefulness and integrity on the traditional medium of canvas. Nick Walker's instantly recognizable style and humor have gained him a worldwide following.
Follow These Galleries
By Appointment Only, Singapore

Asti, Italy

Paris, France