The Widewalls Collection – Shepard Fairey "Obey Can"
Inspired by three releases of Obey prints last month we decided to show an Obey print of our own. The 'Obey Can' by Shepard Fairey was printed has been in our collection since 2010. The print is following the famous Warhol Campbell's Soup Cans from 1962. The 'Obey Can' includes Shepard Fairey signature propaganda theme. The label torn on the bottom left reads "All City Propaganda" and the Campbell's logo is replaced by Fairey's alias Obey. The Shepard Fairey print is 41 cm in width and 51 cm in height. In the bottom left corner it is numbered 130/200. Shepard Fairey signed and wrote the date (2009) in the bottom right corner. It is interesting to see the development Obey has undergone. In comparison to older prints the new ones are reduced, straighter and more geometrical. 'Obey Can' for example has organic ornaments around the centerpiece. 'Green Power' on the other hand has straight lines radiating of the enter piece, making it look cleaner. The label is torn off the can, while in newer works everything is in order. What we're trying to say that neither is better or worse. What we're trying to say is that Shepard Fairey's is very subtle with his changes but viewed from a distance they are apparent. If you wanna know more about Shepard Fairey and the Obey Story you can read some background (below) and a full bio in our Artist section.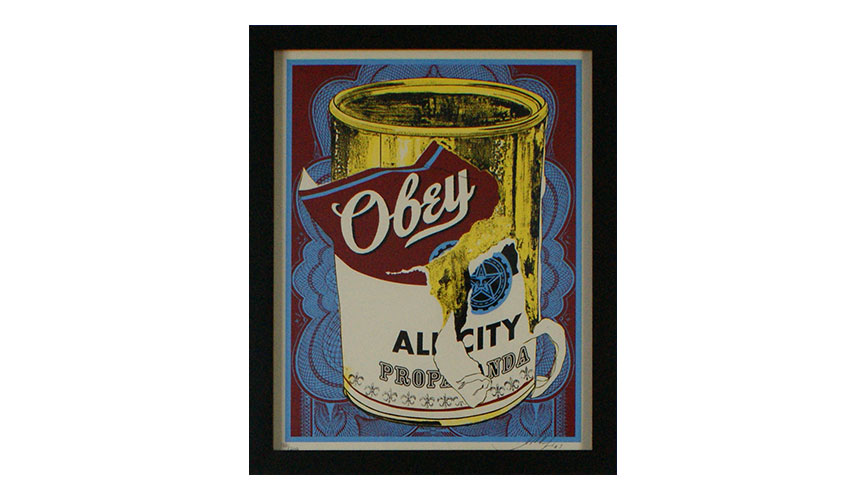 Shepard Fairey – Background
Shepard Fairey, born 15th February 1970, is a street artist and designer well known for his thought-provoking, and often controversial, designs. Graduating from the Rhode Island School of Design with a Bachelor of Fine Arts in Illustration, Fairey's first major work was reproducing black and white images of the wrestler Andre 'The Giant' Roussimoff. The posters, paper and vinyl sticker reproductions of the wrestler were originally targeted at punks and skateboarders, but eventually became a more widespread phenomenon. They featured an appropriated image of the wrestler with the words 'ANDRE THE GIANT HAS A POSSE 7'4in, 520lb', but after the threat of a lawsuit against the use of the trademarked name 'Andre the Giant', Fairey applied the word 'Obey' to the same image instead. This was also to become iconic and a decisive move in Shepard Fairey's career, particularly in subsequent works that featured the 'Obey' word without any associated image.