The Widewalls Collection – Terry Rodgers
This week we can present a contemporary artwork by American painter Terry Rodgers. The figurative work is titled "The Calligraphy of Disproportionate Advantage" and depicts a characteristic hedonistic Rodgers scene. His work focuses on portraying contemporary body politics. His rendering of an imaginary leisure life stands as an iconic vision of the tensions and confusions endemic to today's society. These images are not snapshots or slices of life, but rather a compression and dissection of our rampant imaginations and mediated influences. The seductive and marvelous glamour of the outer world jars against the vulnerability and delicacy of our inner and private selves. "The Calligraphy of Disproportionate Advantage" is an especially elaborate interpretation of our imagination. The oil painted scenery stretches over a 274cm x 193cm linen canvas. This artwork was completed in 2007 and is part of the Widewalls Collection ever since.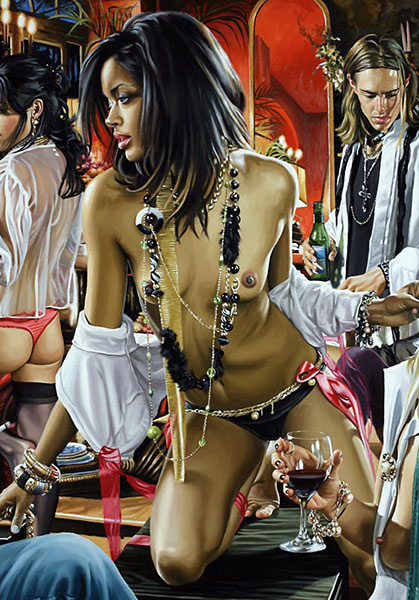 About Terry Rodgers
Terry Rodgers, born 1947 in Newark, USA, has acquired considerable fame as the creator of large-scale cinematic paintings that compel the viewer to participate in a disenchanted world where beauty, sex and money do not seem to bring happiness. They evoke the confusing energy, decadence, desire, loneliness and promise of an age. He portrays a contemporary search for a meaningful life as a perpetual existential hangover. Rodgers makes clear that this 21st century jet-set notion of success is but a metaphor. It is the various modes of language and perception of every era or culture that are the inevitable roots of illusion, and often disenchantment. Rodgers' works underline the complexity of human relations in contemporary society, with all its contradictions and mediated influences.
On a more abstract level, his works concern his fascination with the dialectic coalescence of contradictory impulses in a subjective perspective. The photo-constructions can be seen as an elaboration of certain aspects of his paintings. In these works, Rodgers dissects and re-integrates various familiar modes of representation, and when presented as triptychs, both utilizes and subverts their religious implications. The lightboxes form a standalone body of work and appeal to altogether different aesthetics and visual dynamics than the paintings. Still, all the pieces display Rodgers' very distinct artistic signature.