Thierry Noir and [All That] Jazz: Fiddlin' at Howard Griffin Gallery in London
In 1947, a limited edition art book of decoupage works by Henri Matisse was released, becoming the first public statement of this technique and introducing it as a new form of visual art. Entitled Jazz, it featured playful prints of cut paper collages of circus performing artists, accompanied by the artist's thoughts in his own handwriting. Matisse saw the title of his work as a connection between art and musical improvisation, and the same could be said for the exhibition of works by French artist Thierry Noir, coming to London's Howard Griffin Gallery.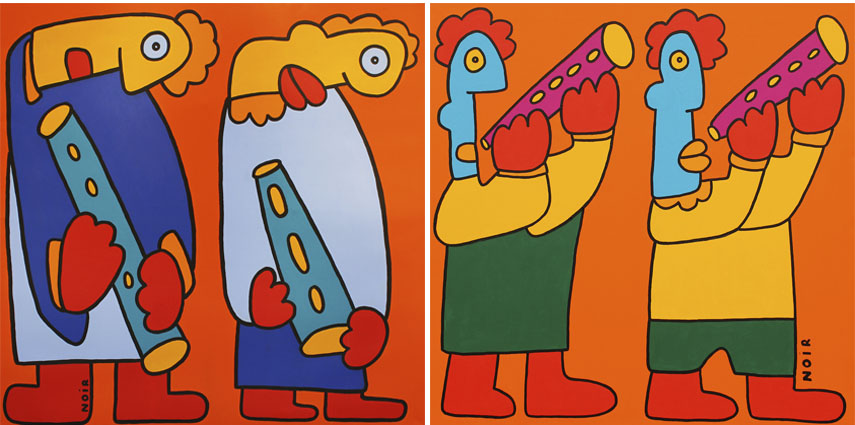 To See and Feel Jazz
With Jazz, Thierry Noir goes back in time, to Berlin in the 1980s, when he first got introduced to the city's versatile underground music scene. Through his simple artworks, he managed to transmit the spirit of those times, mirrored in uniform colors and bold lines. Like Jazz, his images are energetic, seemingly spontaneous, vibrant and oozing in primitive forms that reveal all its beauty. By eliminating the line between art and performance, Thierry Noir depicts the strong bond between his characters and their jazz, no different than the one between himself and his paintings. Lured in by the combination of these elements, the viewers get the chance to experience notes and sounds in a new visual way.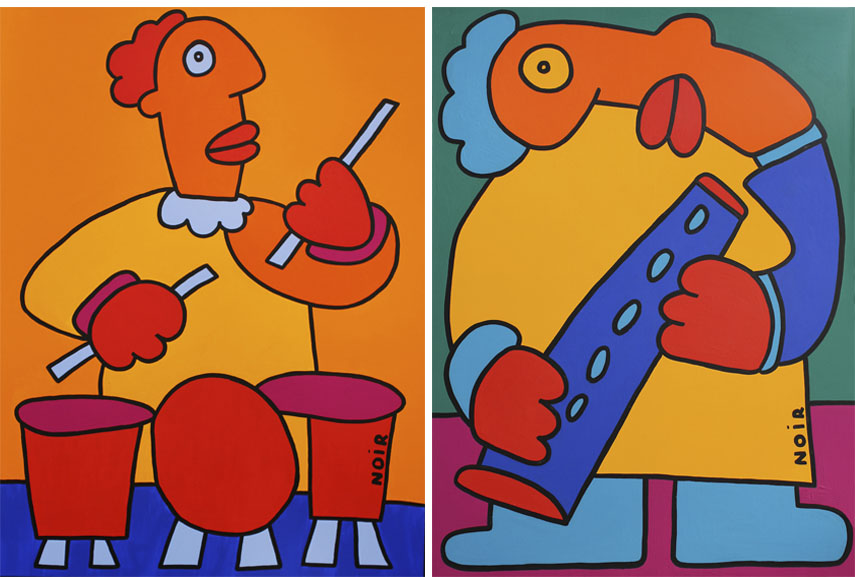 Jazz Sculptures by Chris Tsonias Inspired by Thierry Noir
Thierry Noir's flat yet vivid images also inspired the creation of large-scale sculptures and fully playable music instruments that will also be featured in the Jazz exhibition. Made in collaboration with another artist, Chris Tsonias, these pieces will extend Thierry Noir's most iconic images and characters into an interaction with space. Composed of discarded materials like fabric and paper, these violins, cellos, flutes, recorders and other instruments will be accompanied with functional audio speakers. For a complete experience of jazz and its wonders, there will be a unique musical performance in which these instruments will be played live. In addition to all this, Howard Griffin Gallery has also commissioned Thierry Noir to paint a number of new murals through the course of the exhibition and will release a series of new screen prints based on the theme of his musicians.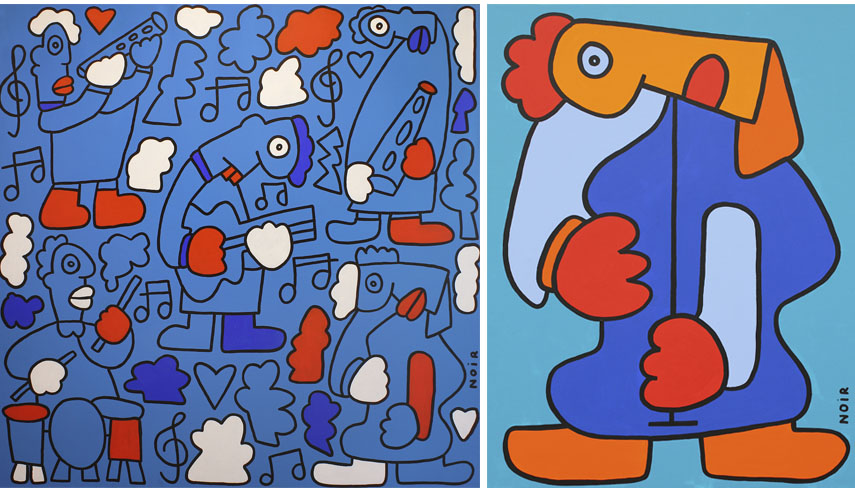 Thierry Noir at Howard Griffin Gallery
Thierry Noir is perhaps best known as one of the first artist to paint the Berlin Wall back in 1984. As such act was strictly forbidden by the East-German authorities, the artist had to work fast, using a limited number of colors and techniques, and this process might be another reason to justify his simple artistic style. In time, he covered the wall with his trademark bright-colored characters, describing it as an attempt to make the wall ridiculous and to help destroy it. His wishes finally came true in 1989, in the historic moment of the Fall of the Berlin Wall.
The Jazz exhibition will be on view at Howard Griffin Gallery in London, UK, from June 25th until July 26th, 2015. The opening is scheduled for June 25th at 6.30pm. The works will vary from between around £200 to £10,000 and up for the big sculptures.
For more art and all that jazz, sign up for My Widewalls! It's free!
Featured image: Thierry Noir – Jazz, detail All images courtesy of Howard Griffin Gallery