Satirical Approach by Thomas Baumgartel as he Utilizes Metal in his Exhibition at 30works
Metal, the coldest, hardest, impenetrable surface. Unusual and reflective, metal is the weapon of choice for the latest Thomas Baumgärtel exhibition at 30works gallery. Metal is, and has been constantly present in the artist's oeuvre, and this solo exhibition titled Heavy Metal is his way of representing the symbolism of the hardness and weight of the material, both in a textual and material way. Therefore, it is no wonder that we can see the legendary Lemmy Kilmister, the recently deceased musician, singer and songwriter and frontman of the band Motörhead in one of Thomas Baumgärtel's works. Much like the material, Lemmy was a symbol of hardness and strength in the world of music, just like metal is in the world of materials.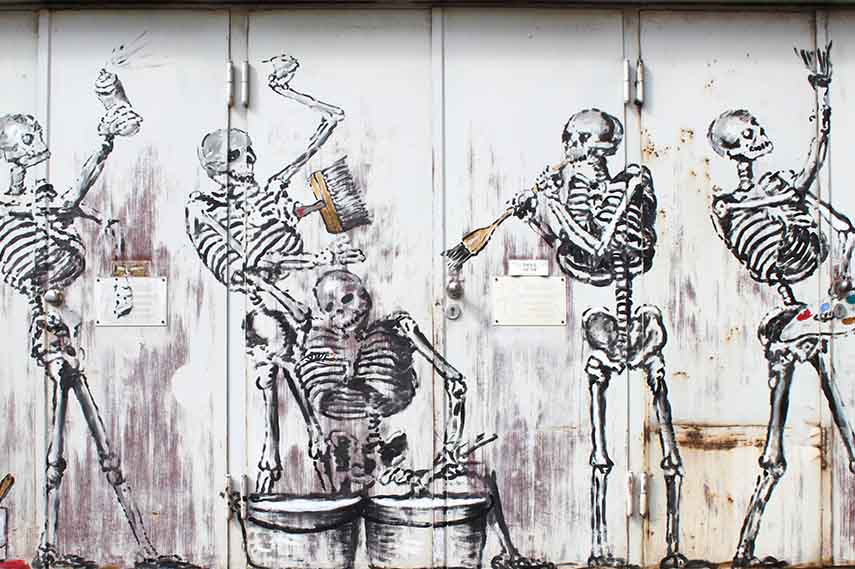 Metal is Life
Thomas Baumgärtel brings to this exhibition the symbols and themes familiar to many. He investigates the notions of pop culture, politics, music icons, and subcultures. He mixes the rough, patinated aluminum roll slices, iron doors, and other metal artifacts with his meticulously produced stencils that depict the icons of politics and music, and, of course, his more than famous banana. He brings the symbolism of metal closer to the viewers by making them think outside the box and associate the word with more than just a physical manifestation of it. He makes the viewers think about Lemmy, about guitars, about the cold hard steps of the corporate ladder, the harshness of political movements and figures, the unforgiving world of contemporary pop culture, of everything that metal really is.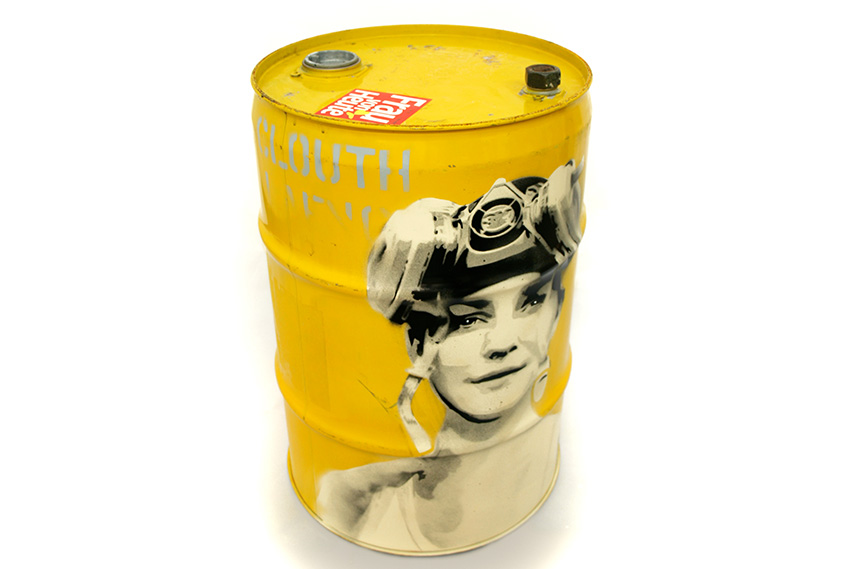 The Social Critique of Baumgärtel's Metal
Baumgärtel is the master of social criticism. Through his works, he explicitly comments on the current grievances and unfortunate events that paint the landscape of contemporary social issues. He wittily places these undesirable problems in a humorous context, playing with them to create a satirical narrative. He compares the art market to the dance of death, places Durer's Adam and Eve in a state that refers to the current criticism of satire, and he relates Konrad Adenauer and Kennedy to his iconic banana and mars them as its spiritual fathers. Jim Morrison, Lemmy Kilmister, and David Bowie are disconnected from their actual music genres and turned into metal heroes. He poetically stylizes them and transfers them on chrome, iron, and steel surfaces.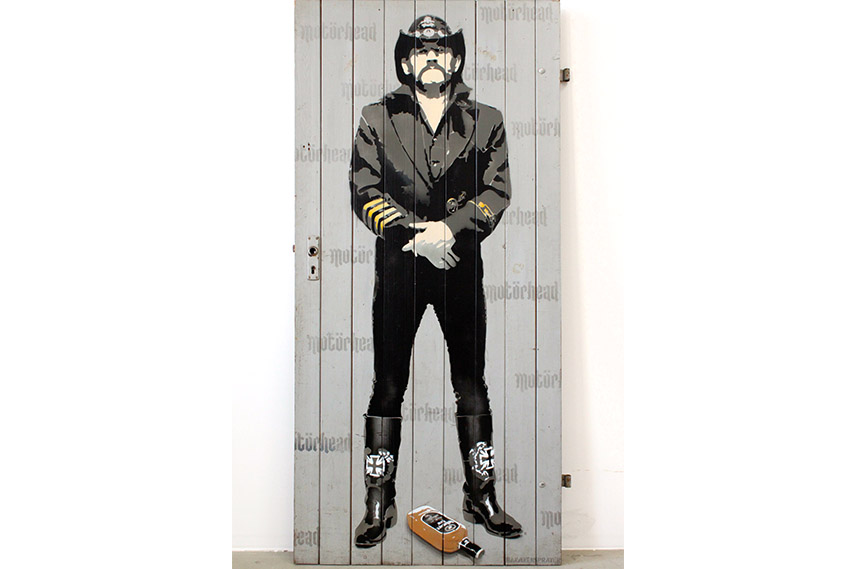 Thomas Baumgartel Exhibition at 30works
Thomas Baumgärtel exhibition symbolically entitled Heavy Metal will be on display at 30works gallery from May 20th to June 18th, 2016. The opening exhibition is scheduled for Friday, May 20th, from 7 PM at the gallery space at Antwerpener Str. 42 – 50672 Cologne. The laudation for Thomas Baumgärtel is held by Konrad Adenauer. If you are intrigued by Thomas Baumgärtel's works and the idea of metal that he is presenting, make sure to clear your schedule and visit the exhibition and explore the artist's ideas and depictions of themes we all know and deal with every day. And if you are a fan of late Lemmy, you must not miss this exhibition, as we are sure you will love it.
All images courtesy of 30works Galerie. Featured image: Thomas Baumgärtel – Hauptportal