Thomas Canto Interview : An Abstract Precision Par Excellence
A seemingly infinite web of lining, shapes and colors. A sort of an abstract portal, luring you into a personal, three-dimensional world. A futuristic vision of a landscape, detailed and curated to perfection, where the first thing one seems to feel is the artist's great patience in the execution of such complexity.
This is how we could begin to describe the artistry of Thomas Canto, a French creative who has let the world inspire him in intriguing ways – for the abstract compositions you see are in fact impressions of places seen. They are depictions of an urban environment, its elements, its inhabitants and emotions; they dwell on memories of when the artist visited them, the impact they had on him, the thoughts they provoked. In return, these works resonate with their viewers, capturing the same array of impressions and allowing Thomas Canto himself to absorb and contemplate on them.
To further emphasize the reciprocal relationship between space and time, Thomas Canto gives it an even more significant physical form, as the two-dimensionality of his works gets transformed into "reality" – stunning installations, nylon strings spreading between walls in order to turn a concept into palpable, almost living constructions. Deriving from an endless stream of references in history of art, such as Optical art, Kinetic art, even Constructivism and Suprematism, these pieces offer multiple perceptions and points of view, employing the viewer as their integral element.
In an interview for Widewalls, Thomas Canto talks about his beginnings, his connections with street art and, of course, his curious relationship with urban landscape and the way it developed over the years. Scroll down and have a read.
On His Beginnings
Widewalls: What was your first real encounter with urban art? Was there a particular moment that had drawn you towards it?
Thomas Canto: In my past, my family provided me an art education. I have many memories from my childhood of abstract works seen in museums and in books. About urban art, my earliest memory is when I was 10 years old, when a classmate, older than me, showed me photos and drawings of graffitis in a notebook. I have been immediately attracted to these new forms of language, composed of arrows and improbable angles. Then, I did some tags in the bathrooms of the school as many people of my age. Some years later, I met people who were doing graffiti in my neighbourhood. I was already doing some paintings for myself and I was also seeing the realization of large size murals, these bursts of colour, the energy, in such secret places. I had found a mode of expression that suited me. I think this moment was decisive for me. However, I soon found that the only use of spray paint and settled format of "lettering or/and characters", representing the norm at the time, appeared to me as a limit to my creation. I used other techniques and learned art history with my art professor. So, it was natural to me that I started to paint on canvas and mix all the techniques and subjects that I knew to get results that were very distant from traditional graffiti, while keeping the elements that interested me in this form of expression. Today, I think the graffiti was a formative time for me, among others in my life; it was the act of measuring myself to the creation of monumental works, doing researches on the dynamics and the balance that we can experiment when working on letters. Some experienced eyes about this culture can find these roots in my actual works.
On Abstraction
Widewalls: How does abstraction help you transmit the reality of the urban life, its general view but also individuals within it? 
TC: For many years I worked on the representation of architectural elements. Like abandoned factories and industrial structures that favour a useful structure while creating special architectures. Other architectures, that I could enjoy while travelling, completely impregnated me – like these structures, both beautiful and oppressive, that I found in Hong Kong, one of the places that inspired me. My paintings were at first quite close to them. Gradually, I stopped working basing myself on pictures or sketches to work only about my memories, the impressions I felt when experiencing these locations. This led me to create more and more abstract works, playing on several levels. That allowed me to better transmit the emotions that I feel to every person who observes them. This is even more obvious in my installations: they project the viewer into a unique world, where the elements that make up the cities' perspectives, saturation, shadows and lights are just abstract elements to me.
Widewalls: How would you describe the way you got in touch with light painting? How did it all start?
TC: Being self-taught, my style is built on experimentations with different techniques and meetings with other artists. Like most people, I discovered the light painting with the famous pictures of Picasso by Gjon Mili. Then, I saw the photos Marko93 realized. I decided to test this technique and I discovered a discipline for which the perfect equilibrium desired imposes a reflection of the work in three dimensions. I think the practice of light painting, which I later abandoned, allowed me to improve the way I apprehend the space when I create works that occupy entire volumes.
On Three-Dimensionality and Technique
Widewalls: Like you said, the detailed visions of the world around you do not just inhabit two-dimensional, but also three-dimensional surfaces, through installation and sculpture. Do you see these pieces as urban elements of their own? Does the extra dimension, perhaps, express your intentions better?
TC: The way I developed my work, again as an autodidact, went through experimentations. Today, I clearly identify the subjects that are treated in my works and to create three-dimensional works appears as an evidence. I mentioned the relationship between architecture and man, and the best way to do something meaningful is to immerse the public completely in the environment itself. Working in three dimensions and more on monumental installations allow this. What better way to convey an emotion to the viewer than to integrate him into my work? He becomes an element of my creations. It is the viewer that sustains the work. This required interaction with the public eye reveals the relationship I developed with optical art and kinetic art in my creations. It allows me to express my ideas, by multiplying the points of perception, that in this way become much more precise.
Widewalls: Can you explain for our readers what kind of techniques, materials and tools you use to achieve such perfection in your art?
TC: Find materials and proper techniques to translate my thoughts plastically is an everyday work. I am constantly looking for new ways to express my researches. These past years, the most important one for me was to make the link between my in-situ installations and my studio works. I succeeded after several steps that eventually led me to artworks in plexiglass and nylons wires (such as those that I present for Still lifes space of time). These materials allow me to keep the effects and weightlessness, and to work in three-dimensions as I do for installations. The industrial aspect that these materials can give to my work perfectly fits with the subjects that I treat. About painting, I remain rather classic, I use paint markers and "Flashe" paint, developed by Vasarely himself. To finish, I give a great importance to varnish, that I apply with multiple coats to get the best result. This also allows me to be sure about the preservation of my work, which is essential and totally integrated in my creative process.
On His Relationship with Street Art
Widewalls: You've also developed a strong relationship with street art, which led to the foundation of Galerie n2O in 2006, the first such gallery in Lyon. What was it like working as a gallerist and would you consider taking this direction again?
TC: When I had the opportunity to open the N2O gallery, we did not talk yet about "street art", but rather of "post-graffiti" or "graphism", referring to the different artists presented during this moment in N2O gallery. For me it was very interesting to meet all these people and artists I collaborated with. Also, the discovery of a universe that was almost unknown to me until then, the Art world. I got in touch with artists whose work fascinated me as Sigi Von Koeding (Dare), Marko93, ECB… I was collaborating with Taxie Gallery which was one of only two galleries to present such work in France, together with Speerstra. Defending the work of these artists made me realize the need for every artist to build relationships with galleries that defend and represent him. At least, this allowed me to get into famous collections, such as Gunther Sachs one, through Sigi. Working as a gallery owner and artist at the same time remained a problem for me and seemed impossible to them. This is mostly why I stopped this adventure. For me, it was not possible to focus 100% on my artistic researches while concentrating on organizing exhibitions. Today I am very happy with this decision and although I sometimes participate in the art direction of some exhibitions, I do not wish to take up the direction of a gallery.
Widewalls: What have you learned from working with some other legendary artists, such as Dare or Marko 93? Have they influenced your work in some way?
TC: As I said previously, I grew up, as an artist, in contact with other artists. Sharing moments with such good artists allowed me to evolve, as in the case of Sigi (Dare), who owned a signwriter degree and a great taste for perfection. He always pushed me to improve the technical quality of my productions. I still think often about what he would say to me when I look at a work to determine the moment it is finished. I think every accomplished artist I met and with whom I shared artistic moments, even simply everyday life moments, enriched me. I think it will be the same throughout my life. I think I still have more to learn.
If you liked our Thomas Canto interview, sign up for My Widewalls free of charge and get more talks with the world's most talented artists!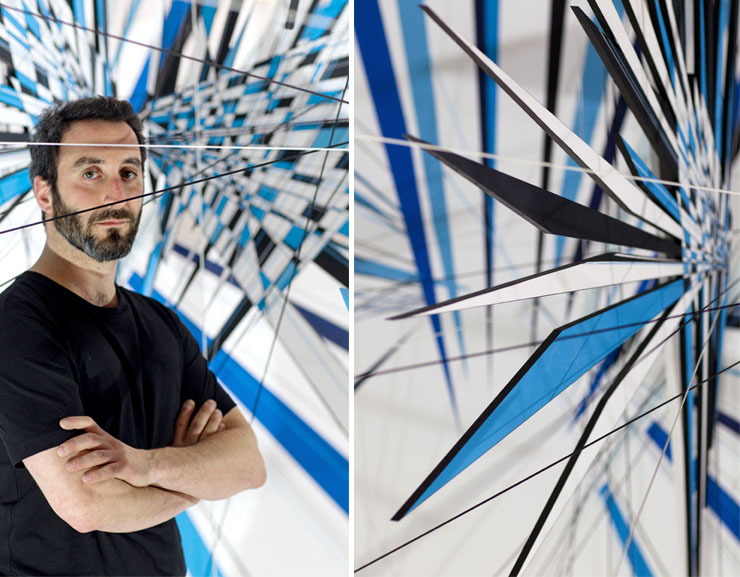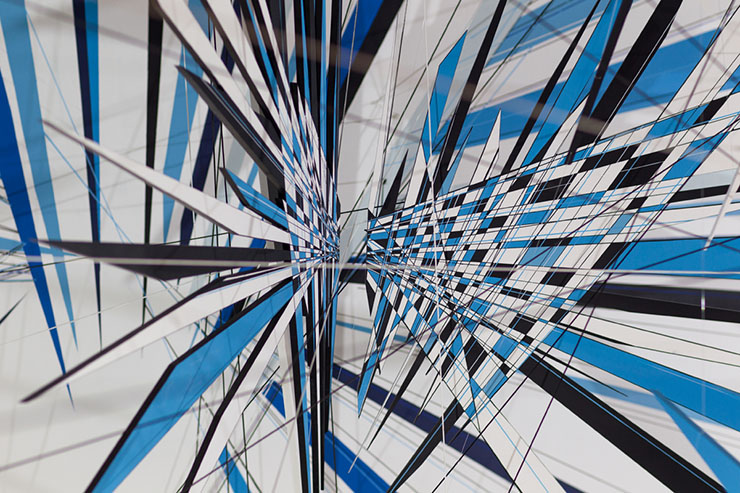 All images by Blind eye factory, courtesy of Wunderkammern Rome.
Follow These Galleries
Marseille, France

Crans-Montana, Switzerland