Tiffany Bozic's Color Blue
Tiffany Bozic spent large parts of her life exploring and observing nature. The self-taught artist uses her natural studies to skillfully create illustrations with highly emotional metaphorical themes. In her paintings of Muskoxen, flowers and winter landscapes the artist processes her vision of life's struggles and triumphs in a largely autobiographical sense. Bozic's work has the traditional air of tightly rendered illustrations. She developed a complex process of masking maple panels on which she paints. By doing this, the natural grain can collaborate with each composition using multiple layers of watered down acrylic paint. Despite the autodidactic approach Bozic is incredibly skillful in transferring her observations into artworks.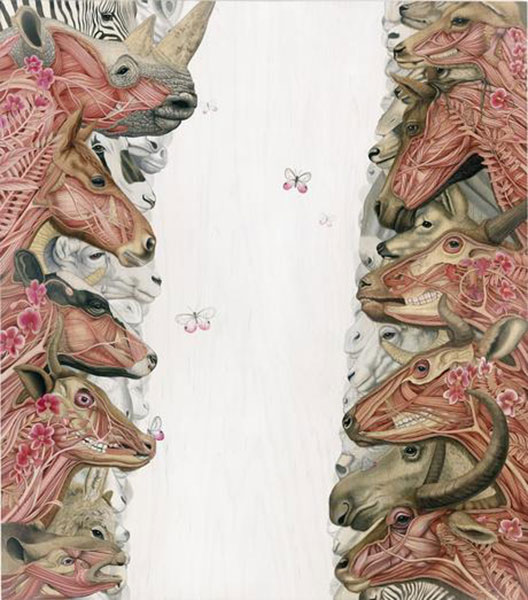 Perception
Her latest exhibition at New York's Joshua Liner Gallery is another testament to that skill. In Qualia Bozic picks up on the theme of perception. How we experience the world around us becomes the guiding concept in this body of work. Tiffany Bozic says about the exhibition:
"I call this show Qualia, which refers to individual subjective properties of our own conscious experiences. The way you experience the color blue will be different from how another person experiences it. We will never know what it feels like for a fish to swim, or a bird to fly. It is impossible to know what subjective experiences another person or species is having. I find it fascinating that we co-exist on this planet with millions of other living beings, and that we understand little of how they see, feel, and experience the world in their own consciousness."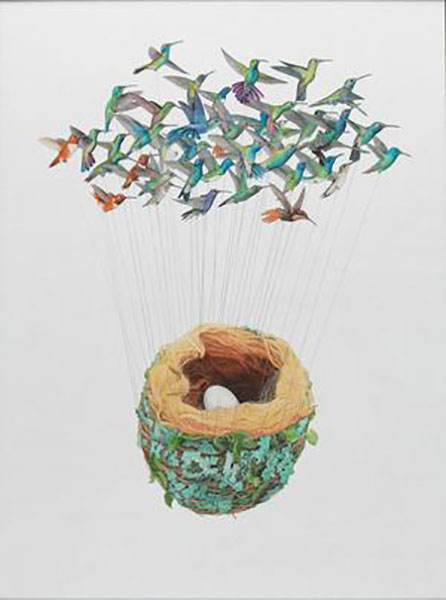 Melting Glass
Melting Glass is a beautiful example of this technique of integrating the surface medium into the subject matter. The cutting channels in the ice and snow mimic the wood grain, just barely peeking through. For this work, Bozic remembers a trip to Mount Lassen, California, with her husband. Recalling the experience—even though several years had passed—Bozic finally sat down to create this painting, remembering her imagination of "deep sea organisms slowly drifting up into the sky from the black current of the water." She also notes, "I suppose the image stuck with me because it could be a metaphor for a lot of my different emotions… some light and warm, some deep and cold." The contrasting tones and shades lend themselves to this mood, with negative dark space and dark trees emerging from the solid white snow forms. The ethereal sea shapes preside over the scene.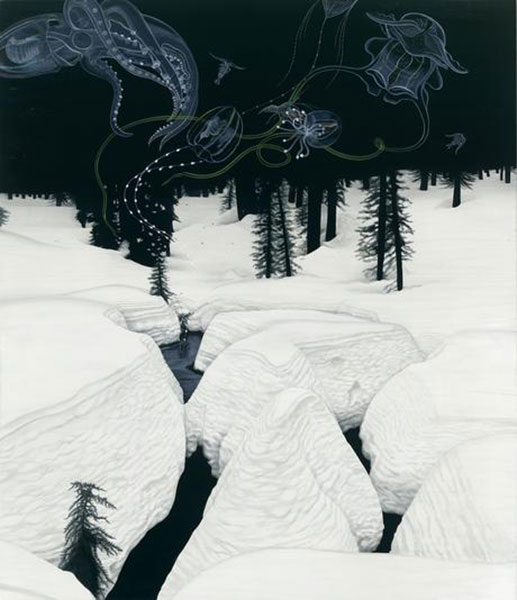 Ducks
With Ducks in a Row, Bozic has a little fun, putting together this very literal imagery. From the top you can identify a Wood duck, Spectacled Eider, Mandarin duck, Bufflehead, another Mandarin duck, and lastly a Harlequin duck. Bozic almost exclusively uses maple panel when painting. The quality of the paint hardly seems acrylic; the artist expertly dilutes the paint so much so, that she must paint with the surface laying flat to prevent the paint from running. In contrast to previous exhibitions, many of the works featured in Qualiaboast the natural grain of the maple panel, integrating the wood into the composition.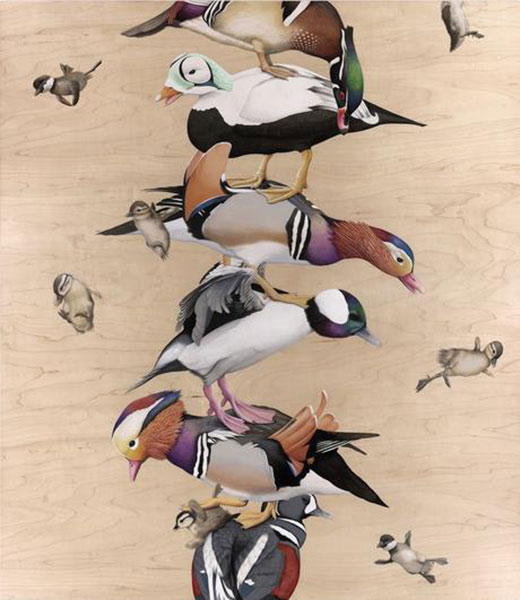 Qualia
Qualia opened yesterday October 16 but unfortunately not in attendance of the artist. Tiffany Bozic is on an expedition to Namibia with her husband Dr. Jack Dumbacher and daughter Tesia to study the genetics of the elephant shrew. Bozic is gathering new observations for her next body of work. Her current masterpieces are on view at Joshua Liner until November 15th.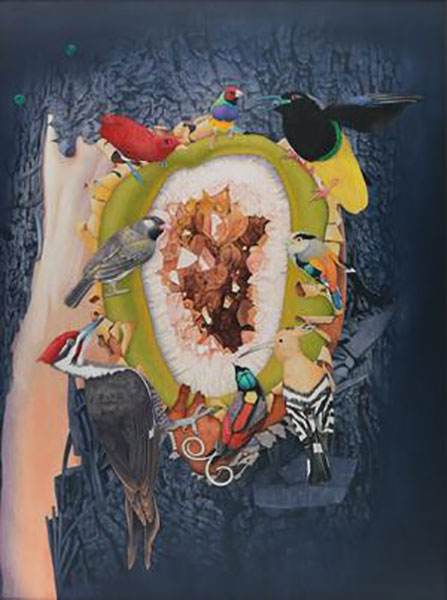 All images courtesy of Joshua Liner Gallery
[mc4wp_form]