Timothy Horn at P.P.O.W Gallery
Supernatural is the title of a new solo exhibition by Australian born artist Timothy Horn, to be presented at the New York based P.P.O.W Gallery. The title Supernatural comes from the original definition of the word, meaning that which is not subject to the laws of physics or exists above and beyond nature, with Timothy Horn using it to explore contemporary society and how we sacrifice the natural world to enable us to live beyond our means. The new solo exhibition will see Timothy Horn transform P.P.O.W Gallery into a wunderkabinett, making it a room full of curiosities from the natural world, including authentic specimens, scientific phenomena and mythological creatures alongside his ornamental art. Past exhibitions at P.P.O.W Gallery have included New Works by Anton van Dalen and the recent Domestic Translations by Ann Agee.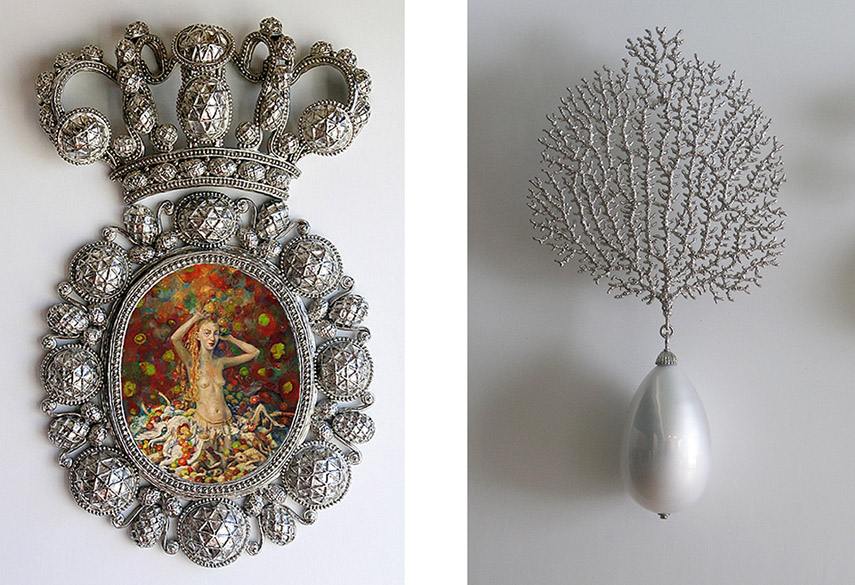 Supernatural Solo Exhibition
The Supernatural solo exhibition at P.P.O.W Gallery brings together ideas gathered by Timothy Horn over the last decade, taking inspiration from Gilles Legaré, whose 17th century jewellery patterns found him court jeweller to Louis XIV and the 19th century studies of natural organisms found in the book, Art Forms in Nature, by Ernst Haeckel. The inspiration drawn from these sources have resulted in the ornamental art presented in the solo exhibition Supernatural, with Timothy Horn exploring the meeting point between the natural and constructed worlds, resulting in large baroque forms. You may also be interested in the work of Nick Gentry in Use Your Head and photographer Jimmy Nelson discussing his work in Steppes Travel Events.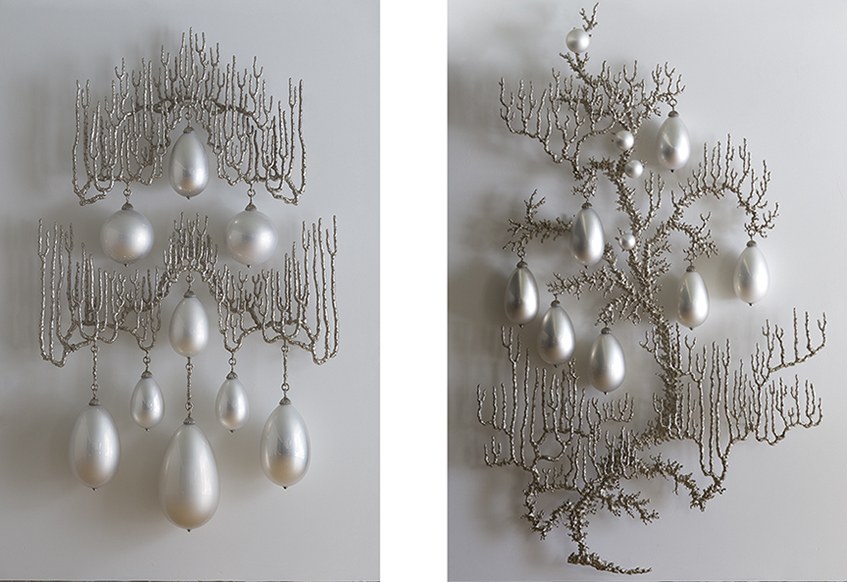 Timothy Horn Supernatural Art
The works of Timothy Horn in the Supernatural solo exhibition will bring an exquisite flavour to P.P.O.W Gallery, transforming the gallery with his beautiful ornamental art. The works are often started out as a large scale silhouette of 17th century jewellery, Timothy Horn then creating a working pattern to which he adds natural forms. Horn then sculpts the tree like structures in wax, before casting the final form in bronze and nickel-plate, finally adding the finishing touches such as large pearls which are formed in mirror blown glass. The end results present a delicate balance between the organic and artificial, resulting in what appear as overblown pieces of antique jewellery mounted on the wall. For more artwork inspired by the 17th & 18th century, take a look at Model and Muse by Hendrik Kerstens and Bodegón by Paulette Tavormina.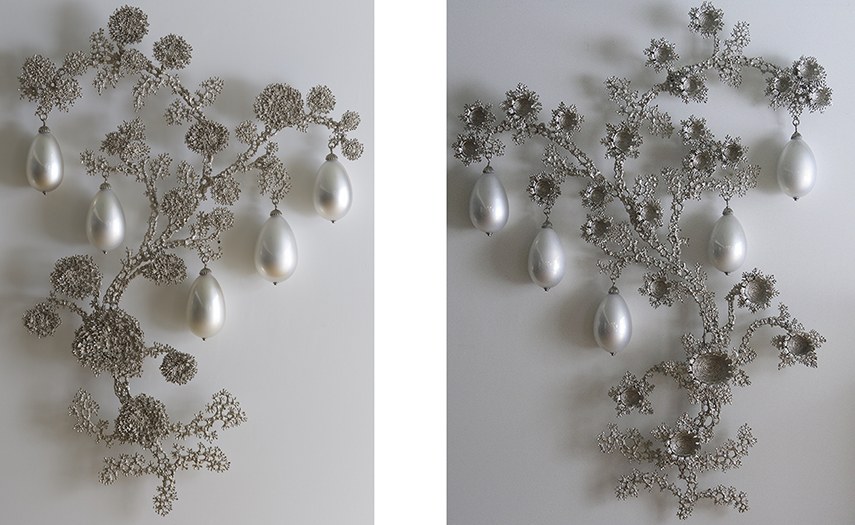 Ornamental Art at P.P.O.W Gallery
Among the ornamental art on show at P.P.O.W Gallery for the Supernatural solo exhibition will be Mother-Load, originally created by Timothy Horn in 2008 for his Bitter Suite exhibition, a three-quarters scale reproduction of a baroque carriage encrusted in crystallised rock sugar. Many of the works refer to real life events and reflect Horns concern with our natural environment, Gorgonia 4 being about the Fukushima disaster and Gorgonia 6 referring to Bikini Atoll where nuclear tests were carried out by the United States. Tree of Heaven comes from a Chinese tree known to thrive in difficult environments, the artwork composed of crenelated lichen forms that are particularly sensitive to pollution and climatic change. For more environmental art take a look at Welcome to the Future by Daniel Arsham and Sea Walls: Murals for Oceans.
Supernatural by Timothy Horn opens at P.P.O.W Gallery on 23rd April, 2015 and runs through until 23rd May, 2015. Supernatural opening reception Thursday 23rd April, 2015, 6-8pm.
For all the latest exhibition news sign up for My Widewalls today!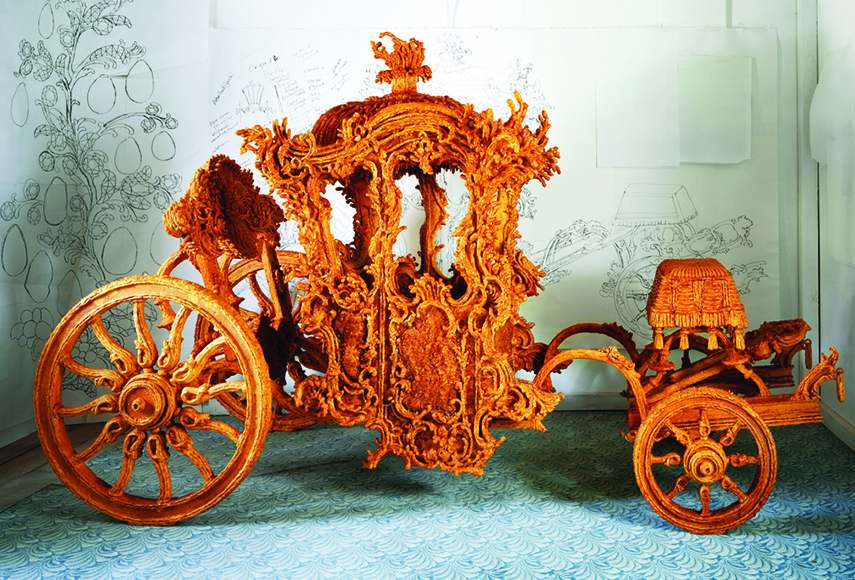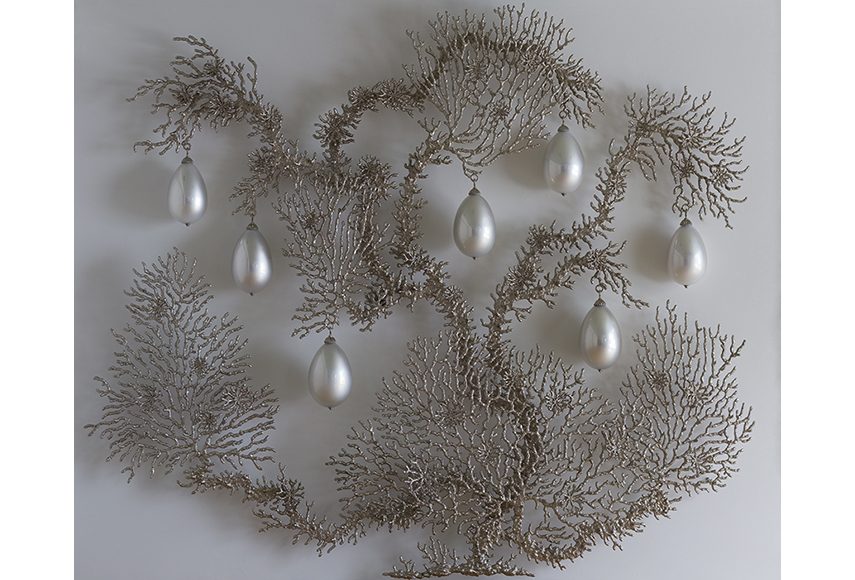 All images courtesy of the artist and P.P.O.W Gallery.
[mc4wp_form]