American Handmade Paintings
Sculpture or painting? This is only the initial question that comes from looking upon the latest works of Tom Sachs, currently on view at the Marais Galerie Thaddaeus Ropac, while the true depth of the pieces lies beneath the wooden material. Being a seventh presentation of Sachs at this Parisian space, the exhibition entitled American Handmade Paintings invokes the dual quality of the series explored by the artist. The first is the visual, as Sachs borrows his imagery from the traditional American iconography, and the second is tangible, drawing attention to the materials and technique in which these sculptures-paintings are created, while the pieces are deliberately left with a slightly rugged finish. The show displays new works for the most part, emphasizing the artist's mastery of marquetry and pyrography. Fire is the only drawing
tool of Tom Sachs, while his inlaid pieces require more rendering and are
more complicated to compose.
American Handmade Paintings can be seen at the Marais gallery of Thaddaeus Ropac in Paris, until May 3, 2014.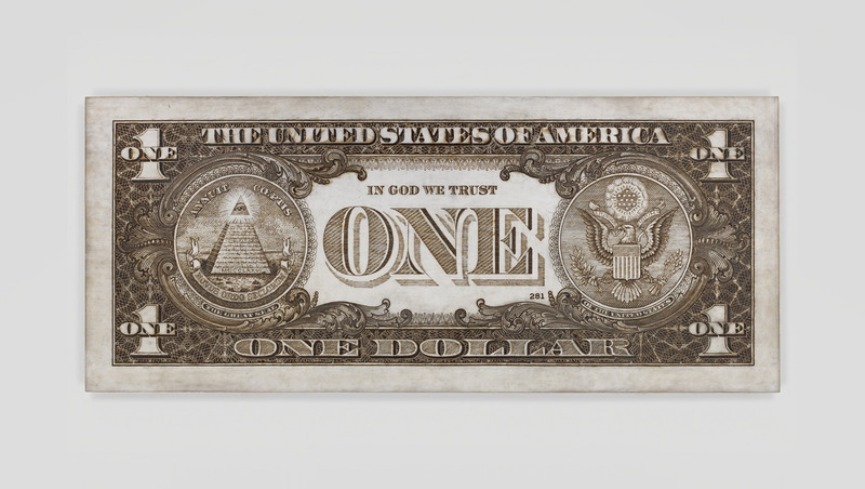 American Handmade Paintings
Besides the impressive craft exhibited throughout the represented body of work, the foremost impression remains in the domain of the visual. Tom Sachs employs the most famous elements of American iconography to address questions such as consumerism, brands and branding, cultural dominance, scientific advancement, personal and communal identity and its dispersal. The tension throughout his work is held constant by the eternal struggle of the will to survive versus the relentless destruction of vast set of societal, moral and intimate values.
All of the so-called paintings are handmade with the striking attention for detail, depicting subjects which are easy to relate to, but from which the spectator can read the troubles of his environment just as easy. There are renderings of the American flag, McDonald's logo with Chinese inscription, Honda generator and the dollar bill, all considered iconic in the present pop culture, symbolizing all of the ups and downs of the stars&stripes nation and the ambivalence and paradoxical proclamations of its experience.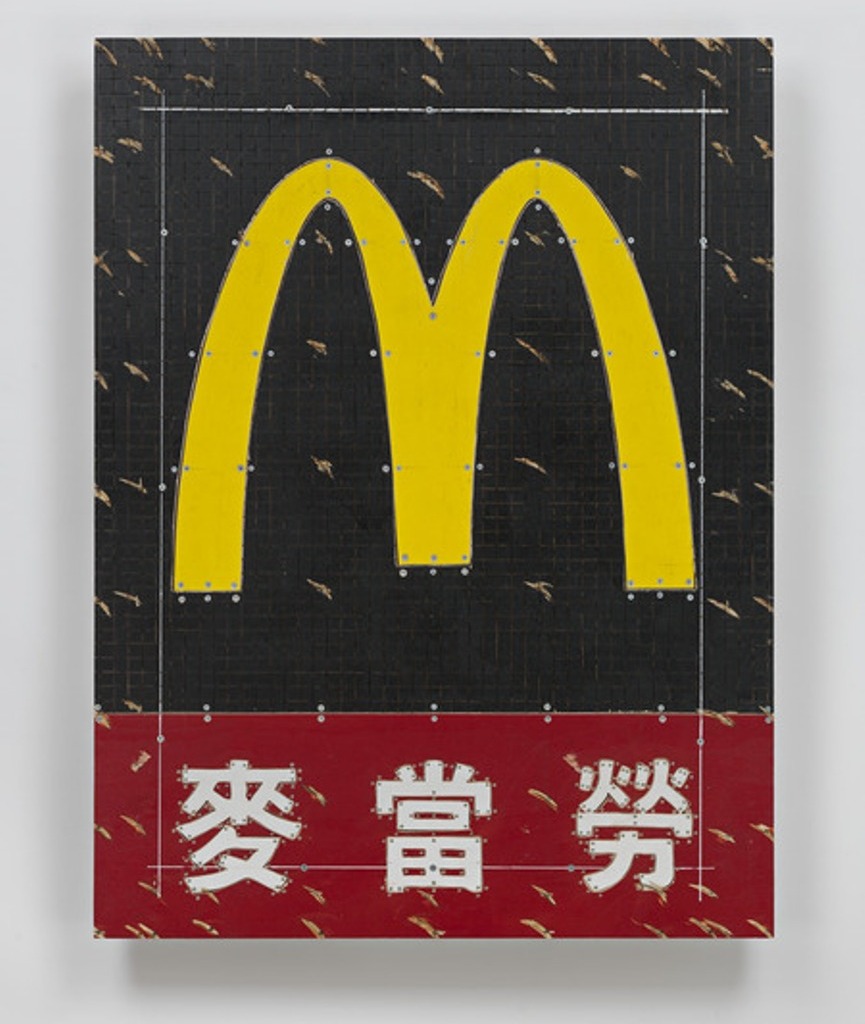 Tom Sachs
Tom Sachs was born in 1966 in New York city, where he lives and works today. He studied at the Architectural Association in London, UK, and afterwards completed his schooling receiving a BA degree from the Bennington College, Vermont in 1989. His artwork was exhibited worldwide, in the USA and Europe alike, and most recently it was featured at the Lyon Biennial, where an elaborate installation Barbie Slave Ship was shown in Saint Just Church. His notable solo exhibitions were held at the Park Avenue Armory in New York in 2012, at the Lever House in New York in 2008, At the Des Moines Art Center in Iowa in 2007, at Fondazione Prada in Milan, Italy, at the Museum of Modern Art in Oslo, Norway in 2006 and at the Deutsche Guggenheim in Berlin in 2003. His sculptural paintings make part of numerous private and public collections, among which are Centre Georges Pompidou, Paris, Metropolitan Museum of Art, New York, the Solomon R. Guggenheim Museum, New York, the Whitney Museum of American Art, New York, the Los Angeles County Museum of Art (LACMA), the Hammer Museum in Los Angeles and the Museum of Modern Art, San Francisco.