Are Top Online Art Auction Sites Successful?
As we've promised, we're back with some of the best online art auction houses and online art auction sites in the world. Vast majority of them started as startups, being backed by financial angels and venture capital. Over the years, many of them received tens of millions of dollars via investors funding – some even more than a hundred million. Since a lot of enlisted companies are private, which means that they usually do not release exact sales figures, we were not able to find information on revenues of all companies, but don't worry, there's a lot – a lot – of other data.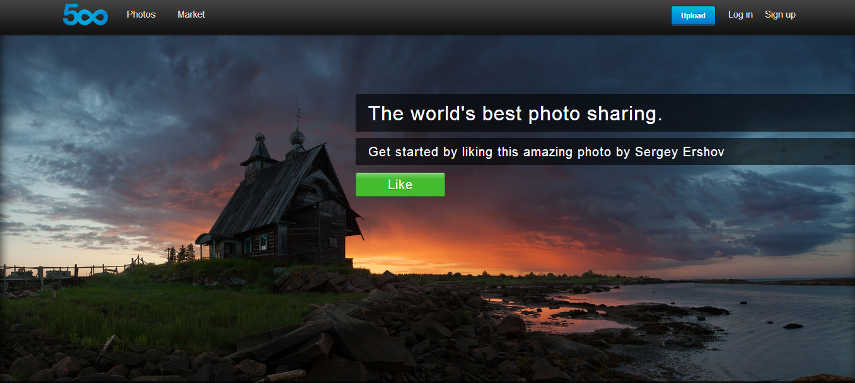 Online Art Auction Sites – Startups Unlimited
Now, back to the question from the title: are top online art auction sites successful? According to Hichox's Online Art Trade Report, in 2014 the online art auction business was thriving. Online art sales grew from $1.57 billion in 2013 to $2.64 billions in 2014. Obviously, this had to mean that – some, at least – online art auction houses were thriving, as well. Actionata's online sales had grown amazing +148 percent, Paddle8's a hair lower at +146 percent. Christie's online sales had grown +69 percent, and the biggest of them all, Heritage Auction had grown +42 percent in 2014. Also, Sotheby's and eBay had teamed up in March 2014, Christie's purchased Collectrium in March 2015, and several more acquisitions had occurred in the past year, thus augmenting the online art market. Since many of listed online art houses are/were startups, acquisitions are expected and normal, even preferable – usually, startups are called successful when either earn their first billion, or when they are bought by some bigger player. Joint characteristics of all startups is that they have difficulties when they are released into "the real world", or, in other words, when they stop receiving funding by investors and try to lead a sustainable business platform. In years to come, we'll see how many of them will be able to do so. Now, bellow you'll find some of the most successful online art auction houses, in no particular order.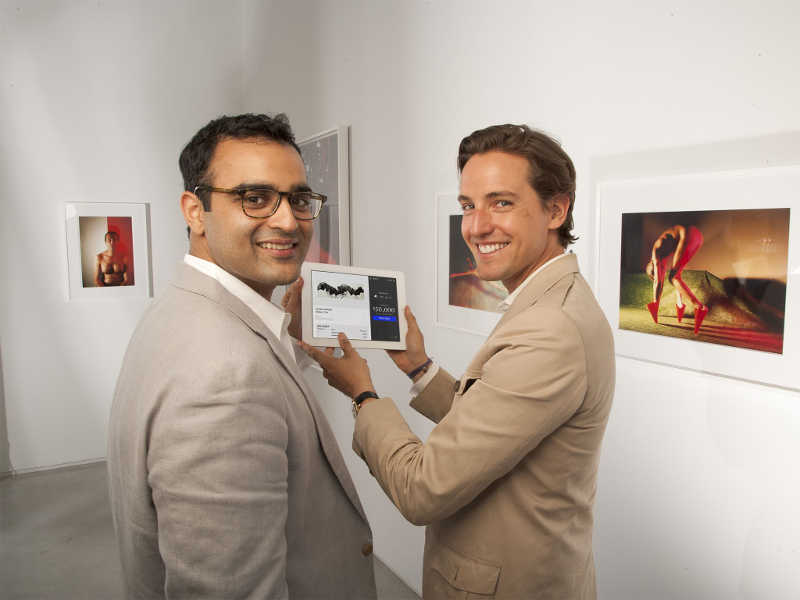 Paddle8
Paddle8 is an online auction house that was founded in 2011. At first, it was a platform for contemporary art online exhibitions, but they've switched to auctions in 2012, and today they are focusing on the middle of the art market (prices usually ranges from $1,000 to $100,000). Apart from being available online, Paddle8 also has its iPhone application. In 2014, Paddle8 had $36.8 million worth of sold art, which was +146 percent comparing to the previous year. In 2012, Paddle8 bought company Blacklots, and from February 2012 to May 2014, Paddle8 had received $17 million of investment, with Damien Hirst and Winklevoss Capital among investors.
Heritage Auction
Heritage Auction Galleries is an auction house that was established back in 1976 in Dallas. It is considered as the largest collectibles auctioneer in the world, with total of $969 million worth of sales in 2014, and more than 850,000 registered online bidders at ha.com at the beginning of 2015.
artnet
artnet was found in 1989 in Berlin, and it has been online since 1995. It has wide range of services, apart from online auctions (artnet Auctions), as their Price Database is probably the most comprehensive archive of all auction results worldwide, with more than 6 million auction results. They represent more than 550 auction houses around the world, and they have 2 million visitors per month. In 2014, artnet had revenue of almost 13 millions of Euros.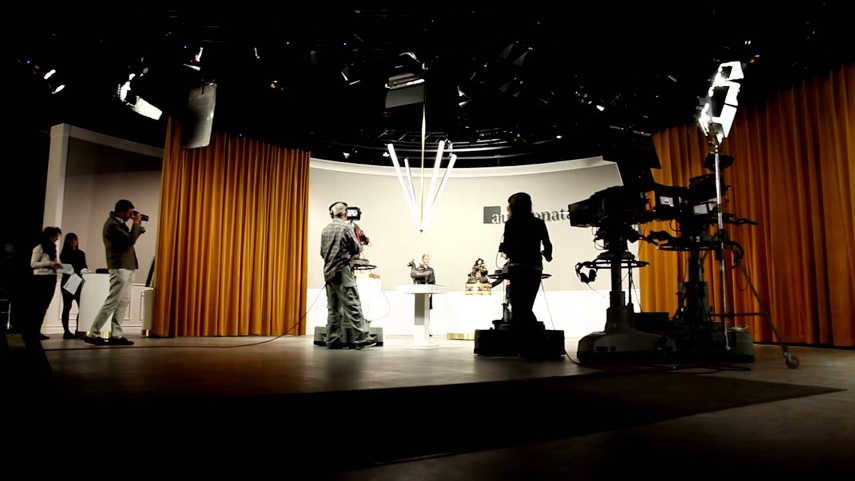 Auctionata
Auctionata, a Berlin based online auction house was founded in 2012, and had it's first auction in December 2012. Since foundation, Auctionata had received $95.7 million in four rounds of investment ($3 million in 2012, $17 million in 2013, $30 million in 2014, and the biggest one, $45 million in March 2015. At the beginning of 2015, Auctionata had reported total of $41 million revenue in 2014, or +148 percent from $16.5 million in 2013. Around three quarters of those $41 million came from 113 online live streamed auctions.
Artsy
Artsy, that is founded in 2009, is an online art resource for learning about specific artists and artworks and/or collecting art. It has its iPhone application, and more than 250,000 images of art and architectures can be found on their website. Artsy has received more than $50 million of funding up to 2015, and almost half of that sum ($25 million) was received in March 2015. They have 500,000 unique visitors per month, and they make money in two ways: charging the galleries and art fairs a monthly subscription fee for the access to the platform, and taking small commission on benefit auctions. It is estimated that Artsy makes around $12 million a year.
Invaluable
Invaluable received almost $47 million in funding since its foundation in 1989 – with almost $34 million in 2014. In June 2014, Invaluable's CEO Rob Weisberg stated that "the company's gross revenue is currently in the hundreds of millions". It has a historical price database that includes more than 58 million complete auction results, totaling more than $204 billion in value. Invaluable is considered as one of the world's leading online auction marketplaces of fine and decorative arts, antiques and collectibles. It has more than 3 million unique visitors per month and in 2009, Invaluable acquired AuctionZip company.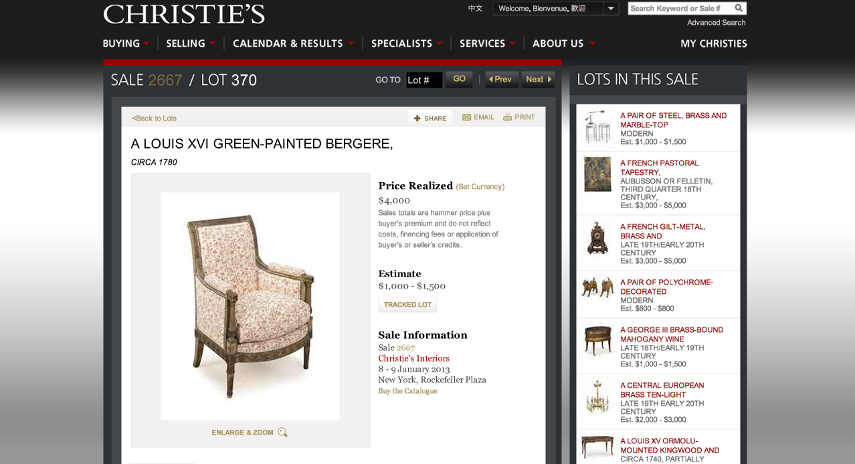 Christie's
We don't need to present Christie''s, really. They have been investing more money to boost their online presence – in 2014 they've said that they plan to invest $20 million "in technological and digital advancement". Online purchases via Christie's LIVE platform grew 48 percent in the volume of lots purchased in 2014.
Artspace
After a leak of information in 2014, that showed a rather poor numbers – only $577,000 in total annual sales, and a fraction of that number of actual revenue – there were some talks that Auctionata might acquire the falling Artspace, a start-up digital marketplace for contemporary art. However, Artspace was acquired by Phaidon Press on August 15, 2014. Before that, it managed to receive $12.2 million from investors, and then another $2.3 million in January 2015.
1stdibs
As it is described, 1stdibs is an online marketplace for rare and desirable objects. This website connects more than 2,000 professional dealers, and it had $1.1 billion of total sales in 2014, which was a 20 percent increase over 2013. It has more than 2 million visitors per month, and 1.2 million registered users. 1stdibs had received $117 million in four rounds of investment, and the last one, worth $42 million, came from Alibaba company in January 2014. It was founded in 2001 in Paris, and moved to New York in 2003.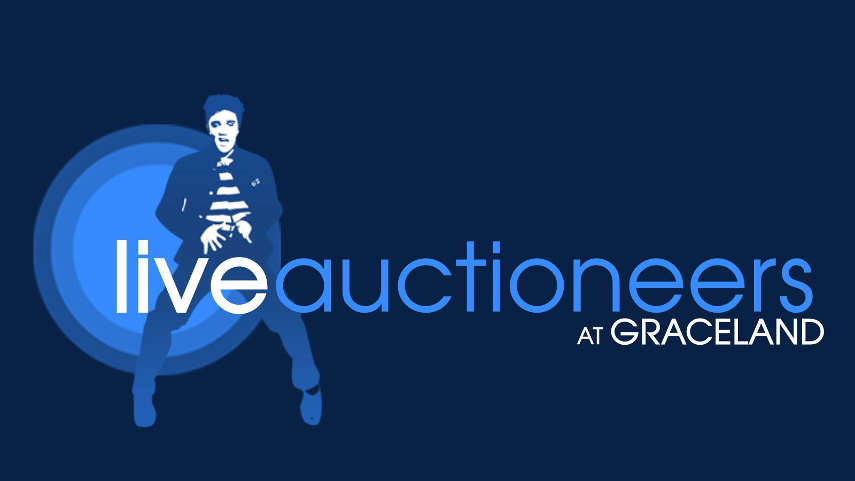 LiveAuctioneers
LiveAuctioneers received $47.6 million investment in November 2014 – not bad for company that was founded in 2009, and today is New York based online auction site that connects bidders to auction houses across the world, or to be precise, in more than 47 countries. In the last quarter of 2014, it was reported that the company had a record year, with almost $3 billion of gross merchandise sales, that connected 1 million art collectors and dealers with 2,500 auction houses.
Amazon Art
The online giant, Amazon, had launched online marketplace for original and limited edition fine art in August 2013, and named it Amazon Art. This way, this gigantic company with 183,000 employees, that had almost $90 billion in revenues in 2014, but net loss of $241 million, entered the world of online art auctions.
Saatchi Art
Saatchi Art from Los Angeles was acquired by Demand Media in August 2014. It was launched as an online art gallery, and it offers to its visitors more than 500,000 original paintings, drawings, sculptures and photographs by over 50,000 emerging artists from over 100 countries. It had received $11.2 millions in three rounds of investment. Demand Media bought it for $17 million, with expectations of $500,000 to $1 million of quarterly revenue in the short term.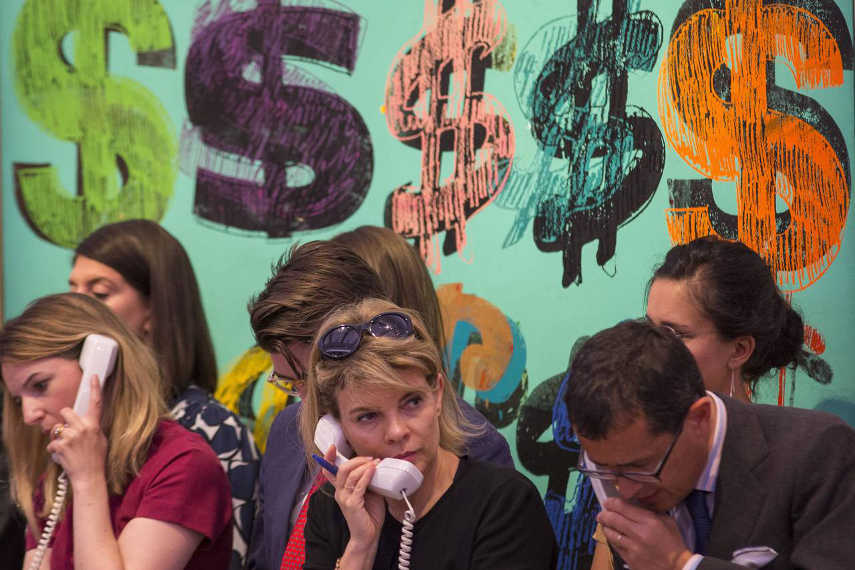 Sotheby's and eBay
In March 2014, Sotheby's and eBay announced the launch of Sotheby's live streaming auctions on eBay, and they had a joint first auction on April 1st 2015. Sotheby's had announced that it had almost 25 percent more buyers online in 2014 compared to 2013, and that 10 lots were sold for more than a half of a million to online bidders. This is the second attempt of partnership between Sotheby's and eBay, as they weren't successful back in 2003. Also, in 1999, Sotheby's and Amazon became partners in order to sell collectibles and art via Internet. Amazon acquired 1.7 percent shares of Sotheby's for $45 million, but their partnership also didn't last, as they "broke up" in 2000.
Art.com
Art.com had three acquisition since 2005 – AllPosters.com, ArtSelect and Zenfolio. Art.com was initially founded as Allwall.com, but it changed name to Art.com Inc. in 2001. This company received $26.2 million in three rounds of investment, and today it is an e-commerce website selling fine arts, prints and decorations made by artists and photographers. According to some statements back in 2010 and 2012, Art.com has annual revenues of "well over $100 million".
Lauritz.com
Lauritz Christensen Auctions, one of the oldest auction houses in Denmark, had launched its website lauritz.com in 1999, thus becoming the first Danish auction house that provided online auctions. This house had reported that their revenue have grown from 2.7 millions of Euros in 1999, to 140.5 millions of Euros in 2014.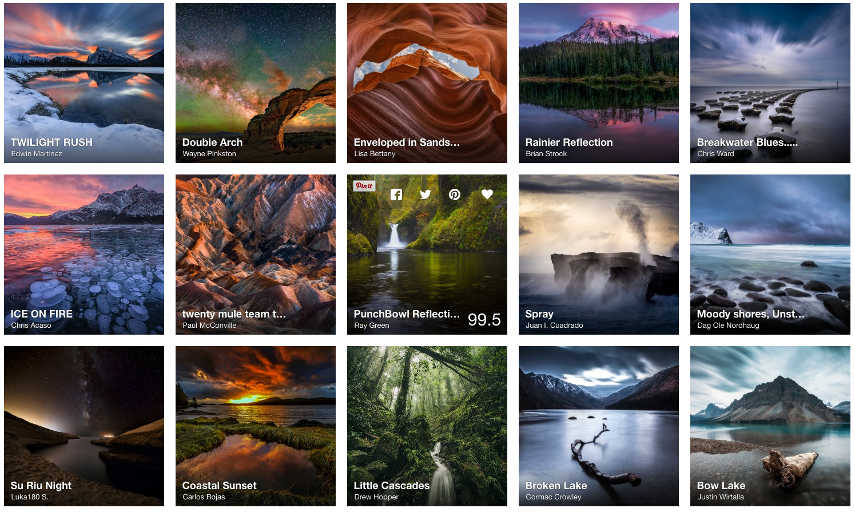 500px
500px is a world-wide known photo community for discovering, sharing, buying and selling photography. It had raised $22.3 million so far, and bought three companies – Authentic in 2014, and Pulpfingers and Algo Anywhere in 2012. The site has 2.5 million registered users and over 10 million monthly active users.
Saffronart
Finally, Saffronart was launched in 2001, with an eBay-for-fine-art approach in India. It claims that it is the "largest fine-art auction house in India, online or otherwise, and one of the largest online fine art auction platforms in the world". At first, it was focused only on Indian market, but in 2012, it first started selling Western art.
Yes, They are Successful, and They Will Grow – Unless…
So, to wrap things up, the online art auctions are in the middle of a big growth, and that's goes for most of the top auction houses – both traditional, "offline", that are developing their online divisions, as well as the "online only" art auction businesses. So, to answer our starting question, yes, top online art auction sites are successful, and they will likely become more successful in time ahead of us. Those online auction houses with difficulties and troubles with their business will be bought off by larger or more successful ones, and we should also expect some augmentation of the online art auctions segment of the market. If the global situation of the art market goes south, though, art auction houses, both offline and online, both a few centuries old ones and startups, are going to suffer, as they are closely tied to the overall conditions of the global situation.
Sign up for My WideWalls for FREE and be up-to-date with contemporary and street art.
Featured image: Auctionata – photo by Andreas Lukoschek.