Top to Bottom Murals Project gathers 50 International Artists giving Queens a New Look!
At first glance, there's nothing artistic about the 21st Street in New York City. The street in downtown Queens is packed with quite ordinary and dull gray and brown buildings. But once you reach the number 43-01 the view suddenly changes as the concrete facade bursts with flowers, letters and unusual characters painted on the graffiti along the way. Numerous murals that cover the building are created as a part of Top to Bottom murals project that hopes to repeat the success of a similar 5Pointz project that took place on the nearby sites for exactly 20 years.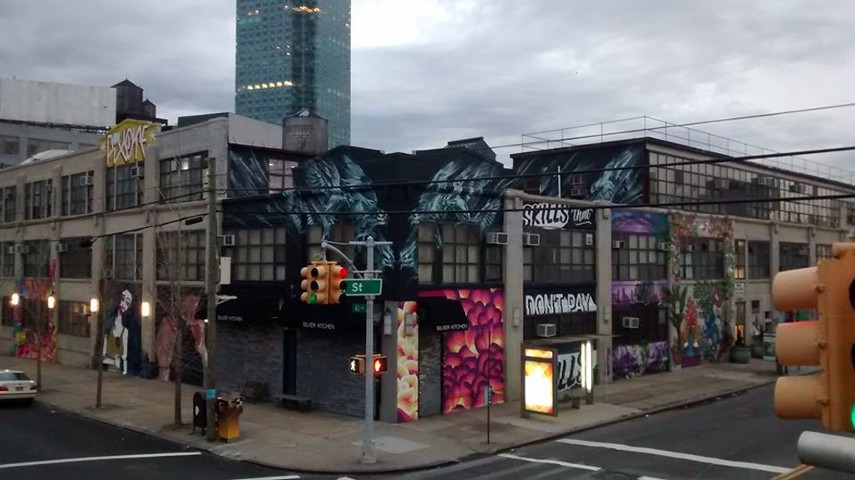 The Successor of  5Pointz Project
From 1993 to 2013, 21st Street in Long Island was a haven for street artists, as they were allowed to paint on the vast buildings' walls without disruptions. 5Pointz project created under the guidance of curator Meres One went on for 20 years, but then the building was sold to a developer, who removed the murals, to the disappointment of street artists and the local community as well. All artworks were whitewashed, and space was demolished a year later, destroying twenty years of murals, throw-ups, and tags done by some of the most prominent street artists in the world. But now a similar project unveiled at a site nearby with the intention of returning the title of "the world's premier graffiti mecca" to the area.
Fifty Artists Painted Top to Bottom Murals
Top to Bottom Project was organized by artist James P. Quinn and producer Geoff Kuffner with the permission of the building's owner. Georg Kuffner met the owner through see.me app, a platform that allows artists to connect with potential collaborators. The owner was looking for artists that would create colorful works that would brighten the gloomy façade of his building. Georg Kuffner invited his friend and college James P. Quinn to join the project and the two of them gathered over 50 international artists that painted over 124,000-square-foot building with their unique artistic vision and a recognizable style. A striking image of Magda Love 's jungle plants and pink brain and heart are portrayed at the very entrance of the venue providing a glimpse of what's to come. Case Ma'Claim created a photo-realistic image of a needle and a thread that vividly depicts every line of the hand that's threading a needle and Binho Ribeiro painted a blue owl that's constantly watching the neighborhood. But this is just the beginning since there's still plenty of room where graffiti painters can create their magical outdoor pieces.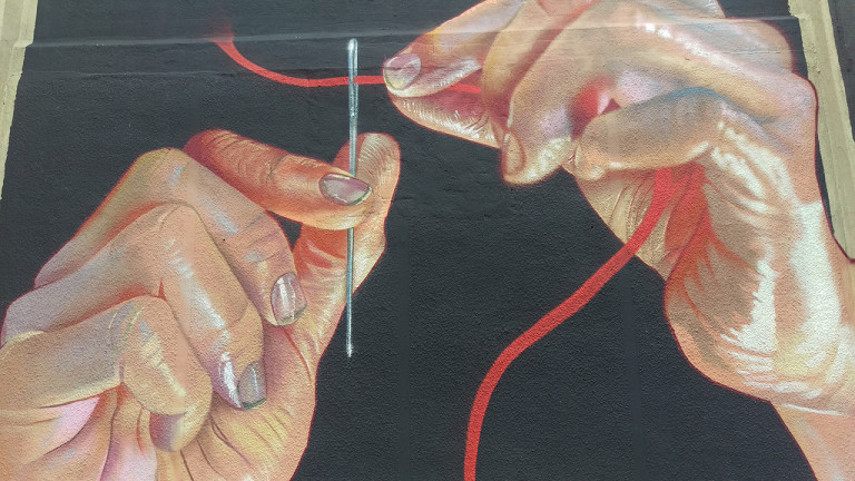 Off the Walls and into the Gallery
Apart from the outdoor murals Top to Bottom Project also includes an exhibition of small-scale works at World Trade Center Gallery in Broadway, Manhattan. The exhibition includes a variety of pieces ranging from sculptures to abstract paintings and photo-realistic works made by the artists who already proved their skills on the Top to Bottom outdoor project. Off the Wall exhibition opened on March 15th and it will last until April 15th, 2016 at World Trade Center gallery in New York. Georg Kuffner and James P. Quinn stated for the huperallergic that they hope that "their connection with the building's owner and his appreciation for art will ensure that Top to Bottom exists for at least as long as 5Pointz". We at Widewalls hope that it will last much longer than that… forever, perhaps.
Share your thoughts on this exciting project on our Facebook page
Editor's Tip: Five Pointz Revisited
New York's iconic 5 Pointz (or 5Pointz) might have been destroyed but it continues to live on, in the hearts of street art lovers around the globe and in several books dedicated to the venue. We've chosen Five Pointz Revisited as a publication that represents a wonderful tribute to the American mural space at 45-46 Davis Street in Long Island City, Queens. As of August 2014, 5 Pointz was in the process of being torn down and by November 2014, the building with all of its beautiful pieces had been fully demolished, to be replaced by a condominium complex. The space that gathered hundreds of murals that were exhibited mainly on the exterior walls of the building, drawn by artists from the world over, is revisited in the captivating photographs by the book's author Rawle C. Jackman.
Featured images : Mural by yesone  ; A mural by Binho Ribeiro ; Mural by Alice Mizrachi ; Top to Bottom project murals ; All images via Arts Org NYC Official website