TRANSIT
When the iconic film Arrival of a Train at La Ciotat by brothers Lumière was first shown in 1896, the urban legend tells that the audience was so overwhelmed by the moving image of a life-sized train coming directly at them that people ran to the back of the room. Get ready but do not run! You will certainly be overwhelmed, though. Trains arrive at Vertical Gallery this June. A group art show all about trains, subways and bridges, titled TRANSIT, will feature New2, JC Rivera, Tim Conlon, Nick Fury, Paradigm Shift, Jonathan Michael Johnson, and Cope2. The gallery selected artists who use a wide range of mediums including paper collage, glass making, photography, painting, found objects, mixed media, model trains and more.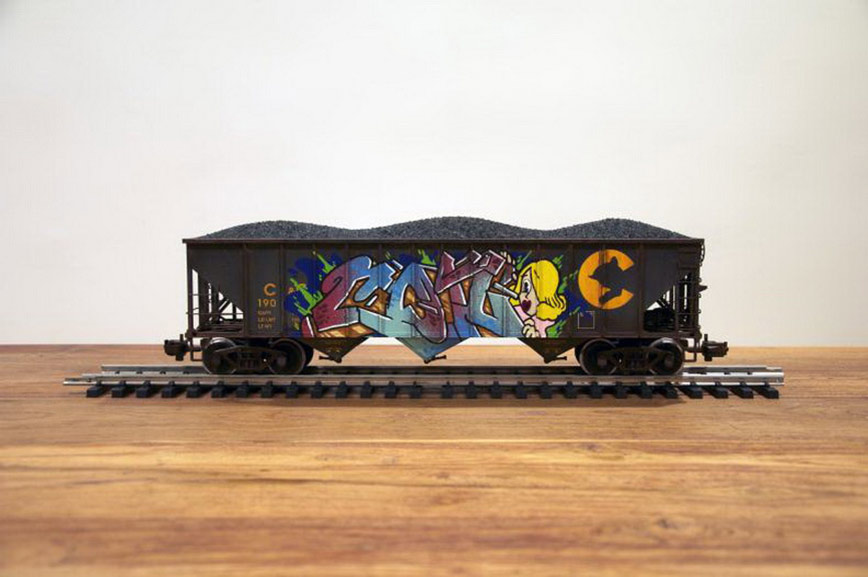 Trains
For many writers subway painting is the defining act of being a writer. One of them is Cope2, on of New York City's most legendary graffiti artist, who began tagging his name in the South Bronx in 1978. Cope2 brings his raw energy into abstract masterpieces, intertwined with his trademark bubble letters and tags on subway maps. Washington, DC based Tim Conlon was featured and curated the G scale train exhibit in the Los Angeles Museum of Contemporary Art's "Art in The Streets" survey of graffiti and street art. Conlon will bring his famous model trains and large-format paintings to the exhibition. Australian artist New2 creates hand-cut meticulously layered paper collages, recreating the writing on trains and in the street for the past 30 years. He was part of the first generation of writers and street artists to gain recognition outside of Australia.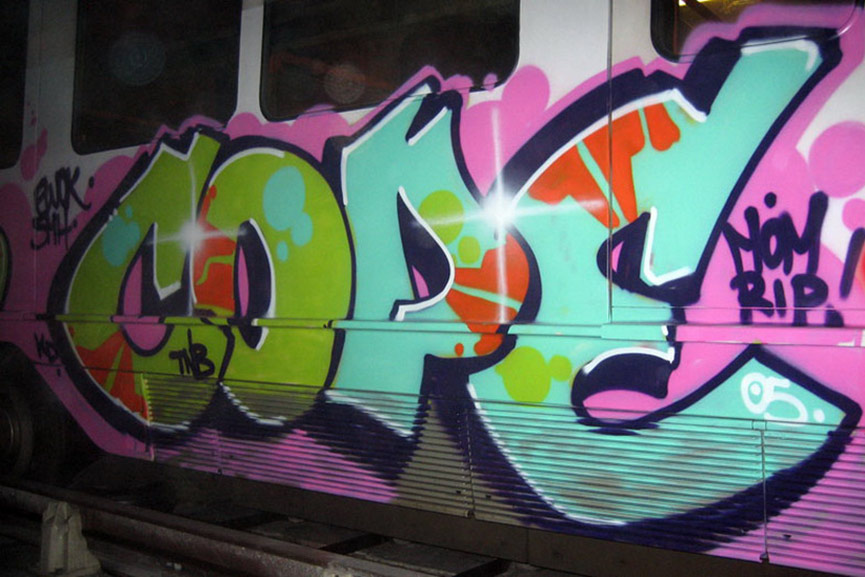 Chicago artists JC Rivera, Nick Fury, Paradigm Shift, and Jonathan Michael Johnson all bring unexpected new work to TRANSIT. JC Rivera, most known for his vinyl toys, brings a brand new concept with a collection of train paintings. Nick Fury bases all of his work on CTA (Chicago Transit Authority) experiences. Using whiteout tape on paper, he has created a new collection of CTA disaster scenes that must be seen. Paradigm Shift ignores the line between Fine Art and Craft that people associate with glass. His sculptures will immediately change your perception. Photographer Jonathan Michael Johnson has been experimenting with new techniques that challenge the photographic print medium. He has deconstructed and reconstructed images to bring a new multi-layered effect.
About Vertical Gallery
Vertical Gallery is committed to exhibiting and promoting urban, contemporary and street art. Established in 2013 in Chicago's Ukrainian Village neighborhood, the gallery focuses on work influenced by urban environments, street art, pop culture, graphic design and illustration. Its aim is to bring this art form to a broader audience and eliminate the barriers that exist between traditional institutions, contemporary galleries, art collectors and casual viewers.